Joshua Tree 2nd Saturdays Downtown Nights
Saturday @BoxoHOUSE, Joshua Tree

Olivia Parkes, SHOOTING BLIND, 2015, oil on card
Open House for Olivia Parkes, artist in residence
@BoxoHOUSE, Joshua Tree
Saturday March 14, 2014
2-5pm
Please join us for an open house for artist in residence Olivia Parkes and an exhibition of works and works in progress created during the residency.
Olivia Parkes is a British-American artist who currently lives and works in Berlin. She received her BA from Wesleyan University in 2011 with Honors in Studio Art and Art History and is now enrolled in the Universität der Künste Berlin. Olivia was awarded the Joshua Tree National Park Arts Residency in 2014 and has close ties to the local area.
The artist works primarily with painting and collage to explore how image culture affects the way we experience the world. During the residency, she created a body of work related to the myth of the West as portrayed by the entertainment industry and its ongoing role in contemporary culture and politics. The month-long residency has included screenings of classic Western films and related discussions, and culminates with this open-house exhibition.
BoxoHOUSE is located at 62732 Sullivan Rd, Joshua Tree, CA 92252. Route 62 to White Feather, south on White Feather to Sullivan, west on Sullivan)
BoxoPROJECTS is a multi-program arts initiative based in Joshua Tree, California, dedicated to exploring contemporary art at the new frontier. BoxoPROJECTS is interested in the role of art and artists in creating community and in the power of art to shape the destiny of communities. We offer facilitated artist residencies and related programming at BoxoHOUSE in Joshua Tree, as well as exhibitions, installations and performances in various locations.
2015 Desert Wine and Chic Social    
The Twentynine Palms Historical Society, in partnership with the Broadview Hacienda, is inviting members and non-members to our Desert Chic Wine and Cheese Social. Experience the beauty of this historic Twentynine Palms home while you enjoy the camaraderie of old and new friends, and perhaps even learn a little bit about the pairing of wines and cheeses. For those of you who don't drink, non-alcoholic beverages will also be served.There will also be a silent auction of treasures you won't be able to resistThis event is to raise funds to help us to continue to preserve our local history and culture and to help keep the doors of the Old Schoolhouse Museum open. Tickets are available for a minimum donation of $25 for Society members and $30 for non-members. This is a minimum and larger donations will be greatly appreciated. Pre-sale tickets are available at following locations:
–>> Old Schoolhouse Museum, 6760 National Park Dr., 29 Palms;
–>> Bowden Frame Shop, 73355 Sullivan Rd., 29 Palms;
–>> Cowboy Attic, The Historic Plaza, 29 Palms; and
–>> Twentynine Palms Chamber of Commerce, 73484 Twentynine Palms Hwy, 29 Palms.Mike and Ann Congdon have graciously opened Broadview for this event. Broadview is the historic residence of Bill and Prudie Underhill, Twentynine Palms pioneers. Bill homesteaded here in 1928, and established the local newspaper (The Desert Trail, which is still published every Thursday), the first roller rink, and indoor and outdoor theaters. He always championed the health and vitality of the high desert, its people, and its glorious climate. The peace and serenity of this beautiful hacienda wraps around you the moment you cross the threshold. Situated on a high promontory in the old residential center of the city, the 360 degree view of the beautiful desert adds to Broadview's allure. It's a wonderful place to relax and the perfect venue for our fun event.So, what do I wear? Anything from Desert Casual to the Nines (2 – 9's, get it?) You are encouraged to come in denim and cotton, sequins and satin, Hawaiian attire, costume of choice or uniform of the day. In other words, come as you are or how you wish to be. The only "must" besides a thoughtful and planned clothing choice is to have fun.Date: Saturday, 11 April 2015
Time: 4:30 to 7:30 pm
Location: Broadview Hacienda, 73452 Sunnyslope Drive, Twentynine Palms
Holmes Health Offers Basketry Workshop   
HELPFUL NEW ONLINE OPTIONS ARE NOW OFFERED BY HOLMES HEALTH
www.holmeshealth.com
has been newly revised. You can NOW book an appointment for blood microscopy or buy quality therapeutic nutrition for you and yours online! Let me know if you have any questions.Also: The Nourishing Tree has a few more spots for the basketry workshop THIS Saturday, March 14, 2015. I know I will be attending. Just email
thenourishingtree@gmail.com
if you would like to reserve a spot to build your basket.
3rd Thursday Cultural Series – Women in History  
Copper Mountain College's Cultural Education Enhancement Committee (CEEC) continues their 3rd Thursday Cultural Series with a celebration of National Women's History Month on March 19, 2015 from 12 to 1 p.m. in the Bell Center Community Room at Copper Mountain College.Women and men from CMC and the Morongo Basin Community are invited to come dressed as their favorite woman from history and present a brief "in character" speech.Participants in costume are asked to meet and register in front of the Greenleaf Library at 11:30 a.m. A parade will then proceed across campus to the Bell Center Community Room, where each person will give a three-minute speech as their chosen woman. Past honorees have ranged from the hatchet-wielding temperance advocate Carrie Nation to foodie pioneer chef Julia Child.This brown-bag event is free and open to the public. We encourage everyone to join us for this informative celebration of Women's history. For more information about this event, contact Cathy Allen at 760-366-3791, ext. 0600. The 3rd Thursday Cultural Series is sponsored by the CEEC and the CMC Foundation.
Hi-Desert Medical and Cultural Centers Host Reception for New Art Exhibits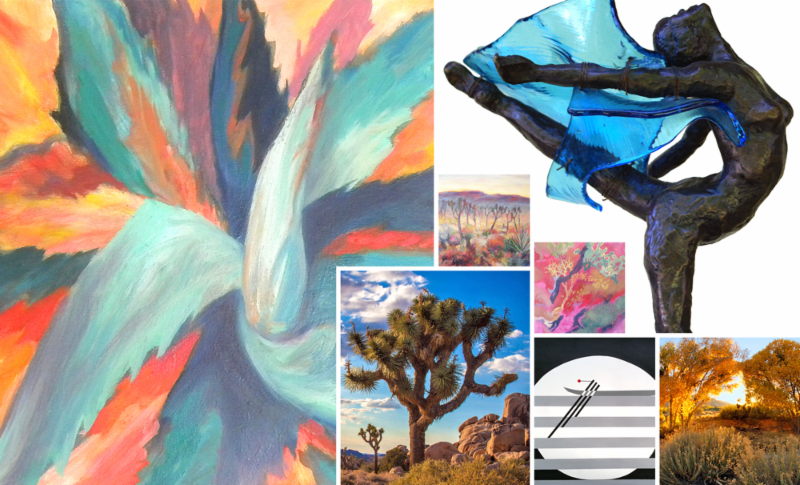 The Hi-Desert Medical & Cultural Centers will host an opening reception for the hospital's newest fine art exhibits March 20, 2015 from 4 to 7 pm.
JOSHUA TREE, CA – The Hi-Desert Medical Center and Hi-Desert Cultural Center will host an opening reception for the Medical Center's newest art exhibits that feature fine art and sculpture from area artists in their new rotating galleries located on the hospital campus.  The public reception will be held Friday, March 20, from 4 to 7 pm in the main hospital lobby.  Featuring works by esteemed artists Esther Shaw, Erick Johnson, Patricia Knight, Peggy Falkenstein and Jerome Walczak, the community is invited to attend, tour the new galleries, and meet the featured artists along with representatives from the Medical Center and Cultural Center. Light refreshments will be served.
In the spirit of community partnering, the hospital galleries are curated by theARTISTS of the Hi-Desert Cultural Center.  All artwork is available for sale with a portion of proceeds from the sales directly benefiting the Hi-Desert Memorial Health Care District Foundation and Hi-Desert Cultural Center.  All art and sculpture is also available for purchase online at
www.hidesertculturalcenter.org/shop
For more information or to learn how to easily submit your art or small sculpture for future consideration in these select galleries, send an email to theARTISTS Galleries Executive Curators Shirley James or Darlene Morris at:
theartists@hidesertculturalcenter.org
JT Trading Post Live Music!!!
Exciting Changes Coming at Hi-Desert Medical Center
Death Cafe

March at JTAG

Gallery 62


Gallery 62, the Morongo Basin Cultural Arts Council's gallery in downtown Joshua Tree will be open late this Saturday evening, Feb. 14th for an artist reception. "We have five wonderful artists featured at the gallery this month" gallery director, Alita VanVliet explains.  "On display are works by three talented painters, Marcia Geiger, Lenne Rosen-Kabe and Susan Abbott.  We also have a fantastic selection of ceramics by Ed Keesling as well as some very dynamic black and white photography produced by Bill Dahl. It is an eclectic show – and the Arts Council is very pleased to have such diverse, talented artists as members of the gallery."  Open Fridays – Sundays from 11am – 5pm each weekend and from 6-8pm the 2nd Saturday of each month during opening receptions.  Gallery 62 is located at 61871 Twentynine Palms Hwy. in the Sun Alley center, just east of the Joshua Tree Saloon.  "There will be refreshments served and live music in the courtyard. Bring your special valentine for an evening on the town, meet the artists and mingle with your friends. This is a free event and we encourage all to come."
At The Nourishing Tree
This Weekend at the Listening Lounge!
Saturday at 10 am – the Garden Show!
RFJT Listening Lounge is located at
61597 29 Palms Highway
Joshua Tree, CA 92252
(formerly the Beatnik Cafe/Red Arrow)
Please contact tedquinn11@gmail.com or via facebook.com/tedquinn for more details.
Please listen to the Sunday Evening Variety Show at 5pm (PST) RadioFreeJoshuaTree.org
Join Ted Quinn Monday nights at Pappy and Harriet's for Ted Quinn's Reality Show! 7:00 sign-up!
NEW SERVICE AT THE LISTENING LOUNGE
We will convert your vinyl LPs to digital. We can burn a CD, or put files on the drive of your choice. Only $5 per single album!
Radio Free Joshua Tree!
Streaming 24/7
Featuring local music, news, cultural reports
and much, much more!
Please listen to the Sunday Evening Variety Show
5 pm every Sunday – click the link above to listen!
Please send your music submissions, with permission to play your music, to submit@RadioFreeJT.com
Call for Entries for Upcoming Show at the Listening Lounge!
ARTISTS—CALL FOR ENTRIES
" Mysteries of the Grail:" Art Inspired by the Myths & Stories of the Grail
The High Desert Mythological Roundtable® Group is seeking art inspired by the myth of the Grail and the Grail quest for "Mysteries of the Grail," an art show that will run from March 14-April 7, 2015 at the Beatnik Lounge, 61597 Twentynine Palms Hwy., Joshua Tree. The opening reception will take place during the 2nd Saturday Art Walk, March 14th from 5-8 pm.
Variously represented as a dish, chalice, stone, or [fill in the blank], the Grail is a numinous symbol that points to a mystery of the highest value, something life-preserving, beautiful, and hard to attain. The Grail is best known as an integral part of the Arthurian legends, which were elaborated in written form during medieval times.
But this image and its canon of stories— of the Knights of the Roundtable, the Fisher King, and Christ's crucifixion— have given birth to a wide range of creative products, from poems and operas, to visual artworks and contemporary films. The Grail still calls to seekers, healers, and adventurers of all stripes. What does the Grail hold for you?
THE DETAILS
This is an open call for entries. Any artist in the Morongo Basin working in two-dimensional media (painting, photography, etc.), mixed media, or sculpture is welcome to submit up to two works for "Mysteries of the Grail" that speak to the grail theme.
Delivery: All entries must be delivered to the Beatnik Lounge (formerly the Listening Lounge), 61597 Twentynine Palms Hwy., Joshua Tree (next to the Thai restaurant) on Thursday, March 12th between 9 am and 12 noon. Work must be ready for hanging. This means that the work must have picture wire running between screw eyes attached to the sides of the frame, or otherwise securely attached. Notched hangers attached to the top of the frame and any other hanging methods besides wire are unacceptable. Work must be labeled with the artist's name, title of the piece, type of media, and price. An appropriate pedestal for display must accompany sculptures.
Entry fees must be paid when the work is delivered for hanging. Cash or check please.
Entry fees: $15 for one artwork; $25 for two artworks.
Commission: The Beatnik Lounge will charge a 10 percent commission on sales.
Artist Statement: Each artist must submit a brief bio/artist statement along with his or her artwork, maximum 100 words.
Visit our "Mysteries of the Grail" event on Facebook to join in, inquire and stay informed.
ion to play your music, to submit@RadioFreeJT.com
Cabin Rentals
Old Schoolhouse Lecture Series
Black Rock Lecture Series 2014-20
Coming up at the Desert Institute
EXPLORE YOUR NATURAL WORLD WITH OUR GREAT INSTRUCTORS IN JOSHUA TREE NATIONAL PARK.  DON'T WAIT TO ENROLL AS CLASSES FILL FAST!Natural Sciences
February 27 – March 1 Rocks and Minerals of JTNP with Robert
PellenbargMarch 7 Volcanoes of Joshua Tree National Park with Rick HazlettMarch 14-15 Biological Soil Crusts of JTNP* with Nicole Pietrasiak, Kerry Knudsen and Theresa ClarkMarch 15 Introduction to the iNaturalist App with Sara Everett and Lindsey Willrick
March 21 Desert Tortoise Surveying and Monitoring [6] with Paul
Delaney, Ed LaRue and Kristen Berry
March 27 -29 Flora of Joshua Tree National Park* [7] with Stefanie Ritter and Mark Wheeler
CULTURAL HISTORY
MARCH 8  INTAGLIOS OF THE COLORADO RIVER WITH DANIEL MCCARTHY
HIKES WITH A NATURALIST
March 15 Hike to the Hexahedron Mine with Mark Wheeler
March 22 Queen Mountain: More Than Just A Summit with Mark Wheeler
SURVIVAL SKILLS
March 27-28 Navigating with Map and Compass  with Misha Askren
March 29 Desert Survival with Donald Scriven
Creative Art Programs
February 28 – March 1 Pine Needle Basketry with Kathi Klopfenstein
March 6-8 Fine Art Photography with Ralph Nordstrom
March 7 Desert Haiku Writing in JTNP with Ruth Nolan and Deborah
P. Kolodji
March 8 Joshua Tree Through the Lens* with Craig Fucile
March 22 Creative SmartPhone Photography in JTNP  with Diana
Shay-Diehl
*Offered for University Credit
On FRIDAY, MARCH 13, DANIEL MCCARTHY WILL PRESENT HIS LECTURE "NATIVE AMERICAN PLANT USES" at the Old Schoolhouse in 29 Palms.   The lecture begins at 7 pm and admission is $5.00. A dinner with the presenters at the 29 Palms Inn is available at 5 pm. Please call Kellie Stokes at 760-367-5535 for dinner reservations.
On FRIDAY, MARCH 20, THE BLACK ROCK SYMPOSIUM WILL FOCUS ON "ENGAGING A NEW GENERATION OF PARK STEWARDS" with panelists Ramina Arce of the Living Desert, Caroline Conway of the Wildlands Conservancy, and Cindy Zacks, educator with the Morongo Unified School District. This program is free and starts at 7pm at the Bell Center, Copper Mountain College.Pre-registration is requested.
"Winter Skies" Show at Twentynine Palms Visitor Center
"Winter Skies" will be the theme for the winter Art in Public Places exhibition at the Twentynine Palms Visitor Center and Chamber of Commerce, 73484 29 Palms Hwy., downtown Twentynine Palms. The show will be on display January, February, and March 2015.The gallery at the Twentynine Palms Visitor Center and Chamber of Commerce is open daily at the corner of the highway and Desert Queen Avenue, downtown Twentynine Palms. An opening art reception is planned for Friday, Jan. 16, from 5:30 to 7:00 p.m., with refreshments and music.Art in Public Places exhibitions are presented by the Public Arts Advisory Committee of the City of Twentynine Palms. For questions, contact Jon Beard at (760) 367-7562 or email jbeard@29palms.org.
Mil-Tree Presents
JENNIFER KARADY: IN COUNTRY, SOLDIERS' STORIES
FROM IRAQ AND AFGHANISTAN

Palm Springs Art Museum is pleased to feature an exhibition of artist Jennifer Karady, who has developed a series of photographs that relate the experiences of U.S. veterans from the wars in Iraq and Afghanistan while making evident the human cost of their service to our country. The exhibition, Jennifer Karady: In Country, Soldiers' Stories From Iraq and Afghanistan, will be on view December 13 through March 29, 2015 at Palm Springs Art Museum in Palm Springs.
Karady's narrative photographs begin with personal histories gleaned through an extensive interview process with the soldiers and their families. Her images capture the conditions of warfare that fighting an insurgency has created, through dramatic portraits that reveal the psychological moments when war memories and everyday civilian life collide. The text that accompanies each photograph is derived directly from the words of the soldiers themselves.
For more information, call 760-322-4800, visit www.psmuseum.org
The Art of War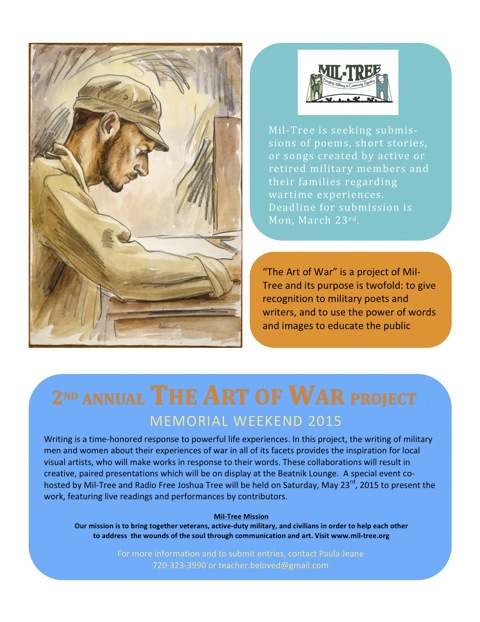 Survivor Celebration
A Benefit for Adult Literacy
Desert Moods
Joshua Tree National Park Youth Conservation Corps
Youth Conservation Corps Applications now available.
This summer, Joshua Tree National Park will sponsor an 8-week, Youth Conservation Corps program. Youths between the ages of 15 and 18 are encouraged to apply. To be eligible, applicants may not reach their 19th birthday during the program. Selected applicants will start work on June 15th, 2015 and continue in the program until August 6th, 2015. Corps members will earn the hourly California Minimum Wage. Work hours are Monday through Friday from 7:00 a.m. until 3:30 p.m., with every other Friday off.
The program provides young people of the community with excellent hands-on work experience. Work will be labor intensive and performed throughout the park. Proposed projects include trail construction and maintenance, resource habitat improvement, and resource restoration. Job development and youth training are truly and investment we can all make in the futures of our children.
Application forms are available from Joshua Tree National Park Headquarters in Twentynine Palms. The application form must be returned or postmarked, no later than April 11, 2015. Call Human Resources Assistant Samantha Coots at 760-367-5516 for additional information.
Invasive Species Management Plan
The National Park Service Seeks Public Input on Proposed Invasive Species Management Plan at Joshua Tree National Park
Public input is being sought regarding the National Park Service's proposed Invasive Species Management Plan at Joshua Tree National Park, California. The National Park Service is proposing to develop and implement a plan to address invasive species populations in the park.
Invasive non-native plants are defined as plant species that have been introduced to an ecosystem as a direct or indirect result of human activity. Joshua Tree National Park, like other public lands, is under threat of invasion by nonnative plants.
The goal of invasive plant management is to maintain native plant communities by preventing and removing invasive plants using an integrated approach that maximizes the effectiveness of the action while minimizing undesirable impacts. The National Park Service envisions an adaptive plan as new herbicides or other treatment techniques become available or new invasive plants encroach upon or enter the park.
An environmental assessment will be prepared in compliance with the National Environmental Policy Act to provide a decision-making framework that: 1) analyzes a reasonable range of alternatives to meet project objectives, 2) evaluates issues and impacts to park resources and values, and 3) identifies mitigation measures to lessen the degree or extent of these impacts. This is the public's opportunity to comment formally on the project-now during this initial project scoping and again following release of the environmental assessment.
How to Comment on Proposed Invasive Species Management Plan at Joshua Tree National Park.
The public is invited to provide input on the proposed Invasive Species Management Plan at Joshua Tree National Park. Comments received during this scoping period will be used to help define the issues and concerns to be addressed in the environmental assessment. Comments will be accepted through March 31, 2015. Comments can be submitted online by visiting http://parkplanning.nps.gov, the website for the National Park Service's Planning Environment and Public Comment system. Comments also may be sent to the following address:
Superintendent Joshua Tree National Park 74485 National Park Drive Twentynine Palms, CA 92277-3597
The National Park Service cares for special places saved by the American people so that all may experience our heritage.
Commenters should be aware that their entire comments, including personal identifying information, may be made publicly available at any time. While commenters can ask that their personal identifying information be withheld from public review, the National Park Service cannot guarantee this will be possible.
If you have questions about the project please contact Miriam Lara-Vamstad, Restoration Biologist, at 760- 367-5568, or by email at Miriam_Vamstad@nps.gov. If you have questions about the environmental assessment and planning process, please contact Karin Messaros, Compliance Officer, at 760-367-5512 or by e-mail at Karin_Messaros@nps.gov.
Sunday Night Slow Jams comes to Z107.7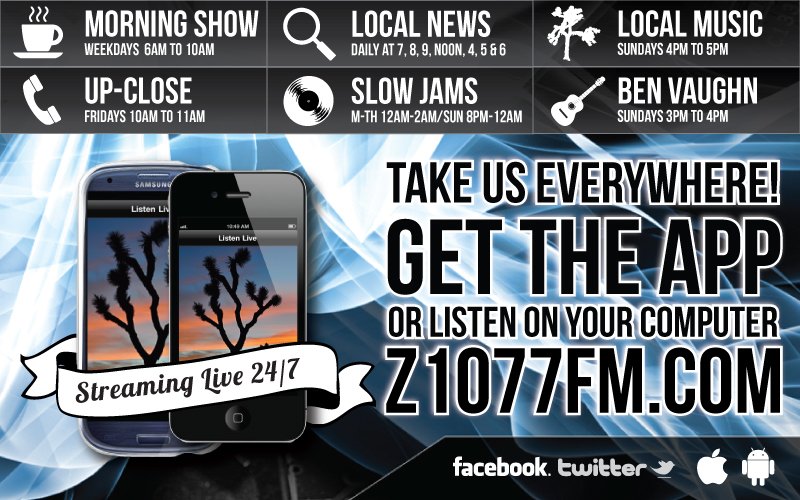 With the start of a new year, the start of exciting new programming for the Morongo Basin's #1 Radio Station!"Sunday Nite Slow Jams"now offers listeners from Morongo Valley to the west, Amboy to the East, and the Communities of Yucca Valley, Joshua Tree, Landers, Twentynine Palms, and Wonder Valley in between, a special blend of old and new R&B love songs and an outlet to express special feelings to loved ones Sunday nights from 8:00 pm. until midnight.Sunday Nite Slow Jams specializes in playing special Slow Jams that you probably haven't heard in awhile, and definitely won't hear anywhere else! SWV, Keith Sweat, Jodeci, The Isley Brothers, Boyz II Men, Al B. Sure, Janet Jackson and more can all be heard on "Sunday NiteSlow Jams"-on Z107.7.In addition to the Sunday night 8-midnight show, Z107.7 will also offer a late night treat of Slow Jams -Monday through Friday nights from midnight to 2:00 am."Sunday Nite Slow Jams" on Z107.7 is the results of numerous listener requests to bring the popular program to the Hi-Desert. Program DirectorGary Daigneault said, "After receiving inquiries about the program, we researched it, located the program distributors and made the arrangements to bring it up to the Morongo Basin. As the only family owned and operated Radio Station for the past 25 years, we felt it was important to give our listeners the variety of music and entertainment they were asking for."Sunday Nite Slow Jams can be heard at 107.7 on the FM Radio dial in the Morongo Basin, streaming worldwide at www.z1077fm.com or through the free app available by searching "KCDZ" on the Google Play and Apple Markets.
Featuring a high quality mix of adult contemporary and local music, mixed with a local morning show and local news 7 days a week, Z107.7FM is broadcast from studios in Joshua Tree and recently celebrated their 25th anniversary.
They have been under the same local ownership, at the same location, and featured the same quality programming since they signed on in July of 1989. For more information about Z107.7, call the studios at 760-366-8471.
(now streaming worldwide)
Call for Artists
"Color Explosion: Nothing Subtle About the Desert" is the theme for the spring Art in Public Places exhibition at the Twentynine Palms Visitor Center and Chamber of Commerce, 73484 29 Palms Hwy., downtown Twentynine Palms. The show will be on display from April 1 through June 26, 2015.
Desert artists are invited to submit an original piece of art for possible inclusion in the group exhibition. Artwork should be delivered to the visitor center on Friday, March 27, between the hours of 11 a.m. and 1 p.m. Artists unable to make this time on In/Out Day are asked to make special delivery arrangements with a Chamber representative by calling the office at (760) 367-3445 any weekday prior to March 27.Artwork should reflect the theme of spring in the desert, which can be an explosion of color, not necessarily a subtle or barren desert as some people may expect. Artwork can include painting, watercolor, mixed media, photography, and three-dimensional work such as assemblage, ceramics, and sculpture. All work must be ready to mount or hang with professional wire, must be offered for sale, and should be suitable for viewing by the general public.
The gallery at the Twentynine Palms Visitor Center and Chamber of Commerce is open daily at the corner of the highway and Desert Queen Avenue, downtown Twentynine Palms. An opening art reception is planned for Friday, April 3, from 5:30 to 7:00 p.m., with refreshments and music.
Art in Public Places exhibitions are presented by the Public Arts Advisory Committee of the City of Twentynine Palms. For questions, contact Jon Beard at (760) 367-7562 or email: jbeard@29palms.org.
Joshua Tree Clean Team
The Joshua Tree Clean Team is looking forward to continuing their clean-up efforts in 2015.    Afterwards, the team will, as always, meet for optional coffee and conversation at the Park Rock Café. The volunteers are dedicated and have been coming every 2nd, 4th & sometimes 5th Wednesdays for the last seven years because they love a clean desert!  To make the job easier, there will be trash bags, grabber sticks, gloves and water available for use. The next clean up is at 8 am on Wednesday, March 11. We will meet in front of the Joshua Tree Public Library and work for one hour.The Joshua Tree Clean Team's co-sponsors include – Park Rock Cafe, Z107.7, Joshua Tree Outfitters, Joshua Tree Recreation & Park District, Hi-Desert Star, County of San Bernardino and Cal Trans.  For more information call 760 366-8415 [1]
STEM Scholarships Available
Copper Mountain College Foundation in partnership with Southern California Edison is encouraging students to pursue careers in STEM fields.  Several $1,000 scholarships are available to students pursuing an Associate degree in Computer Information Systems, Computer Programming, Computer Science, Environmental Studies, or Mathematics at Copper Mountain College.  Preference will be given to students preparing for transfer into a baccalaureate degree (B.S. or B.A.) program in science or mathematics. These scholarships are to attend Copper Mountain College and there are multiple $1,000 scholarships available for graduating high school students. The scholarships will be renewable for $1,000 for a second year at Copper Mountain College provided the student remains in the science/math program, and is making satisfactory progress.The deadline to apply is March 31, 2015. An application can be found at
http://www.cmccd.edu/CMC-SCE-STEM-Scholarships
The Joshua Tree Chamber of Commerce supports the Morongo Basin Dark Sky Alliance in all their efforts.
more info >