Joshua Tree Chamber News & Member Events

Thank you to our new and renewing members!
Letter From The President
We are seeing volunteers who would like to represent the Joshua Tree Chamber of Commerce on weekends. Talk with visitors and tourists about the Joshua Tree community, tourist opportunities, lodging, restaurants and other businesses. Have an interest in learning about the community and talking with people.
more info >
The Joshua Tree Chamber of Commerce sends a special 'Thank You' to Joshua Tree Health Foods. For almost a year now, Joshua Tree Health Foods has been paying for the maintenance of Turtle Island on behalf of the entire community. Please join us in thanking them for their part in keeping this entry to Joshua Tree beautiful. Turtle Island is the strip of land that borders the South side of Hwy 62 between Sunburst and Hillview Rd. In 2012 the Joshua Tree Chamber re-landscaped the island with a grant from San Bernardino County and had maintained it for almost two years.
Register For Our New Member Directory
MAC Meeting Monday, April 13, 6:30PM

Presentations:
1.Joan Griffin, CHP, will present information on the Teen Driving Program
2.Steve Martinez, County of San Bernardino Transportation Department, will present information on Bike Trail Opportunity in the Joshua Tree area.
3.Pat Flanagan will do a Power Point presentation on the recently released BLM West Mojave Plan (WEMO).
See end of newsletter for full details
Member of the Month
Each month we will choose and feature a new Member of the Month in the newsletters for that month. To find out how to be included in the drawing, send an email to director@joshuatreechamber.org
Joshua Tree Downtown Map
We have printed our downtown map and business directory! It is available at the Chamber office, downtown locations and is being distributed to many outside locations. Download a copy here >
We have distributed more than half of the maps already and are preparing for the second printing. Get your ad in before slots sell out. Advertise for the next edition of the map, spaces are filling up fast! more info >
Seeking Volunteers, Donations and Board Members
more info >
Chamber office hours: 10-12 Tuesday, Wednesday and Thursday.
6448 Hallee Road, Suite 10 (in Sam's Plaza) 760.366.3723
Joshua Tree 2nd Saturday Downtown Nights
Joshua Tree Electric Bikes Grand Opening
Grand Opening & Ribbon Cutting
2:00 p.m.
Saturday, April 11th.Stop by and check out Joshua Tree's newest business!
Mojave Desert Land Trust Debuts New Headquarters
Mojave Desert Land Trust (MDLT) invites the public to stop by our new headquarters to enjoy the view, see what's new, and share ideas about what's to come!
Come be a part of our HQ Debut & Idea-Gathering Event!
Open House * Saturday, April 11th * 11am-2pm
* Tour the building & grounds
* Share your eco-friendly improvement ideas
* Enjoy refreshments
* With live music by Mojave Rhythm
(Steve Lester & Bobby Furgo)
Our building and grounds are a work-in-progress and we're seeking input and suggestions for eco-friendly design, materials, implementation and support as we map out a vision for the future of our new space.
We hope you'll join us and we look forward to welcoming you to our new home…
60124 29 Palms Hwy (at Olympic Rd) * Joshua Tree, CA 92252
Mojave Desert Land Trust's Earth Day 
Please join us on Saturday, April 18th for MDLT's Earth Day event on our
"Gateway Parcel" Section 33 in Joshua Tree!
Join MDLT and the 29 Palms Air Ground Combat Center for a day of clean-up and restoration on this critical habitat, which is a part of the wildlife linkage area that the land trust is dedicated to protecting. Come out to lend a hand and stay to enjoy some well-earned pizza!
We encourage you to invite any family and friends who would like to be involved in this effort.
Date: Saturday, April 18th
Stewardship Activities: 9AM-12:30PM
Pizza: 12:30AM-1PM
Location: Meet at the metal gate, about one-half mile south on La Contenta Rd. in Joshua Tree, CA.
Please bring water, snacks, gloves, sunglasses (eye protection), long sleeved shirt, long pants, sunscreen, wide brim hat, and sturdy boots.
Driving Directions: From the intersection of 29 Palms Highway and Park Blvd.
Travel west on 29 Palms Highway for approximately 3 miles.
Turn left onto La Contenta Rd. and travel south for approximately one-half of a mile until reaching a gate on your left, or east side of the road.
Park along La Contenta Rd. or continue south on La Contenta Rd. for an additional 0.2 miles and park in the La Contenta Middle School parking lot.
The MDLT registration table will be by the gate.
PLEASE RSVP – contact Lesley Hughes at 760-366-5440 or lesley@mojavedesertlandtrust.org for a more detailed map.
Hope to see you out in the beautiful desert!
Inhabitat Movie Showing

Inhabitat Movie Showing
Hosted by Transition Joshua Tree
April 22, 2015
8pm
LIMITED PARKING, ARRIVE EARLY
One Spirit Medicine: Ancient Ways to Ultimate Wellness
One Spirit Medicine: Ancient Ways to Ultimate Wellness by Dr. Alberto Villoldo, Ph.D.
I'm excited for the release next month of "One Spirit Medicine," by my friend and colleague Dr. Alberto Villoldo. In this ground-breaking new book, Dr. Villoldo bridges cutting edge neuroscience and the ancient wisdom of the indigenous traditions he has studied for more than three decades to push the reset button on ultimate health and wellness in the 21st century. Using the principles and practices that Dr. Villoldo shares in One Spirit Medicine, you can feel better, clear your mind and heal your brain, and effectively grow a new body – one that mends rapidly, ages gracefully, and keeps you connected to Spirit, to the earth, and to a renewed sense of purpose in your life.
You can order it now: http://goo.gl/S6syYA
Release Date May 5, 2015
Realtor Andy Patel is Awarded SRS Designation
LOCAL REALTOR® Andy Patel AWARDED SRS DESIGNATIONYucca Valley, CA, April 06, 2015 – Andy Patel with Coldwell Banker Roadrunner Realty, has been awarded the Seller Representative Specialist (SRSsm) designation, the premier seller agency designation in the country. The SRS is conferred by the Council of Real Estate Brokerage Managers (CRB) and is an official credential of the National Association of REALTORS®. Andy Patel joins an elite group of real estate professionals in North America who have earned the SRSsm designation. All were required to successfully complete a comprehensive course in seller representation, pass a comprehensive exam, meet experience requirements and subscribe to the REALTOR® Code of Ethics.
Andy Patel has been serving Home Buyers, Home Sellers, Home Owners and Real Estate Investors in 29 Palms, Yucca Valley, Joshua Tree, Morongo Basin and Desert Communities since 2009. Andy Patel is a specialist in Residential and Commercial real estate who has been affiliated with Coldwell Banker Roadrunner Realty since January 2011. During that time, he has demonstrated the highest professional standards and a dedication to satisfying the needs of his clients by providing them with the highest level of Real Estate services and support available.
In addition to SRS: Seller Representative Specialist designation, Andy Patel has earned many honors, including being Top Producing Agent for year 2014 & 2013, Coldwell Banker Diamond Society Award for Production Achievement for 2014, earning several designations such as ABR®: Accredited Buyer's Representative, SFR: Short Sale and Foreclosure Resource, SRES®: Senior Real Estate Specialist, MRP: Military Relocation Professional, e-PRO®: Real Estate Technology Certificate and he is an active member of National, California State and Joshua Tree Gateway Association of REALTORS®.
SRSsm is a wholly owned division of CRB and focuses specifically on representing the real estate seller. Founded in 1968, CRB is a not-for-profit affiliate of the National Association of REALTORS®. You may contact SRS by telephone, 800-621-8738, by e-mail, [CustomerService@SRSCouncil.com], or by visiting the SRS website, [www.SRSCouncil.com].
IgNight Conference
May 7-10, 2015 –
IgNight Conference
IgNight begins at noon on Friday, May 8th, 2015 and ends at 5pm on Sunday, May 10th, 2015. Classes will run during the day on Friday, Saturday and Sunday. You're invited to practice all those fancy new moves at the main spin jam area. There will be an amazing selection of flow music from sunset until 2am. After 2am we will have acoustic music playing, so bring your instruments!
Joshua Tree desert will be an amazing place to be at this time of the year. The Black Rock Observatory will be showing beautiful views of Saturn and other amazing deep sky objects at night. It will be a waning moon that weekend, so please make sure to bring a flashlight to navigate the terrain.
National Park Week
"Find Your Park" is the theme for this year's National Park Week, April 18 – 26, 2015. Experience Joshua Tree National Park with our Find Your Wildflower campaign. Go to http://www.nps.gov/jotr/planyourvisit/blooms.htm
to compare notes and see what's blooming!
On April 26, 2015, Junior Rangers and all visitors are welcomed with many exciting activities including hikes and nature walks, story time for kids, art immersion, climbing demonstrations, maintenance truck and tools demonstrations and more. View a complete schedule at any park visitor center.
Commenting on National Park Week and the Find Your Park movement, Joshua Tree National Park Superintendent David Smith says, "This is a unique opportunity for us in the National Park Service, and at Joshua Tree National Park to not only share Joshua Tree stories, but to have a very real conversation with the people who visit our parks and public lands. Parks inspire and transform our lives, whether they are national parks, state parks, city parks, or a patch of land in your own backyard."
"Road Map Toward Success"
Good Afternoon Basin Wide,
The Basin Wide Foundation invites you to our 5th annual workshop "Road Map Toward Success", a one-day workshop on Friday, May 8, 2015, from 8am – 3pm, at the Bell Center on the Copper Mountain College Campus. This workshop is geared towards all Non-Profits, Board Members, Executive Directors, Staff and Volunteers. Please find attached information on signing up. Each attendee will receive a notebook, continental breakfast, lunch and great, useful information!!
Presenters are: Beth Bergman, Attorney, Bergman & Allerdice ~ Specializing in Non-Profit Law
Jan McAdams, Funding Consultant ~ Grants
Matt Harris, Alcohol Beverage Control ~ ABC Rules
And…planned giving, social media and Board fundamentals
BWF Reserves the right to change speakers if schedules require.
Cost:
$40 for Members
$45 for Non-Members
$50 at the door
You may rsvp by responding to this email, fax brochure back to 760-365-5770 or mail the brochure back at the below address.
If you should have any questions or need an invoice please feel free to call or email me.
Sincerely,
Kelly
3rd Annual Art Auction
The date is getting closer for the 3rd Annual Art Auction Benefit for Reach Out Morongo Basin and organizers are still seeking donations of artwork for this fundraising event to be held on May 2, 2015 from 2 – 7 pm at ArtFx and Furnishings in Old Town Yucca Valley.
With live music, food and beer and wine this promises to be an extraordinary event! With an awesome musical line up auction goers will be sure to be entertained! One duo of local musicians are The Luminators comprised of Mark Ross and Paul Gerkin. With almost 70 years of combined musical experience they provide a classic duet sound with a mastery of their instruments and vocal artistry. Performing various musical styles from Gospel, Blues, R & B, Country, Rock and their own original songs they always try to get across a positive spiritual message-spreading joy through music ! Energetic and entertaining they are not to be missed!!!
Another local and hometown favorite is Kristina Quigley with her amazing country sound. As a lifetime musical performer, Kristina grew up in Pioneertown singing at Pappy and Harriet's Pioneertown Palace owned by her grandmother Harriet Allen. She began performing around the United States as a teen at rodeos, county fairs and other events as well as entering and winning an International Singing contest in Branson, MO at the age of 18. Having toured and shared the stage with country greats like Merle Haggard, Glen Campbell, The Lennon Sisters, Hwy 101 and many others her powerful voice and dynamic stage presence will be a real treat for all to see!
Proud Spirit – No Borders Cooking of Moreno Valley will be vending their fry bread & street tacos while locally owned Rose and Busters Wine Tasting will be vending beer and wine with a portion of their proceeds being donated to Reach Out Morongo Basin's programs for senior and disabled neighbors.
Organizers are seeking donations of self-created or pre-owned artwork from the community for the auction. "It is with the support of our local artistic community that this event has been such a success in the past and we look forward to the support and generosity that the Morongo Basin community is known for", said Robin Schlosser. , Reach Out executive director. "Past auctions have featured jewelry, photography, paintings, etchings, metalwork ceramics, textile art and even furnishings so all donations are welcome!"
Organizers would like to also thank sponsors Morongo Basin Broadcasting Z107.7, Hi-Desert Publishing, The Sun Runner Magazine and Desert Moon Pictorial Real Estate Magazine for their media support
.
Artwork and donations are being accepted at ArtFx and Furnishings – 55836 29 Palms Hwy in Old Town Yucca Valley or at Reach Out Morongo Basin 6539 Adobe Rd, 29 Palms from March 16, 2015 thru April 16, 2015.
For more information contact Reach Out at 760-361-1410 or ArtFx & Furnishings at 619-990-5683.
The Beatnik Lounge!
NOW CALLING OUT ARTISTS to Participate in This April-May Show… Even For Pieces w/RECYCLED MATERIALS~!~
Please Join Us On the Onset of the Next Beatnik Lounge Art-Show; the "Earth to Mother Art Exhibit" That Spans the Six-Week Period that includes "Earth Day" (This April 22nd is the 45th Anniversary of the 1st Earth Day!) to Mother's Day in May! We Will Celebrate with an Evening of Creative Art/Music/Poetry in an "Open Mic" Format.
(Sign Up to Perform w/a Comment below or email Sunny: conchustimes@yahoo.com)
Raise Your Own Awareness and Raise Planetary Consciousness..!
Let's Create Our Way Out of Mother-Earth's Pollution-Dilemma..!
EARTH TO MOTHER ART SHOW PIECES: Exhibit Your "Earth &/Or Mother-Related" Art Piece for a $15- Fee to Be Sold (or Not!) At the Price You Desire! (Additional Pieces are $10- ea. & "Sold Pieces" require an additional 10% to the Beatnik).
LOVE YOUR GAIA-MOTHER POSTER CALL-OUT: A "Call-Out" to All Artists Who Would Like to Make a Poster Piece for the "Gaia-Mother Art Wall," (max. 16 in. x 20 in.) & You Are Welcome to Contribute as many Posters As You Wish, But We Are Asking for $5- Donation for Each Piece to Help Keep the Beatnik Lounge Thriving!
More Info: contact Deborah by email debtobin12@gmail.com or call 619-806-6202
MORE Mother Fun: A "Head's Up" to Bring Photos of your Mother to be developed into the "2nd Annual Beatnik MOM-Dala" in May (Which Can Be Dropped Off At THIS Event~!~)
The Beatnik Lounge is located at
61597 29 Palms Highway
Joshua Tree, CA 92252
(formerly the Beatnik Cafe/Red Arrow)
Please contact tedquinn11@gmail.com or via facebook.com/tedquinn for more details.
Please listen to the Sunday Evening Variety Show at 5pm (PST) RadioFreeJoshuaTree.org
Join Ted Quinn Monday nights at Pappy and Harriet's for Ted Quinn's Reality Show! 7:00 sign-up!
NEW SERVICE AT THE LISTENING LOUNGE
We will convert your vinyl LPs to digital. We can burn a CD, or put files on the drive of your choice. Only $5 per single album!
Radio Free Joshua Tree!
Streaming 24/7
Featuring local music, news, cultural reports
and much, much more!
Please listen to the Sunday Evening Variety Show
5 pm every Sunday – click the link above to listen!
Please send your music submissions, with permission to play your music, to submit@RadioFreeJT.com
Sunday Night Slow Jams comes to Z107.7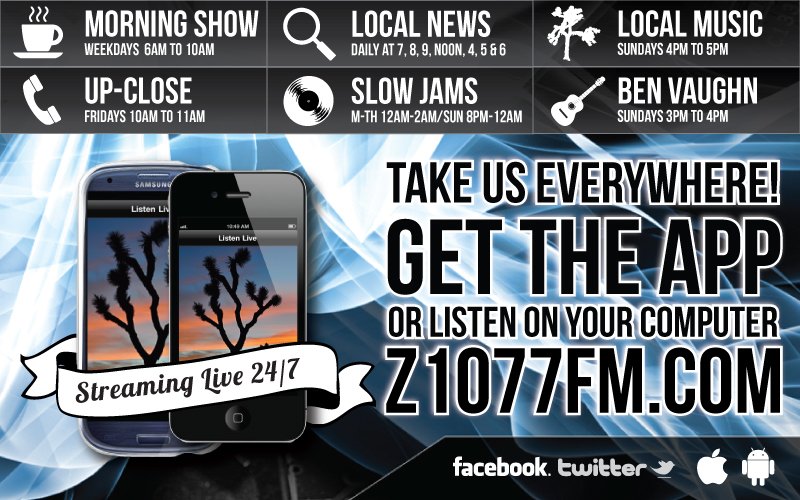 With the start of a new year, the start of exciting new programming for the Morongo Basin's #1 Radio Station!"Sunday Nite Slow Jams"now offers listeners from Morongo Valley to the west, Amboy to the East, and the Communities of Yucca Valley, Joshua Tree, Landers, Twentynine Palms, and Wonder Valley in between, a special blend of old and new R&B love songs and an outlet to express special feelings to loved ones Sunday nights from 8:00 pm. until midnight.Sunday Nite Slow Jams specializes in playing special Slow Jams that you probably haven't heard in awhile, and definitely won't hear anywhere else! SWV, Keith Sweat, Jodeci, The Isley Brothers, Boyz II Men, Al B. Sure, Janet Jackson and more can all be heard on "Sunday NiteSlow Jams"-on Z107.7.
In addition to the Sunday night 8-midnight show, Z107.7 will also offer a late night treat of Slow Jams -Monday through Friday nights from midnight to 2:00 am.
"Sunday Nite Slow Jams" on Z107.7 is the results of numerous listener requests to bring the popular program to the Hi-Desert. Program DirectorGary Daigneault said, "After receiving inquiries about the program, we researched it, located the program distributors and made the arrangements to bring it up to the Morongo Basin. As the only family owned and operated Radio Station for the past 25 years, we felt it was important to give our listeners the variety of music and entertainment they were asking for."
Sunday Nite Slow Jams can be heard at 107.7 on the FM Radio dial in the Morongo Basin, streaming worldwide at www.z1077fm.com or through the free app available by searching "KCDZ" on the Google Play and Apple Markets.
Featuring a high quality mix of adult contemporary and local music, mixed with a local morning show and local news 7 days a week, Z107.7FM is broadcast from studios in Joshua Tree and recently celebrated their 25th anniversary.
They have been under the same local ownership, at the same location, and featured the same quality programming since they signed on in July of 1989. For more information about Z107.7, call the studios at 760-366-8471.
(now streaming worldwide)
Old Schoolhouse Lecture Series
Black Rock Lecture Series 2014-20
Coming up at the Desert Institute
APRIL CLASSES NOT TO BE MISSED!DEAR JOSHUA TREE CHAMBER WILDFLOWERS ARE STARTING TO BLOOM IN THE PARK AND THE WEATHER IS SUPERB. YOU CAN SEE THE WEEKLY WILDFLOWER REPORTS on the park's website.
In April, we have an extensive schedule of educational programs covering everything from Natural Sciences to Survival Skills to Creative Arts Programs. Many of the April programs have a "camping option" for beginning or experienced campers at the reserved Lost Horse Campground (not on the park map) to have the ultimate Joshua Tree experience. Enrollment is limited, so plan ahead and book now to ensure your Spring gets off to a good start.
To enroll in any of our courses, VISIT OUR WEBSITE, OR CALL 760-367-5535 (MON-FRI 8AM – 5PM).
NATURAL SCIENCES
April 11-12 Ecology of Joshua Tree National Park* with Allan Schoenherr
April 11-12 Tracking in Joshua Tree National Park with Jim Lowery
April 17-19 Birds of Joshua Tree National Park* with Kurt Leuschner
April 18-19 Geology of the Mojave National Preserve with Ted Reeves
April 25 Ecology and Biology of Joshua Trees with Chris Clarke
*Offered for University Credit
CULTURAL HISTORY HIKE
APRIL 12 HIKE LOST HORSE LOOP WITH CHRIS METZGER
SURVIVAL SKILLS
APRIL 11-12 TRACKING IN JOSHUA TREE NATIONAL PARK WITH JIM LOWERY (CAMPING OPTION)
APRIL 18-19 GPS NAVIGATION TECHNIQUES WITH DAVID PYLMAN (CAMPING OPTION) WOMEN'S PROGRAMS
April 18-19 Rough n' Ready Girl's Desert Camping Workshop with Rebecca Lowry (camping option)
April 25-26 Women's Get-Away Weekend with Laurie Green and Caryn Davidson (camping option)
May 9 Journey to Artistry in Joshua Tree National Park with Valohna Wynn Creative Art Programs
April 4-5 Desert Experience: Transforming Observation Through Writing with Rebecca Lowry (camping option)
April 25-26 Night Sky Photography with Dennis Mammana
April 26 Watercolor Painting in Joshua Tree National Park with John Scahill May 2 Plein Air Poetry with Jim Natal and Jeanette Clough
May 2 Light and Color: Oil Painting in JTNP _(new format) _with Andrew Dickson On
April 3-5, the JOSHUA TREE NATIONAL PARK ASSOCIATION presents the 23rd annual ART IN THE PARK. This year we will hold the Festival at the 29 Palms Art Gallery, right next door to the Oasis of Mara Visitor Center. The Visitor Center is undergoing a seismic retrofit, so our "home" of 22 years was not available, although a temporary Visitor Center is serving visitors. A special thanks to our friends at 29 PALMS ART GALLERY for supporting the festival.
Over fifteen local and regional artists will on hand at the festival to show and sell their work, sharing their personal interpretation of Joshua Tree National Park and the desert southwest. Original works of painting, sculpture, photography, ceramics, art glass, jewelry and gourd art are featured each year. The Art Festival runs from 9:00 to 5:00 p.m. each day on the patio next to the 29 PALMS ART GALLERY on National Park Drive, Twentynine Palms. As a special bonus, the 29 Palms Art Gallery will be open. ADMISSION IS FREE – a portion of the proceeds benefit the Joshua Tree National Park Association.
On FRIDAY, APRIL 10, BIOLOGIST AND DESERT SUN COLUMNIST, JIM CORNETT, WILL SPEAK ON "LIVING ON THE DESERT'S EDGE: 12 YEARS OF MY WILDLIFE ENCOUNTERS IN AND AROUND MY HOME AT THE EDGE OF A DESERT WILDERNESS" at the Old Schoolhouse in 29 Palms. The lecture begins at 7 pm and admission is $5.00. A dinner with the presenter at the 29 Palms Inn is available at 5 pm. Please call Kellie Stokes at 760-367-5535 for dinner reservations. On FRIDAY, APRIL 17, THE BLACK ROCK SYMPOSIUM WILL FOCUS ON "CLIMATE CHANGE" with panelists Cameron Barrows, Research Biologist, UC Riverside, Ian James, Investigative Reporter for the Desert Sun and Michael Vamstad, NPS Wildlife Ecologist. This program is free and starts at 7pm at the Bell Center, Copper Mountain College.
The Art of War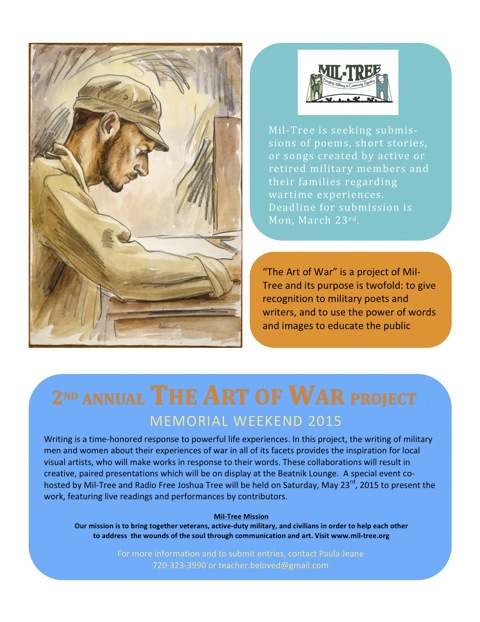 Desert Moods
Joshua Tree National Park Conservation Corps
Youth Conservation Corps Applications now available.
This summer, Joshua Tree National Park will sponsor an 8-week, Youth Conservation Corps program. Youths between the ages of 15 and 18 are encouraged to apply. To be eligible, applicants may not reach their 19th birthday during the program. Selected applicants will start work on June 15th, 2015 and continue in the program until August 6th, 2015. Corps members will earn the hourly California Minimum Wage. Work hours are Monday through Friday from 7:00 a.m. until 3:30 p.m., with every other Friday off.
The program provides young people of the community with excellent hands-on work experience. Work will be labor intensive and performed throughout the park. Proposed projects include trail construction and maintenance, resource habitat improvement, and resource restoration. Job development and youth training are truly and investment we can all make in the futures of our children.
Application forms are available from Joshua Tree National Park Headquarters in Twentynine Palms. The application form must be returned or postmarked, no later than April 11, 2015. Call Human Resources Assistant Samantha Coots at 760-367-5516 for additional information.
Morongo Basin Municipal Advisory Council (MAC)
To Third District County Supervisor James C. Ramos
AGENDA
Regular Open Session Meeting * 6:30 P.M., Monday, April 13, 2015
Joshua Tree Community Center, 6171 Sunburst Ave., Joshua Tree, CA 92252
A.Call to order (6:30 p.m.)
B.Pledge of Allegiance
C.Roll Call:  Seat 1: Pioneertown, Vacant; Seat 2: Elizabeth Karman, Yucca Mesa; Seat 3: Landers, Vacant;
Seat 4: Mark Lundquist, Joshua Tree; Seat: 5: Lib Koenig, Flamingo Heights; Seat 6: Pat Flanagan, Desert Heights; Seat 7: Teresa Sitz, Wonder Valley; Seat 8: Gayl Swarat, Morongo Valley; Seat 9: Mary Helen Tuttle, Copper Mountain Mesa.
D.Adoption of the Agenda
E.Election of Chairman and Vice-Chairman
F.Approval of Minutes from March 9, 2015
G.Call for Public Comment
At this time, anyone may comment on items not on the agenda that are of interest to the public and within the jurisdiction of the MAC.  The MAC is prohibited by law from taking action on matters not on the agenda.  Comment may be offered on items on the agenda when those items come up for discussion or action.  A limit of 3 comments per item and 3 minutes per comment may be imposed.  In all cases, if you wish to speak, please submit a REGISTRATION CARD to the SECRETARY and proceed to the podium when recognized by the Chair.  Speakers should address the MAC as a whole; comments to individual delegates and/or staff are not appropriate for this venue.
H.Public Safety Reports
1.County Fire
2.CHP
3.Sheriff's Department
I.Presentations
1.Joan Griffin, CHP, will present information on the Teen Driving Program
2.Steve Martinez, County of San Bernardino Transportation Department, will present information on Bike Trail Opportunity in the Joshua Tree area.
3.Pat Flanagan will do a Power Point presentation on the recently released BLM West Mojave Plan (WEMO).
J.Community, Officer & Committee Reports
1.Brief reports from each Community, Office and Committee where appropriate and time permits.
K.Items for May meeting: Drought report by Marina West.
L.
Adjournment:
Next meeting:  Monday, May 11, 2015; same location as above.
San Bernardino County is committed to ensuring persons with disabilities are provided the resources to participate fully in public meetings.  If you require disability-related modifications or accommodations, including auxiliary aid or services, contact the BOS office at least three business days prior to the meeting.