Joshua Tree Chamber News & Member Events
Thank you to our new and renewing members!
The Station
Robert DeFazio – Business Consultant
Naturalives Day Spa – Joshua Tree
Harrison House Music, Arts, Ecology
Quail Springs Village Apartments
Joshua Tree Mini Storage
Hi-Desert Cultural Center
Joshua Tree Bungalows
Rotary Club of Joshua Tree
Joshua Tree Chamber News
Meeting Space Available for Rent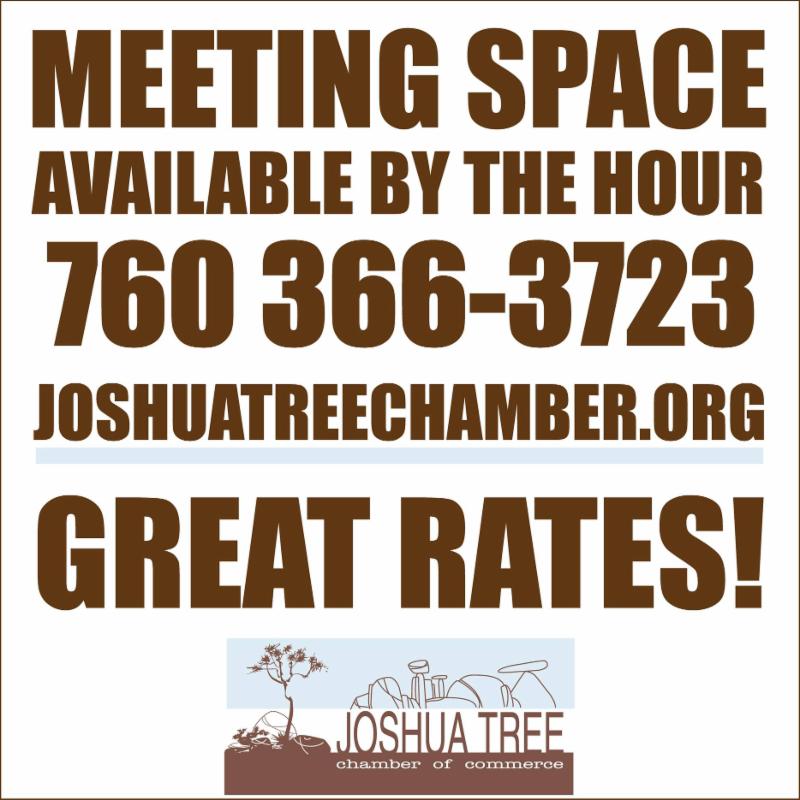 The Chamber is now offering meeting/event space for groups, private individuals and organizations at our office. We are open for daily/ weekend and evening meeting scheduling. Our hourly rates are reasonable and Chamber members receive an additional discount. To book, call 760-366-3723 or email director@joshuatreechamber.org
Member of the Month
Each month we will choose and feature a new Member of the Month in the newsletter. To be included, send an email to director@joshuatreechamber.org
Joshua Tree Downtown Map
We have printed our downtown map and business directory! It is available at the Chamber office, downtown locations and is being distributed to many outside locations. Download a copy here >
Advertise for the next edition of the map, spaces are filling up fast! more info >
Seeking Volunteers, Donations and Board Members
more info >
Chamber office hours: 10-12 Tuesday, Wednesday and Thursday.
6448 Hallee Road, Suite 10 (in Sam's Plaza) 760.366.3723
2nd Saturdays Events
Joshua Tree 2nd Saturdays Downtown Nights
Mojave Desert Land Trust 2nd Saturday Sale

SALVAGE SATURDAYS* come to Mojave Desert Land Trust!
Join us for our 2nd Saturday Kick-Off Sale
Saturday, June 13 * 9am to 1pm
A treasure-trove of trash – mined from our Mojave Desert stewardship activities…Railroad ties, desert-worn corrugated metal, mattress springs & other rusty metal stuff, automobile hoods & such…and MORE!
Where: MDLT Gateway Headquarters * 60124 29 Palms Hwy (at Olympic Rd) * Joshua Tree, CA (across from Joshua Tree Memorial Park)
Park in the front & come 'round back!
*Salvage Saturdays support a pristine desert: All proceeds benefit the work of the Mojave Desert Land Trust Stewardship Program.
For more information about this event: 760-366-5440 or vickie@mojavedesertlandtrust.org
JT Trading Post
A pop-up shop featuring funky vintage & gently-worn women's clothing, shoes & accessories
dyn-O-mite desert duo JET 'n TES (a.k.a. T 'n T) join forces to declutter their wardrobes in this one-of-a-kind blow-out sale
! it'll be a blast * don't miss it !
WHEN: Saturday + Sunday, June 13-14 * 11am-5pm
WHERE: JT trading post
61716 Twentynine Palms Hwy * Joshua Tree
Sunday Night Slow Jams comes to Z107.7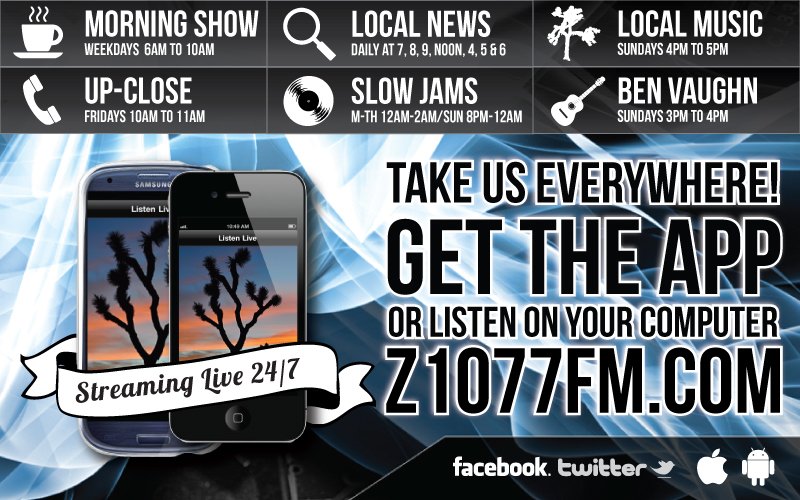 With the start of a new year, the start of exciting new programming for the Morongo Basin's #1 Radio Station!
"Sunday Nite Slow Jams"now offers listeners from Morongo Valley to the west, Amboy to the East, and the Communities of Yucca Valley, Joshua Tree, Landers, Twentynine Palms, and Wonder Valley in between, a special blend of old and new R&B love songs and an outlet to express special feelings to loved ones Sunday nights from 8:00 pm. until midnight.
Sunday Nite Slow Jams specializes in playing special Slow Jams that you probably haven't heard in awhile, and definitely won't hear anywhere else! SWV, Keith Sweat, Jodeci, The Isley Brothers, Boyz II Men, Al B. Sure, Janet Jackson and more can all be heard on "Sunday NiteSlow Jams"-on Z107.7.
In addition to the Sunday night 8-midnight show, Z107.7 will also offer a late night treat of Slow Jams -Monday through Friday nights from midnight to 2:00 am.
"Sunday Nite Slow Jams" on Z107.7 is the results of numerous listener requests to bring the popular program to the Hi-Desert. Program DirectorGary Daigneault said, "After receiving inquiries about the program, we researched it, located the program distributors and made the arrangements to bring it up to the Morongo Basin. As the only family owned and operated Radio Station for the past 25 years, we felt it was important to give our listeners the variety of music and entertainment they were asking for."
Sunday Nite Slow Jams can be heard at 107.7 on the FM Radio dial in the Morongo Basin, streaming worldwide at www.z1077fm.com or through the free app available by searching "KCDZ" on the Google Play and Apple Markets.
Featuring a high quality mix of adult contemporary and local music, mixed with a local morning show and local news 7 days a week, Z107.7FM is broadcast from studios in Joshua Tree and recently celebrated their 25th anniversary.
They have been under the same local ownership, at the same location, and featured the same quality programming since they signed on in July of 1989. For more information about Z107.7, call the studios at 760-366-8471.
(now streaming worldwide)
Gallery 62
Summer Preschool
The Joshua Tree Recreation & Park District is currently accepting registration for its Summer Preschool Day Camp. All children who are eligible to attend preschool or first grade in the fall may enroll. Each week features a different theme the children will explore through arts & crafts, creative play, music, stories, and more. The camp runs Monday through Thursday 9:15am-12:15pm beginning July 15th. Cost is $50 for the first week and $45 for each additional week. Sign up for 4 weeks at a time and receive a discount!
For more information, contact the Joshua Tree Community Center at:
760-366-8415 or go online to www.JoshuaTreeRecAndPark.org
Joshua Basin Water District – Water District Officers Help With Drought Restrictions
Joshua Tree, CA-Governor Brown released new water restrictions this month mandating a 28% reduction for Joshua Basin Water District's  monthly production.  While the District is conducting an extensive system-wide audit to reduce water loss, the Board of Directors is asking every customer to help.
Joshua Basin Water District has identified ways to help their community work to achieve lower water consumption, especially during these summer months of high water use.  While the list is ever growing, the following are some of the highlights of their public outreach program:
The District is establishing a free on-line water conservation class that is similar to the traffic school webbased program.  There are two parts to this educational opportunity:  the first is for community residents to participate electively, and the second part is for those who have been identified as water waste offenders to take advantage of this information to avoid penalties.  Those who participate electively can qualify for a one time $5 rebate on their JBWD water bills in October, 2015, after demonstrating several months of water use reduction.  Alternately, second time water waste offenders may take the 1.5 hour course to avoid an administrative fee.
Another incentive for District customers is to submit their best water saving tip-no limits!  At the end of each month the District will select a winner that will be highlighted in the District's monthly print and online newsletter and be awarded a $10 credit on their next water bill.  For more information go to www.jbwd.org, and click on the "Drought" button.
General Manager Sauer will also accept invitations to address group meetings in Joshua Tree on what the District is doing to meet the 28% reduction mandate.  Also,  the District will have a presence in as many community events as possible to avail water conservation information and updates to their residents.
Visual reminders of all kinds will be seen throughout the community in an effort to keep the message of reducing water use as "top of the mind awareness" for both locals and visitors, alike.  "Fifty percent of our residences already use only 60 gallons per person on a daily basis.  I am hopeful the rest of us will take up the challenge placed before us."  Noted Sauer.
For more information on water conservation ideas, visit the Joshua Basin Water District's website at www.jbwd.org.  To inquire about the above drought initiatives to help meet the District's goal of reducing 28% water consumption, call Kathleen Radnich, Public Information and Outreach, at 760.821.5716.  Information can also be obtained in person by visiting the Water District's booth at the Saturday Farmers' Market in Joshua Tree.
Business Forum in Joshua Tree
A number of local businesses in Joshua Tree have been served with papers for an impending ADA suit against them in Federal Court. The Joshua Tree Chamber is organizing a Panel Discussion to provide information to affected business owners. We are inviting members from the Supervisors Office, State Assembly Person Chad Mayes, State Senator Paul Cook and Jean Fuller, ADA Officers and building Inspectors from San Bernardino County. We are looking for mid-July (when State Assembly and Senate members can attend and participate) to hold this meeting. If you would like further information, or can help with contacting people, please contact the Joshua Tree Chamber.
director@joshuatreechamber.org
Transition Joshua Tree

Joshua Tree Retreat Center Events
Mojave Desert Land Trust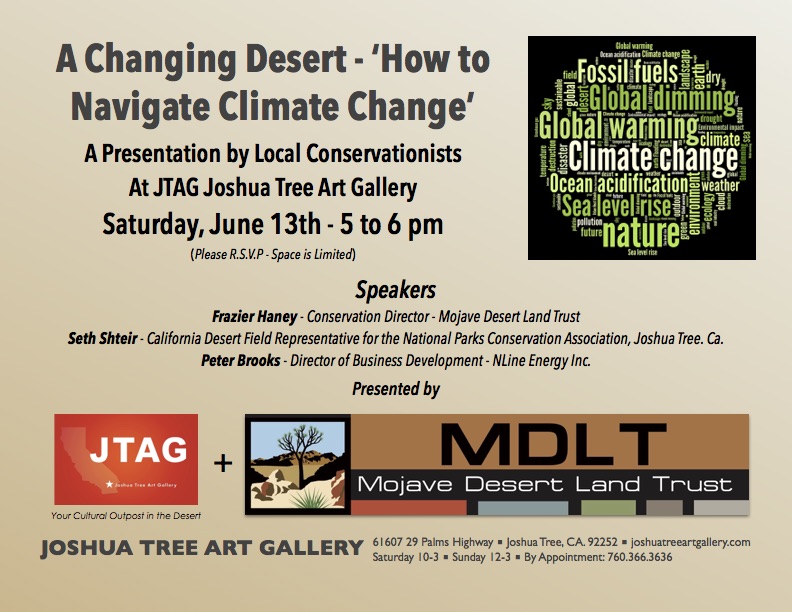 Morongo Basin Republicans

San Bernardino Small Business Seminar & Resource Expo
San Bernardino Small Business Seminar & Resource Expo

SPONSORED BY:
DIANE L. HARKEY Member, California State Board of Equalization
GEORGE RUNNER Vice Chair, California State Board of Equalization
MIKE MORRELL State Senator, 23rd District
MARC STEINORTH State Assemblymember, 40th District
JAMES RAMOS San Bernardino County Supervisor, 3rd District
CURT HAGMAN San Bernardino County Supervisor, 4th District
HENRY NICKEL Council Member, City of San Bernardino, 5th Ward

SMALL BUSINESS DEVELOPMENT CENTER TOPICS:
* Basic Sales & Use Tax
* Forms of Ownership
* Better Business through Better Records
* Employee or Independent Contractor
* Loan Programs and Services

DATE/TIME:
Tuesday, June 16, 2015
9:00 a.m. to 2:30 p.m. (check-in at 8:30 a.m.)
LOCATION: City Council Chambers San Bernardino City Hall 300 North D Street San Bernardino, CA 92418

FREE PARKING TO REGISTER FOR THIS EVENT GO TO: www.boe.ca.gov/seminars

or by calling 1-888-847-9652

 
Joshua Tree Community Days
29 Palms Inn Events

Join us at the 29 Palms Inn this Sunday for a special presentation on why wild spaces matter by the National Parks Conservation Association's Seth Shteir! A benefit for the Joshua Tree National Park Council for the Arts.
 Robert Lundahl
"Who Are My People?"
Sunday June 21, 2015
3:00-5:00pm
The 29 Palms Inn presents a powerful documentary film on the current and controversial topic of the build out of large solar renewable plants in conflict with Native American sacred sites. "Who Are My People?" is the latest documentary film by Emmy Award Winning filmmaker Robert Lundahl.
"Who Are My People?", a documentary film by Robert Lundahl, will leave you thinking that the English language is at a deficit when it comes to allowing one to fully comprehend  what we now, often inaccurately, believe 'green' and 'renewable' energy to represent.
Robert Lundahl will be at the 29 Palms Inn for this special screening on Sunday, June 21,2015. The 29 Palms Inn is located at 73950 Inn Ave in Twentynine Palms California, 92277.
VA on the Move in 29 Palms
VA on the Move will be at the 29 Palms Senior Center on June 30, 2015 from 11 am to 2 pm and will be providing information and services for local veterans, active duty military and their families.
The Mobile Vet Center will be here along with multiple VA and state personnel to help address Veteran questions and concerns and there will also be a readjustment counselor on hand if needed. Some of the services provided are Readjustment and Supportive Counseling for Veterans, Military Sexual Trauma Supportive Services, Counseling on available services through the Department of Veterans Affairs, information on Loma Linda VA Medical Services and the Women Veterans Health Program, Veterans Benefits counseling, Cal Vet Benefits and Employment Education Development Resources.
For more information contact Reach Out Morongo Basin at 760-361-1410.
Copper Mountain College Day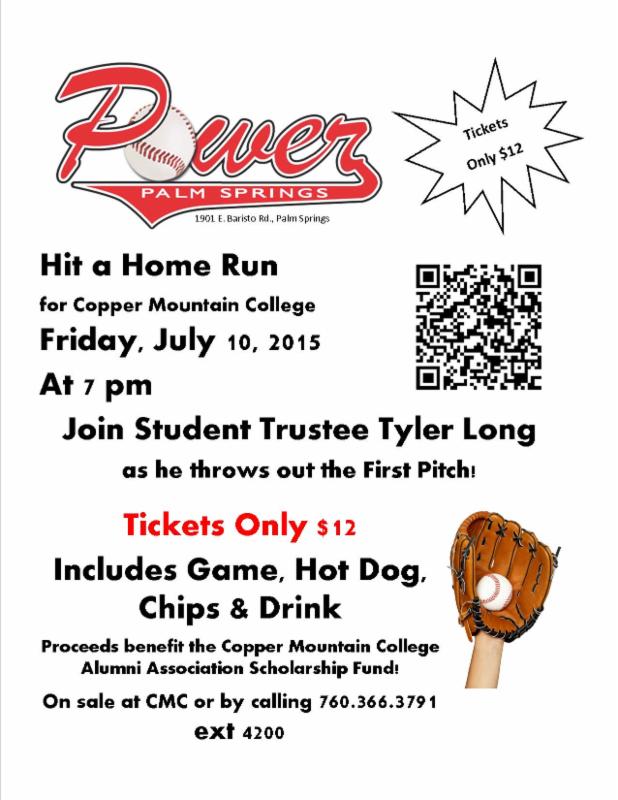 Joshua Tree National Park Art Exposition
The third annual Joshua Tree National Park Art Exposition will be held in November 2015 at the Oasis of Mara in Twentynine Palms, California. The Juried Art Exhibition, a highlight of the annual exposition, will hang at the historic 29 Palms Art Gallery, Nov. 6 to 29, with a gala opening reception and awards ceremony on Friday, Nov. 13, followed by weekend exposition events Saturday and Sunday, Nov. 14 & 15.
Deadline for submitting art entries for the juried exhibition is Tuesday, Sept. 1, 2015. Complete guidelines and entry form are available at:
www.JTNPArts.org
. An entry fee of $35 is required for up to three (3) images. Entry submissions and entry fees can be submitted online.
The Juried Art Exhibition is presented by Joshua Tree National Park Council for the Arts in partnership with 29 Palms Art Gallery, both 501(c)(3) non-profit organizations. For questions or more information about submitting entries, visit the website www.JTNPArts.org, or email artists@jtnparts.org. 

The Hi-Desert Arts Academy program, which is a part of the Hope Academy Charter curriculum but is open to all school-aged children, is proud to announce that its SUMMER YOUTH THEATER program will feature Disney's THE LION KING JR.
Howard Shangraw, who was the Chair of Theater and the Head of Acting Studios at the Idyllwild Arts Academy for over 10 years, leads this tremendous theater program.
For more about the Hi-Desert Arts Academy program, click here.
Send an email to artsacademy@hidesertculturalcenter.org or call 760.366.3777 ext.3 for more information.
Old Schoolhouse Lecture Series

The Twentynine Palms Historical Society announces the summer hours for the Old Schoolhouse Museum will begin June 1st and continue until September 1st. During the summer, the Old Schoolhouse Museum will be open on Fridays through Sundays from 1:00 until 4:00 p.m.
The museum's library and archives are open for those wishing to do research on Wednesday mornings between 9:00 and 11:30 a.m.
For more information, call the museum at 760-367-2366, email 29palmshistorical@gmail.com, visit the society's website at www.29palmshistorical.com or visit with the accessions committee on Wednesday mornings at the museum.
The Old Schoolhouse Museum is located at 6760 National Park Drive, directly across from the Twentynine Palms Inn.

Coming up at the Desert Institute
The course offerings at the Desert Institute at Joshua Tree National Park continue to grow. For a great educational experience, we keep our class sizes small, so enroll soon!
A new program will be conducted on Friday, July 17, "NIGHTSCAPE AND
LIGHT PAINTING PHOTOGRAPHY WORKSHOP" and there are just a few spaces
left.
To enroll in any of our courses, VISIT OUR WEBSITE, OR CALL
760-367-5535 (MON-FRI 8AM – 5PM).