Joshua Tree Chamber News & Member Events
Thank you to our new and renewing members!
Joshua Tree Inn
Holiday Inn Express of 29 Palms
The Station
Robert DeFazio – Business Consultant
Naturalives Day Spa – Joshua Tree
Harrison House Music, Arts, Ecology
 
Small Business and ADA Issue Meeting
An informational forum for victims and potential victims of the recent "Americans with Disabilities Act" lawsuits in the Hi-Desert will be held from 7 -9 pm Friday, July 10, at the Joshua Tree Chamber of Commerce, 6448 Hallee Road. Small business and ADA compliance strategies and resources will be discussed with local, county & state representatives. Seating is limited, please RSVP by July 9. To RSVP and for more information call Chamber President Bill Vincent at (626) 379-3182.
Meeting Space Available for Rent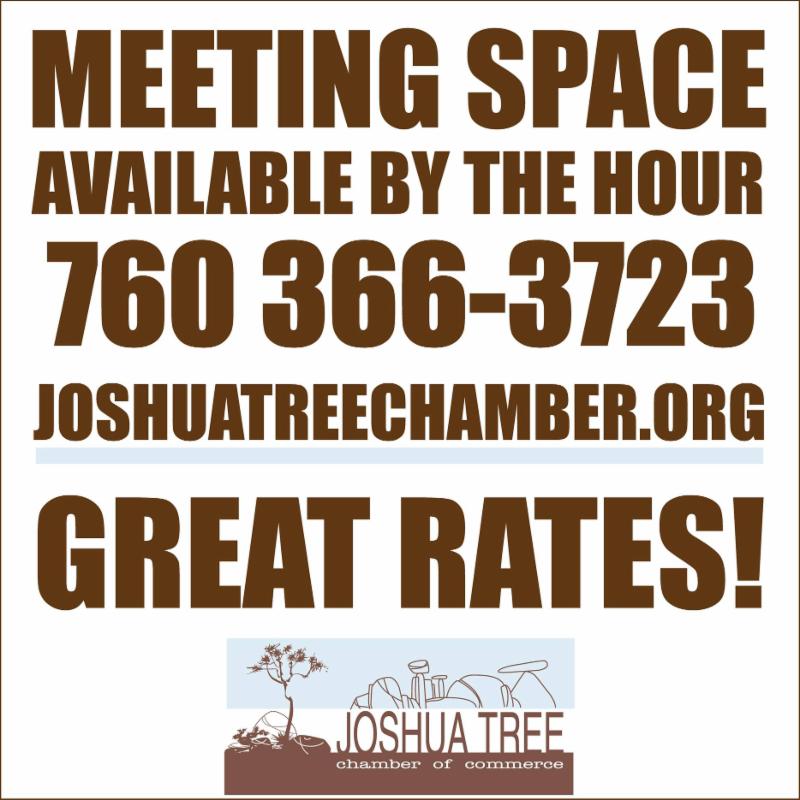 The Chamber is now offering meeting/event space for groups, private individuals and organizations at our office. We are open for daily/ weekend and evening meeting scheduling. Our hourly rates are reasonable and Chamber members receive an additional discount. To book, call 760-366-3723 or email director@joshuatreechamber.org
Member of the Month
Each month we will choose and feature a new Member of the Month in the newsletter. To be included, send an email to director@joshuatreechamber.org
Joshua Tree Downtown Map
The Downtown Map and Business Directory is now available at the Chamber office, downtown locations and is being distributed to many outside locations. Download a copy here > Advertise for the next edition of the map, spaces are filling up fast! more info >
Seeking Volunteers, Donations and Board Members
more info >
Chamber office hours: 10-12 Tuesday, Wednesday and Thursday.
6448 Hallee Road, Suite 10 (in Sam's Plaza) 760.366.3723
Joshua Tree 2nd Saturdays Downtown Nights
Coming up at the Desert Institute
Our Fall classes are now available for enrollment!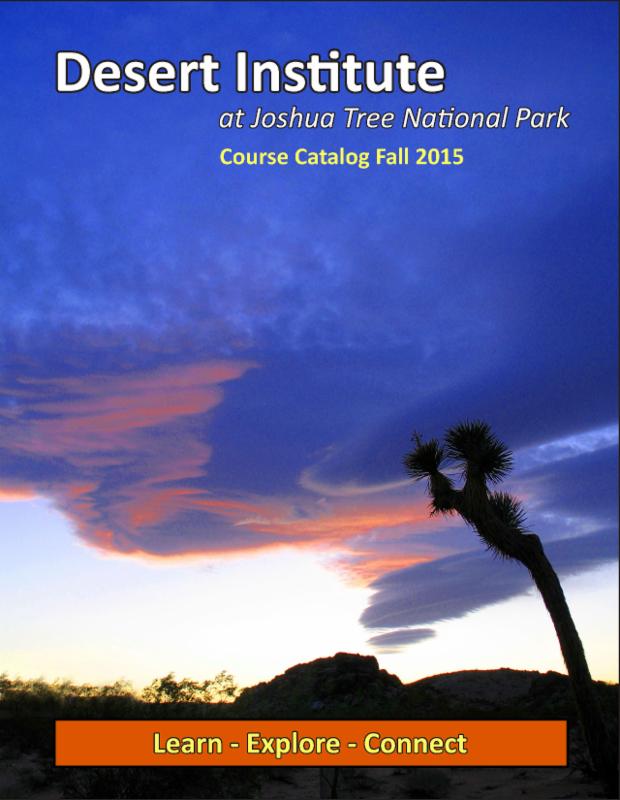 Click for a downloadable, interactive catalog,
or to enroll in any of our courses
call 760-367-5535 (Mon-Fri 8am – 5pm).
Classes fill early, so sign up soon!
The course offerings at the Desert Institute at Joshua Tree National Park continue to grow. For a great educational experience, we keep our class sizes small, so enroll soon!
A new program will be conducted on Friday, July 17, "NIGHTSCAPE AND
LIGHT PAINTING PHOTOGRAPHY WORKSHOP" and there are just a few spaces
left.
The Desert Institute's Creative Writing Programs seeks to foster participation in the arts in Joshua Tree National Park, and to share the beauty of the park with the broader arts community.  Staffed by local writers and volunteers, we offer literary readings, workshops, and forums for all ages, set amongst the iconic rocks, Joshua trees and the peace of the desert, inspiring inspiration and the time to create, tell our stories and experience nature that will have a lasting impact.
New classes:
October 3  Reading the Desert: Stories and Literature of Joshua Tree* with Ruth Nolan, M.F.A., Author, Professor of English, College of the Desert
November 6 – 8  Creative Issues and Practices in Nature Writing* with Elizabeth Wyatt, M.F.A., Professor of English, Copper Mountain College
*(UC Riverside Credit Approval Pending)
To enroll in any of our courses, VISIT OUR WEBSITE, OR CALL
760-367-5535 (MON-FRI 8AM – 5PM).
Morongo Basin Humane Society 
Hey Subscriber. So after spending lots of time refurbishing and updating all of our homes, we finally got around to doing the same thing for our website. Now, it's a whole lot easier to book your vacation home as well as see more images of each property. We also have gobs of informative about what's happening around Joshua Tree. So click
here
to see our beautiful website then come out and explore the beauty of the desert landscape. Your next vacation awaits!
4th of July in Twentynine Palms
The City of Twentynine Palms welcomes everyone to come out and enjoy some classic and southern rock by SouthBound during our Independence Day celebration in Luckie Park. Admission is free.
SouthBound was named Best Local Band- Riverside by Inland Empire Magazine in 2011. The band consists of four veteran musicians with a combined 100 plus years of experience.
Southbound plays danceable, highly recognizable rock hits from the 60's, 70's, 80's, and beyond. They are known to always bring their "A Game". They play a wide variety of music that offers a little something for everyone. You will not be disappointed!
They will be playing on the Fourth of July in Luckie Park from 6:30pm- 8:30pm. Following SouthBound will be the largest display of fireworks in the Morongo Basin put on by Pyro Spectacular.
Please be advised that alcohol and animals are not permitted in the park.
For information regarding vendor booths, contact the Chamber of Commerce (760)367-3445.
For more than 50 years, the Land and Water Conservation Fund has preserved our country's priceless natural beauty and resources, connecting millions of Americans with the public lands and parks that define and inspire us.The LWCF is set to expire in 100 days if Congress does not act.
For additional information, please contact Brandon Helm, The Wilderness Society: brandon_helm@tws.org / 202-429-2654 or Shauna Tucker, Mojave Desert Land Trust: shauna@mojavedesertlandtrust.org / 760-366-5440.
Beatnik Lounge
It looks like we're having a solid month of Americana at the Beatnik Lounge – beginning with 4th of July, & including the opening of our 'America' show on 2nd (Joshua Tree 2nd Saturdays Downtown Nights) (July 11) up through Mark Olson's performance on August 2nd…
 On THIS 4th of July, (@ the "Closing Party" of the "Man 2 Earth" Art Show) Please Join US to Celebrate "America the Beautifully-Psychedelic" with "Musical Fireworks (Instead Of) Polluting Fireworks"..~!~
We'll Be Celebrating the 'Psychedelic Shamanic-Energy-Field' That Many of US Have Experienced in This Lifetime c/o Entheo-genic Plants &/or 'Better Living Through Chemistry'… Come "Experience" the Music-Art of "The Eternal Fun-Guys" w/Special Guests "The Acid-Flashbacks"..~!~ (If U or Ur Band Would Like to Perform, Please email conchustimes@yahoo dot com)
$5- Suggested Donation Lovingly Accepted (w/No One Turned Away!)
Please Bring a (Natural Food) Item for the "Community Pot-Luck" If You Can..!
~!~May All Beings Have Happiness & Freedom~!~
Beatnik Lounge address:
61597 Twenty-Nine Palms Hwy, Joshua Tree, California 92252
Reach Out Morongo Basin

Reach Out Morongo Basin is seeking senior and disabled persons needing home repairs or yard work for upcoming service projects coordinated with volunteers 1st Tank Battalion and Naval Chiefs from the Robert E. Bush Naval Hospital aboard the Marine Corps Air Ground Combat Center for upcoming service projects scheduled for August and September 2015.
"This will be our fourth project in coordination with 1st Tank Battalion and we welcome the addition of volunteers from Naval Chiefs from the Robert E. Bush Naval Hospital. The support we have received from the Command at Marine Corps Air Ground Combat Center – 29 Palms during our last projects held has made these projects a huge success with over 100 senior homeowners throughout the Morongo Basin receiving much needed help with yard work and other home repairs during past projects.
Organizers are seeking 20 homes in the Morongo Basin. Requests for home repairs such as painting, light carpentry and other repairs not requiring permits as well as yard work projects are being sought. Homes must be the primary residence and owned by the senior or disabled person requesting the assistance. All requests will require inspection to evaluate the scope of work required.
For more information or to sign up for this program please call Robin Schlosser at Reach Out Morongo Basin 760-361-1410.
Hi-Desert Cultural Center

Calling All Directors! The Hi-Desert Cultural Center's prestigious Hi-Desert Playhouse theater division is seeking experienced directors to join its artistic team for the 2015-2016 season.  The Playhouse is looking for submissions from theater directors that convey artistic passion, a connection with the material, and a vision for an exciting production.
The Hi-Desert Playhouse's new season will feature both professional-quality as well as community-involved productions, an entirely new "First Fridays! Reader's Theater Series" featuring published and original works, and a full-scale Summer Youth Theater production.  With two major stage productions having already been selected, the Playhouse is looking for directors to submit show ideas to be considered for its new season line-up.  From Shakespeare to Simon, Checkov to Durang, Gershwin to Sondheim, and everything in between – all ideas are welcome!  As the most-awarded theater in the region this most recent season and with the Playhouse's new theatrical artistic director Howard Shangraw, be a part of the Hi-Desert Cultural Center's exciting future.
To submit, please send an email to
info@hidesertculturalcenter.org
that includes the following information: 1) your name and contact information, 2) the title and playwright/composer of the work you are submitting, 3) in your own words, what this particular work is about and why you are passionate about it, 4) your availability for the 2015-2016 season, 5) your previous directing experience, and 6) whether you would consider this a semi-professional or Equity level production.
The Hi-Desert Cultural Center looks forward to reviewing your submission.  For more information, call the Box Office at 760.366.3777 Ext. 2 or send an email to
info@hidesertculturalcenter.org

The Hi-Desert Arts Academy program, which is a part of the Hope Academy Charter curriculum but is open to all school-aged children, is proud to announce that its SUMMER YOUTH THEATER program will feature Disney's THE LION KING JR.
Howard Shangraw, who was the Chair of Theater and the Head of Acting Studios at the Idyllwild Arts Academy for over 10 years, leads this tremendous theater program.
For more about the Hi-Desert Arts Academy program, click here.
Send an email to artsacademy@hidesertculturalcenter.org or call 760.366.3777 ext.3 for more information.
Joshua Tree Clean Team

Every 2nd, 4th, 5th Wednesday
7:00 A.M. – 8:00 A.M. June, July, August, September
8:00 A.M. – 9:00 A.M. All Other Months
July 8 – Quail Springs Rd. (Park Blvd. South)/OnagaOctober 14 – Hwy. 62 @ Farmer's Market
July 22 – Yucca Mesa/Security
There will be Trash Bags, Grabber Sticks and Gloves Available
For More Information Call – 760 366-8415
Joshua Tree Retreat Center Events
Giving Hearts For You Retreat
Register for a special rate before July 4, 2015. Call 949-310-6709 or email lawrencebenes@gmail.com. Read about discount here.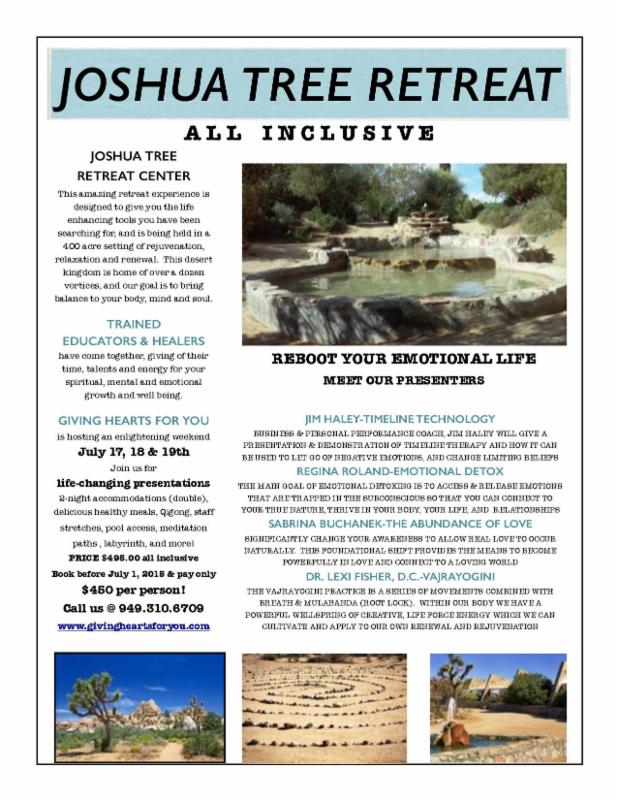 Learn more about Giving Hearts For You Retreat here.
Mindfulness Yoga Meditation and Retreat
Mindful-Way's 9th annual Summer Mindfulness Retreat will be held at the world renowned Joshua Tree Retreat Center, in Joshua Tree, CA.
Join us for our weekend retreat with Meditation, Mindfulness and yoga practices. Use your innate wisdom to explore the world inside you and around you as you meditate, cultivate mindful awareness, practice yoga, eat delicious vegetarian meals and participate in creative workshops. The emphasis of this retreat is on the cultivation and deepening of mindfulness practice through mindfulness meditation and other foundational exercises from the world renowned mbsr program including body practices and yoga. These practices along with numerous less formal explorations will be used as ways to bring mindfulness alive in everyday life. The retreat will be led by Mindful-Way teachers Beth Mulligan, PA-C, Hugh O'Neill and their team of highly experienced guest teachers. And our schedule is designed to be suitable for people new to mindfulness and seasoned practitioners alike.
Date: July 24-26, 2015
Location: Joshua Tree Retreat Center
Learn more about Mindfulness Yoga Meditation and Retreat here.
Copper Mountain College Day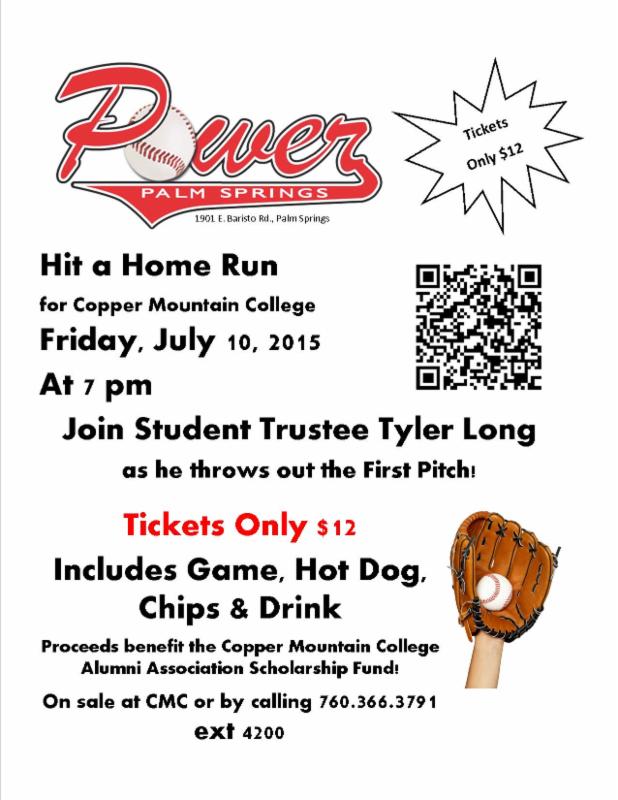 Joshua Tree National Park Art Exposition
The third annual Joshua Tree National Park Art Exposition will be held in November 2015 at the Oasis of Mara in Twentynine Palms, California. The Juried Art Exhibition, a highlight of the annual exposition, will hang at the historic 29 Palms Art Gallery, Nov. 6 to 29, with a gala opening reception and awards ceremony on Friday, Nov. 13, followed by weekend exposition events Saturday and Sunday, Nov. 14 & 15.
Deadline for submitting art entries for the juried exhibition is Tuesday, Sept. 1, 2015. Complete guidelines and entry form are available at:
www.JTNPArts.org
. An entry fee of $35 is required for up to three (3) images. Entry submissions and entry fees can be submitted online.
The Juried Art Exhibition is presented by Joshua Tree National Park Council for the Arts in partnership with 29 Palms Art Gallery, both 501(c)(3) non-profit organizations. For questions or more information about submitting entries, visit the website www.JTNPArts.org, or email artists@jtnparts.org.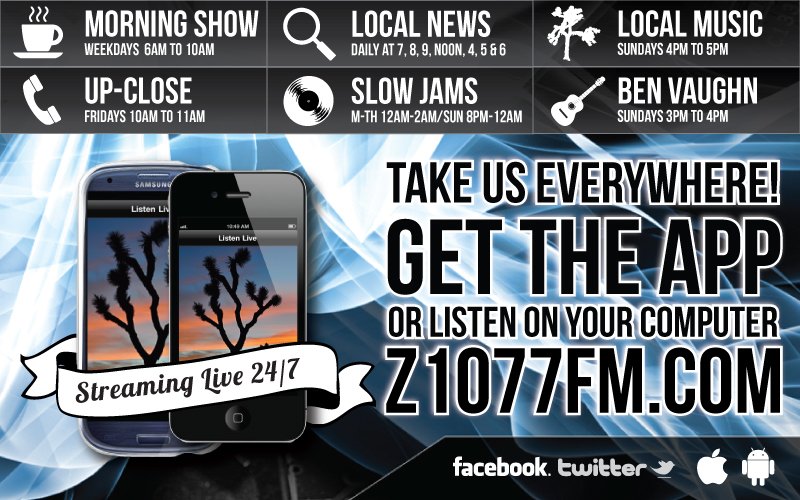 WEEKENDS ARE ECLECTIC ON Z107.7!
The Morongo Basin's favorite radio Station, Z107.7, is a lot different than most radio stations in the country! The hometown station for the 100,000 residents of the Hi-Desert is the only 100% locally owned and operated radio station in the area.
Having the owners actually program and operate the station themselves is an anomaly in the entire broadcasting industry. Z107.7 has been broadcasting from their Joshua Tree studios for over 25 years with the same ownership, programming, and local loyalty. In the radio business they are referred to as a "Heritage" station, something that is a source of pride for the communities they serve so exclusively and well.
Z107.7 is the ONLY station they operate, no "clusters", no "sister" stations in another markets, no corporate conglomerate with hundreds of stations all churning out the same homogenized, pasteurized pap. Z107.7 has real original programming done for the residents of this area exclusively. Not Cookie Cutter, and certainly not always Mainstream.
An original live, local Morning Show that is not streamed from some big city. Local birthdays, anniversaries, school and Senior lunch menus, even lost pets! Z107.7 is truly the exact definition of a "Local Radio Station".
The programming on weekends is especially eclectic on Z107.7. Saturday Morning at 8:30 is the "Unique Gardening Show" a live, call-in program with host Mike Branning sharing his knowledge on how to grow and maintain landscaping and food garden plants in the extremes of the desert.
Saturday nights from 8:00 p.m. until Midnight, it's a Dance Party with Hot-Mix, top dance hits mixed back to back and beat to beat!
Sundays are really eclectic on Z107.7!, starting at 3:00 p.m. is the "Many Moods of Ben Vaughn" Host Vaughn digs into the archives of yesterday's music with some very unique and classic music that is very entertaining.
At 4:00 p.m. Sundays' Host Pat Michaels brings out the "Z107.7 Local Music Showcase" feel the J.T. Beat with a weekly sample of the unique sounds of musicians who live and perform right here in the Morongo Basin.
Then ride Sunday night out with "Slow Jamz" hosted by R. Dub from 8:00 p.m. until midnight. Make this weekend eclectic with the unique sound of Z107.7.
Z107.7 can be heard over the air at 107.7 on the FM dial, www.z1077fm.com online download the free App at "Z1077fm", or get the podcasts of their special original programming on iTunes.
(now streaming worldwide)
The Joshua Tree Chamber of Commerce supports the Morongo Basin Dark Sky Alliance in all their efforts.
more info >
Newsletter Submission Details
We love to promote our member businesses, their events and news. Newsletters go out on Fridays. Information Submission is due WEDNESDAY by 12 pm to be included. Please submit all written information in a word document and graphics in JPEG format no larger than 225KB and no wider than 800 pixels. Members are allowed to place 4 ads per year for offerings, sales or promotions. Event announcements are unlimited. Non-members may advertise at the rate of $25 per newsletter. Please send your information to newsletter@joshuatreechamber.org