Joshua Tree Chamber News & Member Events
Letter from the President


Rumors travel fast in our little area of Joshua Tree. One was that the Joshua Tree Chamber of Commerce was destined for extinction and running out of funds. That one is grossly untrue. Our Chamber has been well supported by through our membership dues, attendance to fund raisers like the Annual Holiday Market and our end of the Month Mixers.

The Joshua Tree Chamber is alive and well and open for your ideas, suggestions and discussions. We are a place for open discussion and presentation of how we can help advocate your dreams, of how to improve local business in Joshua Tree and the area.

Some things in the hopper we are planning.

A third annual Holiday Market
A Vacation Rental Tourist Sub Group of the Chamber
Monthly Business Forums

Hope to meet you at our August Mixer at Mojave Sands Motel Aug 30th.
Joshua Tree Chamber of Commerce
You're Invited!    
Meeting Space Available for Rent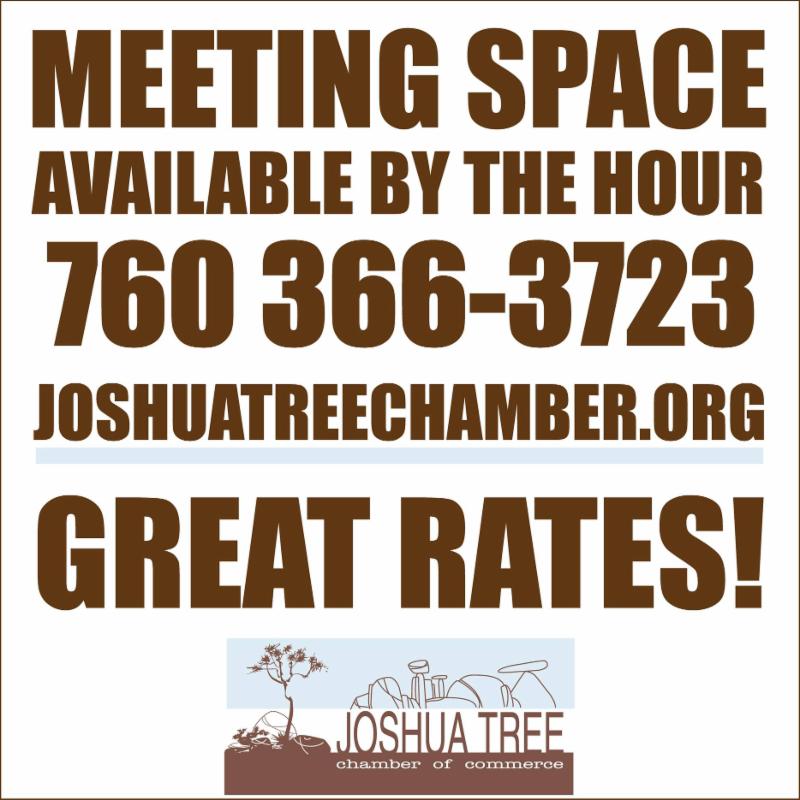 The Chamber is now offering meeting/event space for groups, private individuals and organizations at our office. We are open for daily/ weekend and evening meeting scheduling. Our hourly rates are reasonable and Chamber members receive an additional discount. To book, call 760-366-3723 or email director@joshuatreechamber.org
Member of the Month
Each month we will choose and feature a new Member of the Month in the newsletter. To be included, send an email to director@joshuatreechamber.org
Joshua Tree Downtown Map
The Downtown Map and Business Directory is now available at the Chamber office, downtown locations and is being distributed to many outside locations. Download a copy here > Advertise for the next edition of the map, spaces are filling up fast! more info >
Seeking Volunteers, Donations and Board Members
more info >
News
Small Business Administration
THE FOLLOWING TRAINING EVENTS WILL BE HELD AT THE SBA LOS ANGELES DISTRICT OFFICE, 330 N. BRAND BLVD., SUITE 1200, GLENDALE, CA, 91203.
PARKING GARAGE IS $9 FOR THE DAY. STREET PARKING IS ALSO AVAILABLE.
BEFORE EACH TRAINING SESSION, THE SBA DISTRICT OFFICE WILL CONDUCT A BRIEF PRESENTATION ON OUR PROGRAMS AND SERVICES TO INCLUDE ACCESS TO CAPITAL, COUNSELING AND TRAINING, AND GOVERNMENT CONTRACTING. ____________________________________________________________________________
BUSINESS PLAN WRITING August 18, 2015 | 10:00 a.m. PST – 12:30 p.m. PST
A business plan is an essential road map for business success. This living document generally projects 3-5 years ahead and outlines the route a company intends to take to grow revenues. A business plan refers to a written document that comprehensively outlines what your business is, where it is going, and how it will get there. The business plan outlines in specific terms the financial objectives of your business, and how it will position itself to achieve those goals in the context of the current market environment. In addition, the business plan is an indispensable tool to attract business capital.
Topics Include:
Executive Summary
Organization & Management
Funding Request
Company Description
Service or Product Line
Financial Projections
Market Analysis
Marketing & Sales
Date: 08/03/2015 Author Information: Mike Blass
Chamber office hours: 10-12 Tuesday, Wednesday and Thursday.
6448 Hallee Road, Suite 10 (in Sam's Plaza) 760.366.3723
Reach Out Morongo Basin

TWENTYNINE PALMS – The American Red Cross and Reach Out Morongo Basin invite all active duty service members, veterans and their families to a "Communicating Clearly Workshop" to be held on Thursday August 27, 2015 from 5:30 to 7:00 pm at the 29 Palms Senior Center, 6539 Adobe Rd., 29 Palms.
The "Communicating Clearly Workshop" is a skill building workshop that helps with identifying and coping effectively with the unique challenges that arise after deployments. This workshop will provide valuable communication skills and techniques to help service members, veterans and their families build skills that enhance the likelihood of positive reconnections and aid in the successful reengagement of the service member in civilian life by increasing interactions and developing additional sources of support.
The workshops are free to all those impacted by a military deployment from all branches of the Armed Forces, which includes Reserve, National Guard, active duty service members, veterans and their families, including spouses, parents, siblings, significant others and close friends.
Class sizes are limited!! To register please call the American Red Cross at 760-830-6685.
Seeking Board Members
MORONGO BASIN – Reach Out Morongo Basin, a 501c3 non-profit serving seniors and the disabled, is looking for motivated and energetic people willing to join the Board of Directors.  Positions being sought are Board Treasurer and Members at Large. Qualified members would be willing to donate a few hours per month. Board Treasurer applicant would have a background in accounting or related skills and have experience with Quickbooks accounting program.This is a volunteer position that requires dedication and a positive attitude, and one that strives to enhance the daily operations of Reach Out Morongo Basin in order to benefit the local community. If interested, please pick up an application at the Reach Out office located in the 29 Palms Senior Center, 6539 Adobe Rd Twentynine Palms, or contact Robin Schlosser, Executive Director at 760-361-1410. If making a difference in the community is important to you, Reach Out Morongo Basin is the place to be.
Harrison House

Copper Mountain College

Community Input to Develop Long Term Educational Master Plan
Copper Mountain College is asking for input from the community members to help develop their long term Education Master Plan.  CMC is inviting anyone in the community to help assess how they are doing, what they can do better, and how they can better serve the community and local businesses.
Copper Mountain College invites you to join them for one of their Community Forums for light refreshments, discussion and dialog at the following locations.
August 19, 2015
Joshua Tree Recreation Center
6171 Sunburst Ave.
from 6 to 7 p.m. in the Elliot Hall
August 25, 2015
City of Twentynine Palms
6136 Adobe Rd.
City Council meeting room 4:30 to 5:30 p.m.
If you are unable to attend one of the forums, Copper Mountain College would still like to hear from you.  To take a quick survey, you can go to the College's website at cmccd.edu and click on the link or you can use the direct link at https://goo.gl/uKkvY6 .
For more information contact Copper Mountain College at 760.366.3791.
Joshua Tree International Film Festival

Dear Fellow JT Chamber Member,
It is an honor to join fellow business leaders, as we invest our time, passion and talents into making our community all that it can be. By now, you may have heard that Joshua Tree will host our region's first film festival, the Joshua Tree International Film Festival, September 18-20. I am writing to garner your support for this historic event.
The JTIFF presents a unique opportunity to put your business in front of festival attendees and VIP guests. Taking place at 7 venues in Downtown JT, JTIFF will include: screening over 60 feature and short films, hosting industry seminars, networking parties and live music. One of the many highlights of the weekend includes the JTIFF Awards Ceremony, when we will recognize Outstanding Achievements in Film; award winners include: Jason Mamoa, Outstanding Feature Director; Bruce Greenwood, Best Actor and the film Tangerine, Outstanding Short. Depending on your level of support, you may have your business logo:
· Projected before screenings
· Included on Official Step-N-Repeat
· Featured and linked via multiple social media sites
I am sure you recognize the cultural and economic benefits a successful film festival will bring to our community and look forward to your participation and support. As we are quickly approaching our publication deadline, I hope that you will act NO LATER than August 20th. I appreciate your attention and can be reached directly at 760-424-6861.
BECOME A SPONSOR TODAY! Click here.
Sincerely,
Eric Quander
JTIFF Festival Director
DAV at Copper Mountain College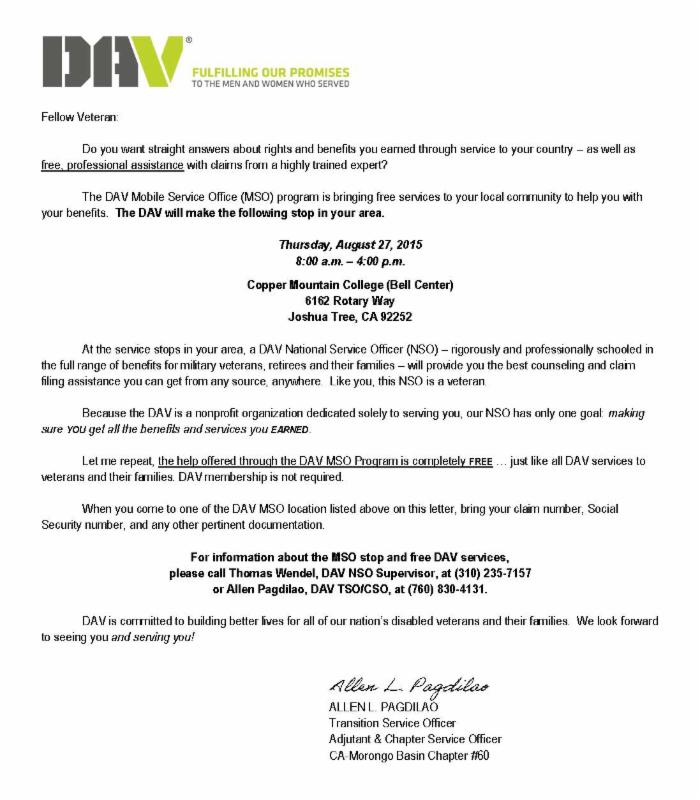 Hwy 62 Open Studio Art Tours

October 17 & 18, 2015 (west end)
October 24 & 25, 2015 (east end)

Learn more about the Hwy 62 Open Studio Art Tours here. 
Board Expedites Process for Rooftop Solar Systems

SAN BERNARDINO-The Board of Supervisors will adopt a county ordinance that will provide an expedited, streamlined permitting process for small residential rooftop solar energy systems for single or duplex family dwellings.
Rooftop solar systems are among those eligible for building permit fee waiver under a program approved by the Board of Supervisors on June 22, 2010. The waiver program was established with the purpose of encouraging the installation and use of energy efficient systems.
To qualify for the expedited permit process, a roof top solar energy system must be no larger than 10 kilowatts alternating nameplate rating or 30 kilowatts thermal and the system must be installed on a single or duplex family dwelling.
Chairman James Ramos is pleased with the ordinance saying, "We are always looking for way to better serve our constituents. It was time for the County to take action in offering residents incentives for using energy saving alternatives."
The ordinance is scheduled for final adoption on Tuesday August 25, 2015.
More information on this item can be found in the August 11, 2015 Board agenda at http://cob-sire.sbcounty.gov/sirepub/.
Free Landscape Water Saver Workshop for Joshua Tree Residents

JOSHUA TREE, CA – Joshua Tree residents are invited to a free workshop to help them save water and money August 15th, Saturday, from 9AM -11AM at the Joshua Tree Community Center located at 6171 Sunburst Avenue in Joshua Tree. The "Landscape Water Saver" workshop is designed to help locals tune-up their wayward landscape irrigation systems, measure their water use, learn how to "smart water" their yards, and get drought irrigation tips. Participants in attendance will receive a free Soil Moisture Meter. Locals often discover that their summer bills are unusually high in the hot summer months, and this workshop is designed to address some of the more common "culprits" that contribute to these high bills, namely, outdoor landscape watering practices. Similar to other communities, Joshua Tree has been mandated to reduce water use by 28% by the State of California. In an effort to reach these state goals, Joshua Tree residents are encouraged to take advantage of this informative workshop. The workshop is sponsored by the Joshua Basin Water District and the California Urban Water Conservation Council . Seating is limited! For more information contact the Joshua Basin Water District at 760.366.8438.
Joshua Tree Rotary

 The Rotary Club of Joshua Tree is again partnering with the Joshua Tree Recreation & Park District for the third annual reprise of the popular community day from 9 a.m. to 2 p.m. on Saturday, August 22.
The event was rescheduled following unsafe outdoor conditions from wildfires and excessive heat earlier this summer. A few vendor spaces are still available and applications are currently being accepted. In the Rotary spirit of community service, non-profit organizations will receive a free outside booth space at the Joshua Tree Community Center again this year.
Vendors and crafters are welcome to pay $25 for an outdoor space, or $35 for a booth inside the community center. To request vendor space, send an email to jtrotary@yahoo.com. Vendor applications are also available from the Joshua Tree Recreation and Parks and the Joshua Tree Rotary Club's Facebook pages. An art show has been added to this year's Splash, in addition to classic kid's games, face painting, dance demonstrations, car and tractor show, hoop classes, military displays, a dunk tank and barbecue.
Also new at this year's Splash is residential e-waste collection and residential tire recycling with a nine-tire limit. "On Tapp" will provide live performances and the water park will be on. Admission and parking are free. Bruce's Coyote Kitchen will provide the barbecue. All proceeds from Summer Splash will be distributed through the Rotary Club of Joshua Tree Foundation, a 501 (c)(3) non-profit organization.
This year, Joshua Tree Rotarians distributed $4,000 in scholarship funds to deserving seniors at all four Morongo Basin high schools. The Joshua Tree Community Center is at 6171 Sunburst Ave. To learn more about Summer Splash, call Tammie Moore, event co-chair, at (760) 366-8415
29 Palms Creative Center & Gallery

Morongo Basin Humane Society

29 Palms Visitor Center & Art Gallery
"Shade and Shadows" is the theme of the summer exhibition and features work by nearly 20 desert artists in a variety of media, including oil and acrylic paintings, photography, embroidery, stained glass, mosaic tile, ceramics and wood. The show will remain on display until September 25, 2015.
Art in Public Places exhibitions are sponsored by Public Arts Advisory Committee of the City of Twentynine Palms.
The Twentynine Palms Visitor Center and Gallery is open daily at the corner of the highway and Desert Queen Avenue, next to Bucklin Park in downtown Twentynine Palms. The Visitor Center is operated by the Twentynine Palms Chamber of Commerce. For directions or for summer hours, call (760) 367-3445.
Coming up at the Desert Institute
Our Desert Institute instructors are some of the best in the field. Photographers, professors, writers, artists, research scientists, they all combine teaching experience and an intimate knowledge of course subject matter with the leadership and outdoor skills necessary to provide our students with safe, high-quality learning experiences in our Mojave desert. They are also fun, dynamic, and passionate about education and the Joshua Tree National Park they use as classrooms. Our students tell us that our instructors are as important to their Joshua Tree experience as are the landscape and the course content.
Ralph Nordstrom's, JOSHUA TREE SUNSET, received first place in the color landscape section at the Orange County Fair. And if that wasn't enough, it was also the division winner. The photograph is a gorgeous sunset at Joshua Tree National Park, one that was taken from Boy Scout Trail during the Desert Institute class that he taught last September. He will be teaching the FINE ART PHOTOGRAPHY workshop again on September 18-20.
"Almost 40 years ago, Kurt Leuschener accompanied his father to a remote corner of southeastern Arizona to look for insects. His father, a rocket scientist for Hughes Aircraft, had a passion for entomology, specifically moths. The are they visited was a biological crossroads with tremendous diversity — not only of insects, but of trees, plants and birds , as well. As a matter of fact, it is one of the permier locations in the United States to observe and study birds. 'I went there for the bugs and came back for the birds", Leuschner said." – _U.C. Riverside, Extension Newsletter, April 2015_. Kurt will be teaching the class INSECTS AND ARTHROPODS OF THE MORONGO BASIN on September 18-20.
Ed LaRue Jr was honored with the Kristen H. Berry Annual Award of the Desert Tortoise Council in February 2015 at the 40th Annual Symposium, which is the Council's highest award. Ed co-instructs the class Desert Tortoise Surveying and Monitoring, which is held in the spring.
Cameron Barrows was intervieded in the June 16, LA Times article "Drought Hastens the Decline of the Joshua Trees – California's Desert Symbol". "For Joshua trees, hotter, drier conditions are a problem – but a bigger problem is that what little rainfall occurs evaporates faster", Barrows said. "So, seedlings shrivel up and die before they can put down strong roots". Cameron will be co-instructing the Desert Institute class CITIZEN SCIENCE: TRACKING THE EFFECTS OF CLIMATE CHANGE on December 5-6.
The BLACK ROCK LECTURE series will return to it's original venue: the Black Rock Ranger Station on the third Friday of the month. Here is the current schedule of speakers and their topics:
OCTOBER 16 – SUSAN LANG, novelist, will be giving a preview of her upcoming novel on the Sawtooth Complex fire of the summer of 2006.
NOVEMBER 20 – Betty Melzer, historian and author, will be discussing her book "Losing Ground", the displacement of San Gorgonio Pass Cahuilla people in the 19th century.
JANUARY 15 – Joe Zarki, retired Chief of Interpretation, will be discussing his new book on the history of Joshua Tree National Park
FEBRUARY 19 – Jay Theuer, archaeologist of Joshua Tree National Park, will be discussing current issues of archaeology in the park.
MARCH 18 – Jamie Haney, Joshua Tree resident, will be talking about her solo hike of the Pacific Coast Trail.
THESE LECTURES BEGIN AT 7PM AND ARE FREE. NOTE: the Copper Mountain College panel seminars will be moved to the FIRST FRIDAY OF THE MONTH and will get a new name, to avoid confusion with the Black Rock Lecture Series. Stand by for an announcement of the topics and speakers!
Our Fall classes are now available for enrollment!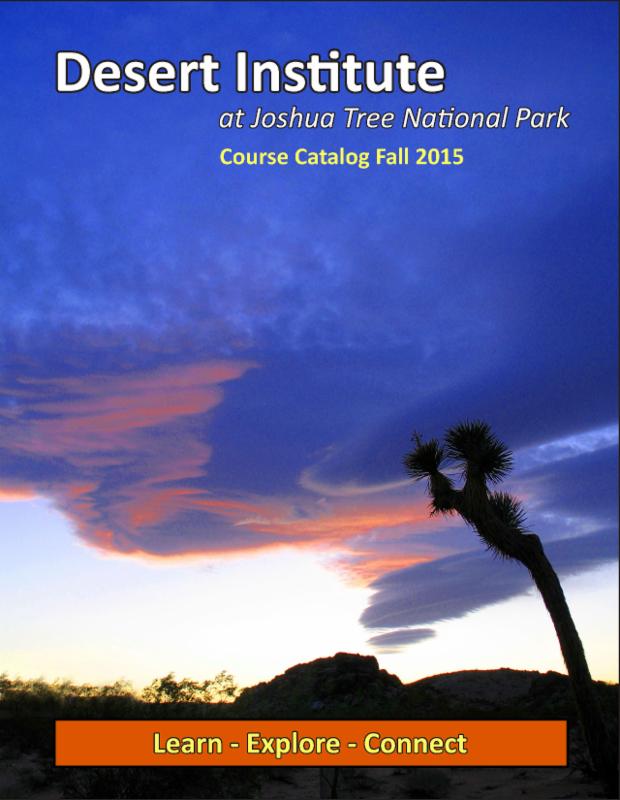 Click for a downloadable, interactive catalog,
or to enroll in any of our courses
call 760-367-5535 (Mon-Fri 8am – 5pm).
The Desert Institute's CREATIVE WRITING PROGRAMS fosters participation in the arts in Joshua Tree National Park, and shares the beauty of the park with the broader arts community. Staffed by notable writers and volunteers, we offer literary readings, workshops, and forums for all ages, set among the iconic rocks, Joshua trees and the peace of the desert, inspiring creativity and inspiration and the time to tell our stories and experience nature that will have a lasting impact on our lives.
New classes:
October 3  Reading the Desert: Stories and Literature of Joshua Tree with Ruth Nolan, M.F.A., Author, Professor of English, College of the Desert
Joshua Tree National Park is rich in flora, fauna and beauty, but it's also wealthy in desert literary lore. The Park and its surrounding region has drawn storytellers, poets and writers into its creative fold with its magnetic lure, helping to generate a vast body of writing matched by none other. A broad overview of the astonishing range of the stories and literature of the park and surrounding deserts, through the centuries, will be showcased in this workshop, which will emphasize lecture, reading, and discussion of Joshua Tree-centric literature, including the creation story of the Chemehuevi Indians and stories from the Park's other indigenous people, along with works by desert writers John Steinbeck, Mary Austin, John C. Van Dyke, J. Smeaton Chase, Susan Lang, Elizabeth Crozer Campbell, William Stafford, Hannah Nyala West, Edmund Jaeger, and many others. We'll also read materials related to some of the historical figures who've lived memorable lives in and around the park through the decades, including the controversial story of Willie Boy, and understand how the literature of Joshua Tree National Park has helped shape the legacy of this internationally-cherished, fabled desert region forever. This workshop will also include easy walking/hiking that will help participants make their own connections with the places in the park that we'll read about, and participants will be encouraged to do some of their own journaling/writing during the day to convey their own experiences.
November 6 – 8  Creative Issues and Practices in Nature Writing with Elizabeth Wyatt, M.F.A., Professor of English, Copper Mountain College
This course explores nature writing as an artistic, social, ecological, and personal act, and is appropriate for anyone interested in exploring this topic from diverse theoretical and practical angles. We will begin by examining the definition and role of nature writing in the American West, and move toward consideration of and creative experimentation with our own "desert writing". We will ask what it means to represent aspects of this "natural" environment from a human perspective, and how we should (or shouldn't) go about this process. Along the way, we will enjoy some hiking, discussion and debate, creative and analytical scribbling (outdoors!), and a group workshop. Previous training in writing is not required, although this course will probably appeal most to those with a strong interest in literary matters. A course reader will be provided, and will include short essays and excerpts from works by Henry David Thoreau, John Ruskin, Gary Snyder, Timothy Clark, Lawrence Buell, William Cronon, and Kate Rigby.
To enroll in any of our courses, VISIT OUR WEBSITE, OR CALL
760-367-5535 (MON-FRI 8AM – 5PM).
Old Schoolhouse Lecture Series
The Desert Institute is proud to present the Fall 2015-Spring 2016 Old Schoolhouse Lecture Series
September 11 – The Mojave Project with Kim Stringfellow
October 9 – Old Magic: Lives of the Desert Shamans with Nick Clapp
November 13 – Desert Bighorn Sheep:  Wilderness Icon with Mark Jorgensen
December 11 – Homesteading: The Free Land Idea with Lorna Shuman
January 8 – The Forgotten Gold Rush with Paul Smith
February 12 – History of the 29 Palms Artists' Guild with Pat Rimmington
March 11 – Frank Critzer and the Legend of Giant Rock with Barbara Harris
April 8 – The Underhills of 29 Palms with Ann Congdon
May 13 – Joshua Trees: Mystery and Myths with Chris Clarke
June 10 – Cowboy Poetry and Humor with Richard Brewer
The lectures begin at 7 pm and admission is $5.00.  New:  You can purchase a subscription for the entire series for only $40. and, as a subscriber, you will have a reserved seat held until 10 minutes before the lecture begins.  
Click
here to purchase your series subscription.  As always, you can join the speaker for dinner at 5 pm at the 29 Palms Inn.  Please call 760-367-5535 for dinner reservations no later than the Wednesday prior to the dinner!
Joshua Tree Trading Post

Joshua Tree Clean Team

Every 2nd, 4th, 5th Wednesday
7:00 A.M. – 8:00 A.M. June, July, August, September
8:00 A.M. – 9:00 A.M. All Other Months
There will be Trash Bags, Grabber Sticks and Gloves Available
For More Information Call – 760 366-8415
Joshua Tree Retreat Center Events
 Invest in Health for You and Yours!
Weekend Certification Course  
Breakthrough Self-Healing Approach  
This is a weekend certification course for health conscious individuals to better understand & apply advances in the science of our bodies as self-healing mechanisms. This course is ideal for anyone striving to create a healing environment to overcome disease, illness, and healing from trauma. This is an ideal course for caretakers!  
Help the body Heal Itself  
Whether this knowledge is for yourself, family members, friends, or clients this certification will equip you for helping the body function as a self-healing mechanism. This is a first-of-its-kind break-through approach to help the body heal itself.  
Upon conclusion of this course you will be able to:  
* Understand how to apply this Breakthrough approach to help the body heal itself.  
* Understand how stress is the source for all illness & disease physically, mentally, & emotionally.  
* Understand effects of hormone damage & their inflammatory responses & what to do for healing & cell regeneration.  
* Understand the impact of blood sugar & how it directly correlates to fight/flight response & how to normalize your sugars to promote a healing & cell regeneration.  
* Understand pH Balance & how to create proper pH for healing & cell regeneration.  
* Understand how your dental health effects your internal health, not just teeth & gums & have the ability to isolate the connection of every tooth to different organs in the body.  
When: Saturday & Sunday August 29th & 30th  
Where: Joshua Tree Retreat Center 59700 Twentynine Palms Highway Joshua Tree, CA 92252  
TIME: 11:00 am to 4:00 pm both days.  
COST: $197 ONE DAY, $350 BOTH DAYS.  
COST INCLUDES: Certification of Completion will be awarded to those who complete both days of the course, Handouts, Self-Help Health Assessment, Comprehensive Self-Help Training Manual & a Nourishing Meal & Drinks each day.   
THOSE WHO REGISTER BY AUGUST 20TH WILL RECEIVE A BONUS GIFT OF:
One ALL-DAY Detox at Know Your Options Wellness Center in Costa Mesa. Value of $300  
Refer a friend to complete this course with you and receive a bonus gift of:  
One Blood Microscopy Appointment at Holmes Health in Joshua Tree. Value of $175  
DR. SWILLING WILL BE INSTRUCTING THIS CLASS. DR. SWILLING FOUNDER OF KNOW YOUR OPTIONS WELLNESS CENTER IN COSTA MESA HAS FORMED THIS COURSE IN RESPONSE TO THE INCREASING NEED FOR INDIVIDUALS TO TAKE HOLD OF THEIR OWN HEALTH & GAIN BETTER HEALTH. COME & BECOME EMPOWERED BY HIS EXPERTISE IN NATURAL MEDICINE.
Dr. Jacob Swilling has a Ph.D. in Clinical Nutrition and is internationally known as a research scientist, author (11 books), trainer and consultant in Integrated Health Care with more than 30 years research experience in biochemistry, with an emphasis on chronic illness, cancer and degenerative disease. Currently, Dr. Swilling's Self-Help Support Program is being used by an increasing number of practitioners and patients.
ENROLL TODAY BY CALLING ANA AT _ _KNOW YOUR OPTIONS WELLNESS CENTER_ _MONDAY THROUGH FRIDAY 9A.M. TO 4 P.M. _ _714-708-3600_ _You may pay by credit card or mail a check to her._ _This weekend course is sponsored by:_ _WWW.KNOWYOUROPTIONSCENTER.COM | WWW.HOLMESHEALTH.COM
Joshua Tree National Park Art Exposition
The third annual Joshua Tree National Park Art Exposition will be held in November 2015 at the Oasis of Mara in Twentynine Palms, California. The Juried Art Exhibition, a highlight of the annual exposition, will hang at the historic 29 Palms Art Gallery, Nov. 6 to 29, with a gala opening reception and awards ceremony on Friday, Nov. 13, followed by weekend exposition events Saturday and Sunday, Nov. 14 & 15.
Deadline for submitting art entries for the juried exhibition is Tuesday, Sept. 1, 2015. Complete guidelines and entry form are available at:
www.JTNPArts.org
. An entry fee of $35 is required for up to three (3) images. Entry submissions and entry fees can be submitted online.
The Juried Art Exhibition is presented by Joshua Tree National Park Council for the Arts in partnership with 29 Palms Art Gallery, both 501(c)(3) non-profit organizations. For questions or more information about submitting entries, visit the website www.JTNPArts.org, or email artists@jtnparts.org.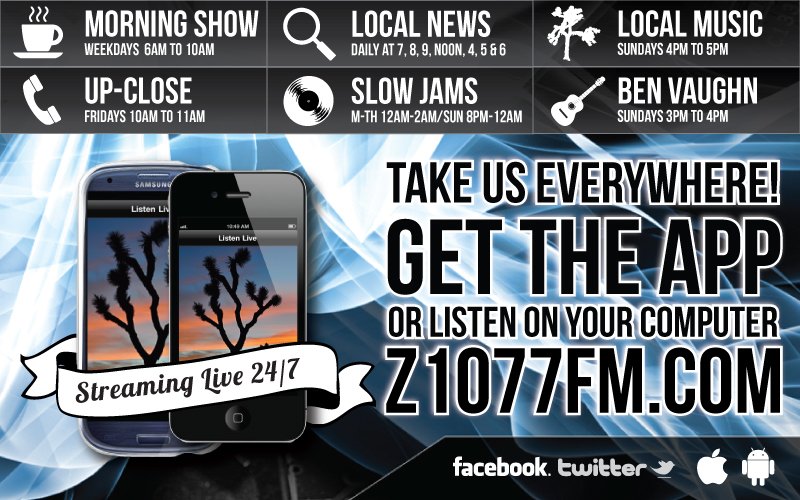 WEEKENDS ARE ECLECTIC ON Z107.7!
The Morongo Basin's favorite radio Station, Z107.7, is a lot different than most radio stations in the country! The hometown station for the 100,000 residents of the Hi-Desert is the only 100% locally owned and operated radio station in the area.
Having the owners actually program and operate the station themselves is an anomaly in the entire broadcasting industry. Z107.7 has been broadcasting from their Joshua Tree studios for over 25 years with the same ownership, programming, and local loyalty. In the radio business they are referred to as a "Heritage" station, something that is a source of pride for the communities they serve so exclusively and well.
Z107.7 is the ONLY station they operate, no "clusters", no "sister" stations in another markets, no corporate conglomerate with hundreds of stations all churning out the same homogenized, pasteurized pap. Z107.7 has real original programming done for the residents of this area exclusively. Not Cookie Cutter, and certainly not always Mainstream.
An original live, local Morning Show that is not streamed from some big city. Local birthdays, anniversaries, school and Senior lunch menus, even lost pets! Z107.7 is truly the exact definition of a "Local Radio Station".
The programming on weekends is especially eclectic on Z107.7. Saturday Morning at 8:30 is the "Unique Gardening Show" a live, call-in program with host Mike Branning sharing his knowledge on how to grow and maintain landscaping and food garden plants in the extremes of the desert.
Saturday nights from 8:00 p.m. until Midnight, it's a Dance Party with Hot-Mix, top dance hits mixed back to back and beat to beat!
Sundays are really eclectic on Z107.7!, starting at 3:00 p.m. is the "Many Moods of Ben Vaughn" Host Vaughn digs into the archives of yesterday's music with some very unique and classic music that is very entertaining.
At 4:00 p.m. Sundays' Host Pat Michaels brings out the "Z107.7 Local Music Showcase" feel the J.T. Beat with a weekly sample of the unique sounds of musicians who live and perform right here in the Morongo Basin.
Then ride Sunday night out with "Slow Jamz" hosted by R. Dub from 8:00 p.m. until midnight. Make this weekend eclectic with the unique sound of Z107.7.
Z107.7 can be heard over the air at 107.7 on the FM dial, www.z1077fm.com online download the free App at "Z1077fm", or get the podcasts of their special original programming on iTunes.
(now streaming worldwide)