Joshua Tree Chamber News & Member Events
Chamber Mixer

Come howl with us! It's the Monster Mixer (for Halloween) with drinks, treats and harvest-themed decorative door prizes. Plus, we are offering trick-or-treat for kids 5pm-7pm.
Friday, October 30
5pm-8:30pm
Joshua Tree Chamber
6448 Hallee Road, Joshua Tree, CA 92252
President's Corner
NEWSLETTER CHANGE – EFFECTIVE IMMEDIATELY


News items will be limited to the following: A flyer + 100 word accompanying information.

We are making this change, after a survey of users, that finds a large number read our newsletter in smaller formats on iphones or tablets. 
Meeting Space Available for Rent
Click here for more information.
Each month we will choose and feature a new Member of the Month in the newsletter. To be included, send an email to director@joshuatreechamber.org
Joshua Tree Downtown Map
The Downtown Map and Business Directory is now available at the Chamber office, downtown locations and is being distributed to many outside locations. Download a copy here > Advertise for the next edition of the map, spaces are filling up fast! more info >
Seeking Volunteers, Donations and Board Members
more info >
Chamber office hours: 10-12 Tuesday, Wednesday and Thursday.
6448 Hallee Road, Suite 10 (in Sam's Plaza) 760.366.3723
Hwy 62 Open Studio Art Tours

October 17 & 18, 2015 (west end)
October 24 & 25, 2015 (east end)

For more information and to see a list of catalog distribution locations visit our website at http://hwy62arttours.org/hwy62arttours.php. Distribution locations will be posted as soon as the catalogs become available.  
Gallery 62
Gallery 62 in Joshua Tree, the cooperative gallery of the Morongo Basin Cultural Arts Council and the sponsor of the Hwy 62 Open Studio Art Tours, will feature a Fall Members Group Show, A Celebration of Local Artists, October 2 through November 1. Twenty-three local artists are featured in the exhibit. The gallery is open Friday through Sunday 11-5 p.m. and will host a gallery opening on October 10 from 6-8 p.m. during the 2nd Saturday Joshua Tree Artcrawl. Gallery 62 is located at 61871 Twentynine Palms Hwy. in Joshua Tree. The gallery also serves as an Information Center for the Hwy 62 Open Studio Art Tours and has tour catalogs available. Visit http://www.hwy62arttours.org/ for more information.
Mojave Desert Land Trust

Please join us on Friday, Oct 23rd for MDLT's Second Tortoise Aversion Training for Your Dogs!
Contact Dawn Frazier ASAP to schedule a 15-20 minute time-slot for individual training by expert dog trainers. Payment methods will be provided upon registration.
Cost: $75/dog
Date: October 23rd (Friday)
Time: 4:00pm – 6:00pm
Location: Meet at the MDLT Headquarters 60124 29 Palms Highway at the back greenhouse property in Joshua Tree, CA
Please bring your dog on a leash
Please contact Dawn Frazier for any additional details about the training.

PRE-REGISTRATION IS REQUIRED:
Contact Dawn Frazier at 760-366-5440 or dawn@mojavedesertlandtrust.org
Artists For the Monuments Campaign
Event: Artists For The Monuments campaign and letter of support for the proposed California Desert Monument designations. 
Mojave Desert Land Trust (MDLT) encourages artists working in all mediums to lend their voices of support by co-signing this letter.
For information, please contact Monica Mahoney or Shauna Tucker at 760.366.5440 or via email: monica@mojavedesertlandtrust.org // shauna@mojavedesertlandtrust.org
Read the full press release here.
Morongo Basin Humane Society  
Please join us at Mimi's Quilt Shop on October 24 for this fundraiser. We will be drawing the winning ticket for the puppy love quilt being raffled. Tickets will be available up until we draw the winner.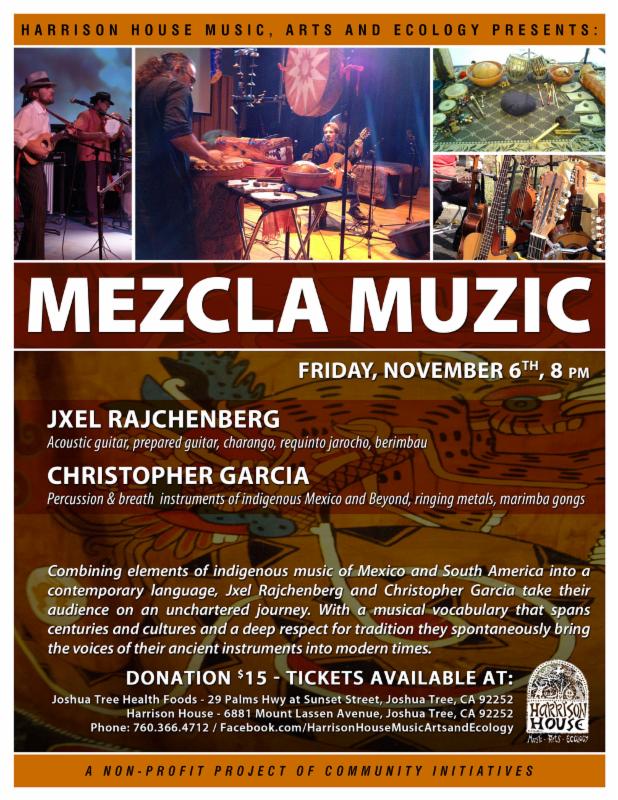 MEZCLA MUZIC Christopher Garcia percussion & breath instruments of indigenous Mexico and beyond Jxel Rajchenberg  acoustic guitar, prepared guitar, charango, requinto jarocho, berimbau

FRIDAY, NOVEMBER 6, 8:00 PM

Suggested Donation:  $15

Harrison House 6881 Mount Lassen Avenue Joshua Tree, CA 92252

Information: 760.366.4712 Harrison House Music, Arts & Ecology is pleased to present MEZCLA MUZIC on Sunday, October 18 at 8:00 pm, with Christopher Garcia and Jxel Rajchenberg performing on a rich collection of indigenous Mexican, south American, and modern percussion and string instruments.

Combining elements of indigenous music of Mexico and South America into a contemporary language, Jxel Rajchenberg and Christopher Garcia take their audience on an unchartered journey.  With a musical vocabulary that spans centuries and cultures and a deep respect for tradition, they spontaneously bring the voices of their ancient instruments into modern times.
Christopher Garcia is a "native" of East Los Angeles.  His background includes travel on five continents to perform a wide variety of music from indigenous Mexican on authentic instruments to contemporary percussion repertoire.  Jxel, a native of Mexico City, recently completed his doctorate in the PerformerComposer program at California Institute for the Arts.

Tickets to this event are available for a donation of $15 at Joshua Tree Health Foods, 29 Palms Highway at Sunset Street, in Joshua Tree.  
Morongo Basin Republicans 
Mil-Tree is happy to share information about the upcoming retreat.
This Healing Retreat is a non-denominational journey of ritual-based healing of the wounds of PTSD based on ancient wisdom and traditions. The date and location are:

November 8-12, 2015 
St. Francis Retreat Center
San Juan Bautista, CA

For more information please click here. 
Reach Out Morongo Basin officials have begun gathering homes and sponsors for the 12th Annual Parade of Homes, set to take place Sunday, Feb. 14, 2016. The annual event, which sees Reach Out Morongo Basin supporters from across the basin open their homes to curious visitors, is the Neighbors-Helping-Neighbors program's long running fundraiser bringing in thousands of dollars in ticket sales and sponsorships every year to support it's services to senior and disabled residents of the Morongo Basin.
Homeowners are urged to call Reach Out at 760-361-1410 for information or to volunteer their homes.
In addition organizers are looking for tour and media sponsors.
6th Annual Festival of Wreaths

Joshua Tree Retreat Center

Copper Mountain College
Student Art Show
The student Art Club at Copper Mountain Community College is hosting a student art show, Art Tour Detour.
The public is invited to see this fresh student artwork Saturday and Sunday, during the weekends of October 17th &18th and 24th & 25th, between the hours of 9 a.m. and 5 p.m.  The show will be on display at the campus eatery, Bruce's Coyote Kitchen, and all works will be for sale at affordable prices.
Take advantage of this opportunity to support and collect the works of the budding artists in our community. Copper Mountain College is located at 6162 Rotary Way, Joshua Tree, CA 92252
For more information contact the club advisor, Professor C. Allen at 760-366-3791 ext. 0600.
Job Workshops
Alpha Beta Gamma – Alpha Sigma chapter presents job workshops emphasizing resume, job search and interview.
Dates:
November 17, 2015
November 19, 2015
Contact Jeffrey Haig for information:            
Email Jeffrey Haig at jhaig@cmccd.edu
More information here. 
Beatnik Lounge / Radio Free Joshua Tree 
Exclusive Music Download Available to Subscribers
Free Download for Radio Flyer subscribers only!
Lounge Wizards 1: Tommy Paul's Beatnik Cafe
This exclusive music download is available to subscribers of our new Radio Flyer mailing list. 
CLICK HERE TO SUBSCRIBE
, and the link / password to download this free music compilation will be included in your confirmation email.
If you already get the Radio Flyer in your inbox, please forward this to a friend and share the love!
This exclusive music download is available to subscribers of our new Radio Flyer mailing list. 
CLICK HERE TO SUBSCRIBE
, and the link / password to download this free music compilation will be included in your confirmation email.
Coming up at the Desert Institute
Summer rains have provided us with a recent, beautiful display of flowers for those who explored the park early in the morning to avoid the summer heat. But, September is just around the corner with cooler temperatures, and we will be offering exciting classes that will inspire you to create, learn and challenge you to explore this vast park.
The BLACK ROCK LECTURE series will return to it's original venue: the Black Rock Ranger Station on the third Friday of the month. Here is the current schedule of speakers and their topics:
NOVEMBER 20 – Betty Melzer, historian and author, will be discussing her book "Losing Ground", the displacement of San Gorgonio Pass Cahuilla people in the 19th century.
JANUARY 15 – Joe Zarki, retired Chief of Interpretation, will be discussing his new book on the history of Joshua Tree National Park
FEBRUARY 19 – Jay Theuer, archaeologist of Joshua Tree National Park, will be discussing current issues of archaeology in the park.
MARCH 18 – Jamie Haney, Joshua Tree resident, will be talking about her solo hike of the Pacific Coast Trail.
THESE LECTURES BEGIN AT 7PM AND ARE FREE. NOTE: the Copper Mountain College panel seminars will be moved to the FIRST FRIDAY OF THE MONTH and will get a new name, to avoid confusion with the Black Rock Lecture Series. Stand by for an announcement of the topics and speakers!
Our Fall classes are now available for enrollment!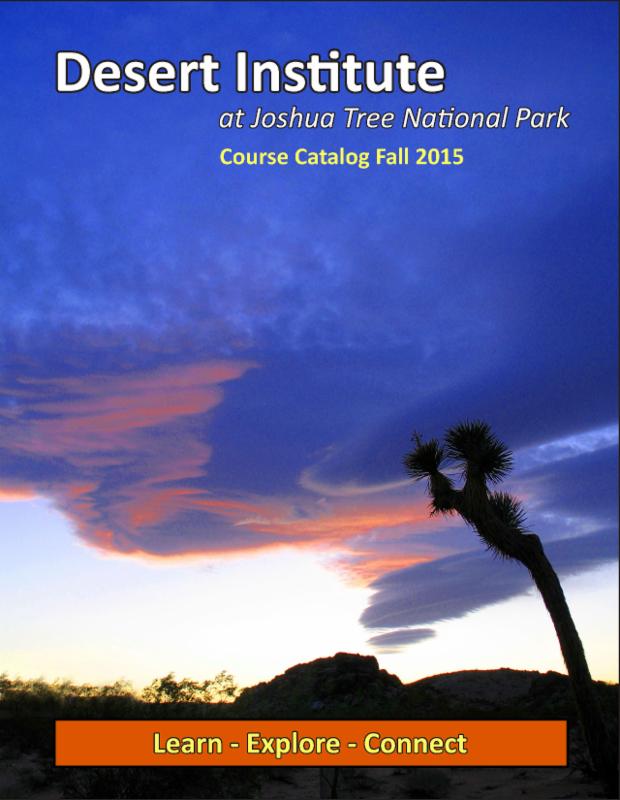 Click for a downloadable, interactive catalog,
or to enroll in any of our courses
call 760-367-5535 (Mon-Fri 8am – 5pm).
The Desert Institute's CREATIVE WRITING PROGRAMS fosters participation in the arts in Joshua Tree National Park, and shares the beauty of the park with the broader arts community. Staffed by notable writers and volunteers, we offer literary readings, workshops, and forums for all ages, set among the iconic rocks, Joshua trees and the peace of the desert, inspiring creativity and inspiration and the time to tell our stories and experience nature that will have a lasting impact on our lives.
New classes:
November 6 – 8  Creative Issues and Practices in Nature Writing with Elizabeth Wyatt, M.F.A., Professor of English, Copper Mountain College
This course explores nature writing as an artistic, social, ecological, and personal act, and is appropriate for anyone interested in exploring this topic from diverse theoretical and practical angles. We will begin by examining the definition and role of nature writing in the American West, and move toward consideration of and creative experimentation with our own "desert writing". We will ask what it means to represent aspects of this "natural" environment from a human perspective, and how we should (or shouldn't) go about this process. Along the way, we will enjoy some hiking, discussion and debate, creative and analytical scribbling (outdoors!), and a group workshop. Previous training in writing is not required, although this course will probably appeal most to those with a strong interest in literary matters. A course reader will be provided, and will include short essays and excerpts from works by Henry David Thoreau, John Ruskin, Gary Snyder, Timothy Clark, Lawrence Buell, William Cronon, and Kate Rigby.
To enroll in any of our courses, VISIT OUR WEBSITE, OR CALL
760-367-5535 (MON-FRI 8AM – 5PM).
Old Schoolhouse Lecture Series
The Desert Institute is proud to present the Fall 2015-Spring 2016 Old Schoolhouse Lecture Series
November 13 – Desert Bighorn Sheep:  Wilderness Icon with Mark Jorgensen
December 11 – Homesteading: The Free Land Idea with Lorna Shuman
January 8 – The Forgotten Gold Rush with Paul Smith
February 12 – History of the 29 Palms Artists' Guild with Pat Rimmington
March 11 – Frank Critzer and the Legend of Giant Rock with Barbara Harris
April 8 – The Underhills of 29 Palms with Ann Congdon
May 13 – Joshua Trees: Mystery and Myths with Chris Clarke
June 10 – Cowboy Poetry and Humor with Richard Brewer
The lectures begin at 7 pm and admission is $5.00.  New:  You can purchase a subscription for the entire series for only $40. and, as a subscriber, you will have a reserved seat held until 10 minutes before the lecture begins.  
Click
here to purchase your series subscription.  As always, you can join the speaker for dinner at 5 pm at the 29 Palms Inn.  Please call 760-367-5535 for dinner reservations no later than the Wednesday prior to the dinner!
Joshua Tree Clean Team

Every 2nd, 4th, 5th Wednesday
7:00 A.M. – 8:00 A.M. June, July, August, September
8:00 A.M. – 9:00 A.M. All Other Months
There will be Trash Bags, Grabber Sticks and Gloves Available
For More Information Call – 760 366-8415
`
October 28 – Yucca Mesa/Canteberry
November 11 – Alta Loma/Sherwood
November 25 – Happy Thanksgiving
December 9 – Post Office
December 30 – Aberdeen/Border