Joshua Tree Chamber News & Member Events
Thank you to our new and renewing members!

David Falossi's Statue Dedication
Paul Sutton says he and his wife, Sandy, enjoyed coming to the Hi-Desert and Joshua Tree National Park for years and hoped to retire here. The Suttons were also long-time friends with Yucca Valley sculptor David Falossi, and when Sandy passed away from cancer two years ago, Falossi created the statue, "Spirit Climb" to honor the late Sandy Sutton.
"Sandy had a special spirit," Sutton said Saturday morning, Dec. 5, at a equally special ceremony to dedicate the statue at Turtle Island.
Lori Herbel, whose Certified Farmers Market runs every Saturday morning at Turtle Island, suggested placing the statue here to the Island's owner Linda Perry of Joshua Tree Health Foods. So between a consortium of friends and businesses, which included Christy Lopez, owner of Natural Sisters Café, the Joshua Tree Chamber of Commerce was honored to conduct the ribbon-cutting dedication and officially welcome the limestone statue into the community.
"We are all rock climbers on our journey through life," Falossi's daughter Marianna told the dedication audience.
"Everyone coming through town will see the statute," an enthusiastic Herbel declared.
The statue is made from a 5-ton block of limestone and was carved over a two- year period.

Rental Ordinance 
Short Term Rental  Code DRAFT  Ordinance Unincorporated Areas San Bernardino County
SHORT-TERM RESIDENTIAL RENTAL CODE
§ 84.28.010 Purpose.
The purpose of this Chapter is to establish permit procedures, maintenance and operational standards, and enforcement and administrative processes for the regulation of single family residential structures used for transient occupancies in the unincorporated portions of San Bernardino County.
For more information click here.
Seeking Bookkeeper at Joshua Tree Chamber of Commerce 
We are looking for a bookkeeper
Quick Books skills
Accounts Payable
Enter Data  2 hours per week.
Apply with skill sets and experience to
PresidentJTChamber@outlook.com
Meeting Space Available for Rent
Click here for more information.
Each month we will choose and feature a new Member of the Month in the newsletter. To be included, send an email to director@joshuatreechamber.org
Joshua Tree Downtown Map
The Downtown Map and Business Directory is now available at the Chamber office, downtown locations and is being distributed to many outside locations. Download a copy here > Advertise for the next edition of the map, spaces are filling up fast! more info >
Seeking Volunteers, Donations and Board Members
more info >
Chamber office hours: 10-12 Tuesday, Wednesday and Thursday.
6448 Hallee Road, Suite 10 (in Sam's Plaza) 760.366.3723
Joshua Tree 2nd Saturdays Downtown Nights 
Morongo Basin Humane Society

Here's another easy way to support our 4-legged (and one 3-legged) friends at the Shelter. We get 40 percent of the sales.
Call for Art: "A Walk in the Park"

"A Walk in the Park: Celebrating 80 years of Joshua Tree National Monument/Park and 100 years of the National Park Service" is the theme for the next Art in Public Places exhibition at Twentynine Palms Visitor Center & Art Gallery and Chamber of Commerce, 73484 29 Palms Hwy. in Twentynine Palms, from Jan. 8 to March 25, 2016.
Desert artists are invited to bring an original piece of art to the visitor center on Friday, Jan. 8, between 11 a.m. and 1 p.m., or contact PAAC liaison Jon Beard at (760) 367-7562 for an alternate delivery time prior to Jan. 8.
Seeking Homes for Annual Parade of Homes 
Reach Out Morongo Basin officials have begun gathering homes and sponsors for the 12th Annual Parade of Homes, set to take place Sunday, Feb. 14, 2016. The annual event, which sees Reach Out Morongo Basin supporters from across the basin open their homes to curious visitors, is the Neighbors-Helping-Neighbors program's long running fundraiser bringing in thousands of dollars in ticket sales and sponsorships every year to support it's services to senior and disabled residents of the Morongo Basin.
For more details, call Reach Out Morongo Basin at (760) 361-1410
Gallery 62
Saturday, December 12, from 6-8 pm, Gallery 62, located at 61871 Hwy 62 in Joshua Tree will hold an opening reception during Joshua Tree's 2nd Saturday Artcrawl.
Local artists have created fine arts gift items all priced under $100 in the new exhibit "Seasonal Sensations."Gallery 62 is open Friday through Sunday 11-5 pm (except Christmas Day and Jan 1st) and the gift show will be open through Jan 3rd.
Gallery 62 is the permanent base and home gallery of the Morongo Basic Cultural Arts Council, host of the annual Hwy 62 Open Studio Art Tours. More information can be found at http://www.hwy62arttours.org/gallery62.php
Mil-Tree at Taylor Junction
Come learn more about Mil-Tree this Saturday at Taylor Junction Art Gallery
During this months opening featuring DIANE BEST
NEW WORKS ON PAPER & WOOD
TAYLOR JUNCTION
61732 29 PALMS HWY, JOSHUA TREE, CA 92252
DEC. 12 – JAN. 3, 2016
6 pm – 9 pm
Joshua Tree National Park Artist-in-Residence
Current artist-in-residence, Kim Zitzow will discuss methodology and research with respect to her current project at Joshua Tree National Park. The artist constructs archives involving a variety of sources ranging from historic documents to photographs to interviews that take place across a variety of media. She uses the format of archives to tell stories. Zitzow says from her artistic perspective, "the archive is as much a repository as it is a performative process, a living, changeable thing".
Zitzow grew up near Richmond, VA and has a BFA in Sculpture and Extended Media with a minor in Philosophy
from Virginia Commonwealth University. She also has an MFA in Metal from the State University of New York at New Palz.
The evening program is at Black Rock Nature Center on Saturday, December 12 at 7:00pm. The event is free and open to the public.
JTAG
Joshua Tree Jazz Band
Hi-Desert Cultural Center
Emmy, Tony Award-winning star Hal Linden and veteran film and TV actor Barry Cutler set to appear in World Premiere of Charles Evered's An Actor's Carol at Hi-Desert Cultural Center
Tony Award and three-time Emmy Award-winning actor Hal Linden, (Barney Miller, Gilmore Girls) and well-loved veteran film and TV actor Barry Cutler, (Scrubs, Deuce Bigalow) will split the bill for performances of the world premiere of Charles Evered's An Actor's Carol, produced by the Hi-Desert Cultural Center's prestigious Hi-Desert Playhouse theater division and directed by Evered. Linden will launch the premiere's opening weekend of three performances December 4th and 5th, with Cutler closing the premiere's finale weekend of three performances December 11th and 12th.
Holiday Business Decorating Contest 
As the holiday approaches, to encourage our local businesses to get into the spirit and encourage shopping locally, Hi-Desert Publishing Company and Z107.7 Radio have teamed up once again to co-sponsor a free holiday decorating contest for all businesses located in the Morongo Basin.
Decorating Contest winners get hundreds of dollars in local advertising, a very cool trophy, holiday bragging rights, and, best of all, customers who know you care!
The contest will be judged by a local design professional. It is free to enter and the rules are simple.
Call Z107-7 Radio at 760- 366-8471 or Hi-Desert Publishing at 760-365-3315 and tell us the name and location of your business and what category you are entering in.
Joshua Tree National Park Free Days 2016 
January 18 – Martin Luther King, Jr. Day
April 16-24 – National Park Week
August 25-28 – National Park Service Birthday Weekend
September 24 – National Public Lands Day
November 11 – Veterans Day
Read more information here
Joshua Tree Clean Team

Every 2nd, 4th, 5th Wednesday
7:00 A.M. – 8:00 A.M. June, July, August, September
8:00 A.M. – 9:00 A.M. All Other Months
There will be Trash Bags, Grabber Sticks and Gloves Available
For More Information Call – 760 366-8415
Coming up at the Desert Institute
The BLACK ROCK LECTURE series will return to it's original venue: the Black Rock Ranger Station on the third Friday of the month. Here is the current schedule of speakers and their topics:
JANUARY 15 – Joe Zarki, retired Chief of Interpretation, will be discussing his new book on the history of Joshua Tree National Park
FEBRUARY 19 – Jay Theuer, archaeologist of Joshua Tree National Park, will be discussing current issues of archaeology in the park.
MARCH 18 – Jamie Haney, Joshua Tree resident, will be talking about her solo hike of the Pacific Coast Trail.
THESE LECTURES BEGIN AT 7PM AND ARE FREE. NOTE: the Copper Mountain College panel seminars will be moved to the FIRST FRIDAY OF THE MONTH and will get a new name, to avoid confusion with the Black Rock Lecture Series. Stand by for an announcement of the topics and speakers!
Our Fall classes are now available for enrollment!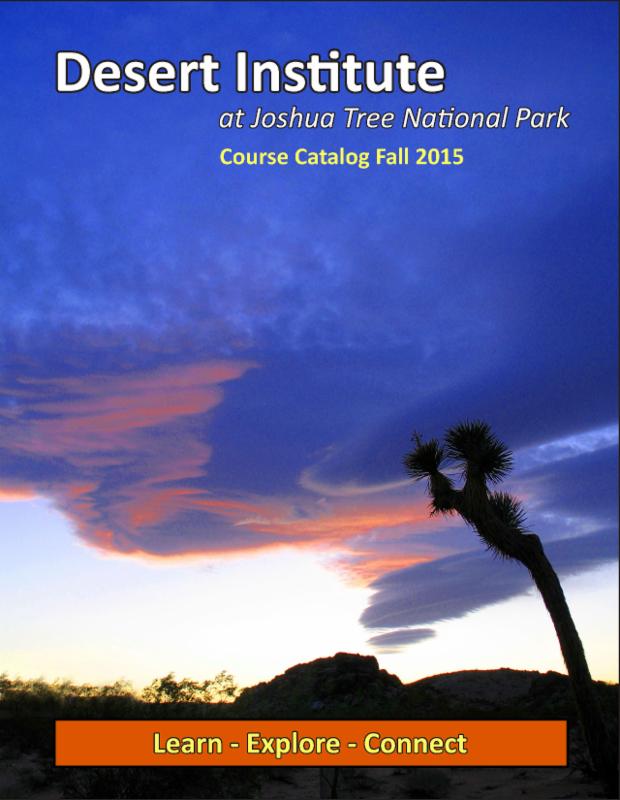 Click for a downloadable, interactive catalog,
or to enroll in any of our courses
call 760-367-5535 (Mon-Fri 8am – 5pm).
Old Schoolhouse Lecture Series
The Desert Institute is proud to present the Fall 2015-Spring 2016 Old Schoolhouse Lecture Series
January 8 – The Forgotten Gold Rush with Paul Smith
February 12 – History of the 29 Palms Artists' Guild with Pat Rimmington
March 11 – Frank Critzer and the Legend of Giant Rock with Barbara Harris
April 8 – The Underhills of 29 Palms with Ann Congdon
May 13 – Joshua Trees: Mystery and Myths with Chris Clarke
June 10 – Cowboy Poetry and Humor with Richard Brewer
The lectures begin at 7 pm and admission is $5.00.  New:  You can purchase a subscription for the entire series for only $40. and, as a subscriber, you will have a reserved seat held until 10 minutes before the lecture begins.  
Click
here to purchase your series subscription.  As always, you can join the speaker for dinner at 5 pm at the 29 Palms Inn.  Please call 760-367-5535 for dinner reservations no later than the Wednesday prior to the dinner!