Joshua Tree Chamber News & Member Events
Thank you to our new and renewing members!

Rental Ordinance
Short Term Rental  Code DRAFT  Ordinance Unincorporated Areas San Bernardino County
SHORT-TERM RESIDENTIAL RENTAL CODE
The purpose of this Chapter is to establish permit procedures, maintenance and operational standards, and enforcement and administrative processes for the regulation of single family residential structures used for transient occupancies in the unincorporated portions of San Bernardino County.
For more information click here.
If you are an owner or manager of a currently active vacation rental, an advocacy group has formed called the Joshua Tree Gateway Communities Vacation Rentals Association. For more info please contact Thomas at vrjt23@gmail.com
Meeting Space Available for Rent
Click here for more information.
Each month we will choose and feature a new Member of the Month in the newsletter. To be included, send an email to director@joshuatreechamber.org
Joshua Tree Downtown Map
The Downtown Map and Business Directory is now available at the Chamber office, downtown locations and is being distributed to many outside locations. Download a copy here > Advertise for the next edition of the map, spaces are filling up fast! more info >
Seeking Volunteers, Donations and Board Members
more info >
Chamber office hours: 9-12 Wednesday thru Saturday
6448 Hallee Road, Suite 10 (in Sam's Plaza) 760.366.3723
Joshua Tree National Park Centennial Hiking Challenge
As part of the centennial year, the park is offering a healthy and invigorating challenge to people of all ages. You are invited to stop by any visitor center at the park and pick up your free Centennial Hiking Challenge booklet. Inside you will find, suggested hikes, a log to record your hikes and a ranger sign off page which will qualify you for special stickers to reward your effort. Each booklet allows you to log up to 100 miles. Stop by and get your copy today.
For more information click here.
CrossFit at Copper Mountain College  
Mil-Tree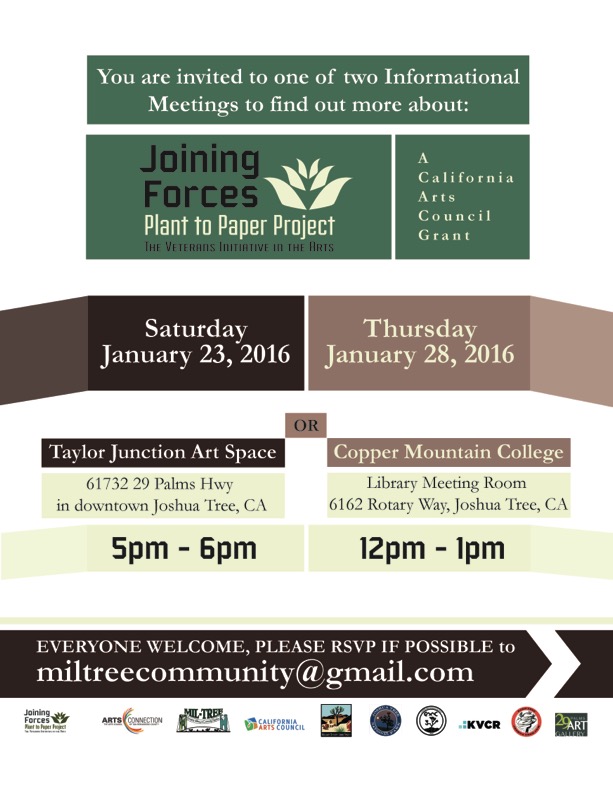 I am excited to announce a grant with upcoming opportunities for you to participate in called, Joining Forces: Plant to Paper Project. This is a Veterans Initiative In The Arts Grant sponsored by the California Arts Council open to veterans, active military and their families along with the community at large.
Informational Meetings for grant events & workshops
Saturday January 23, at 5 pm at Taylor Junction Art Space
61732 29 Palms Hwy, in downtown Joshua Tree, CA
Thursday January 28 at 12 pm at Copper Mountain College in Library Meeting Room: 6162 Rotary Way, Joshua Tree, CA
For more information/ to sign up for events or workshops/to RSVP for info meeting, please click the button below, that will take you to
miltreecommunity@gmail.com
Transition Joshua Tree

Opening Reception "A Walk in the Park"

An opening reception will be held on Friday, Jan. 15, for "A Walk in the Park: Celebrating 80 years of Joshua Tree National Monument/Park and 100 years of the National Park Service," the winter Art in Public Places exhibition at Twentynine Palms Visitor Center and Art Gallery and Chamber of Commerce, 73484 29 Palms Hwy. in downtown Twentynine Palms.
The public is invited to Friday's reception from 5:30 to 7:00 p.m. to view the show, mingle with the artists, and enjoy music and refreshments. Admission is free
Read further detail here.
Beatnik Lounge

Beatnik Boutique
Every Saturday, 9am – 2pm
Come join us during Farmers Market in downtown JT for some shopping fun! Follow the big metal arrow to the Beatnik Lounge.
Our featured seller this Saturday is Richard Lehrer. Come and check out his beautiful photography, vinyl & other unique treasures!
Tibetan Meditation with Sunny  Every Wednesday, 6:30pm
Sunny Sundowner leads a weekly guided meditation, all are welcome to attend
Parade of Homes

Greenleaf Scholarship Available to Graduating High School Seniors

Hike with Joshua Tree National Park Superintendent 
Twentynine Palms, CA-Joshua Tree National Park- The National Park Service turns 100 years old this year. In recognition and celebration of this milestone, Joshua Tree National Park Superintendent, David Smith will be leading hikes up 5 different peaks in the park. The schedule is as follows:
Monument Mountain 4834′, 6 miles – February 6th (Meet at Cottonwood Visitor Center 0830, half day)
Eagle Peak 5350′, 10 miles – March 5th, (Meet at Cottonwood Visitor Center 0830, all day)
Queen Mountain 5687′, 4 miles – April 2nd, (Meet at Joshua Tree Visitor Center 0800, half day)
Quail Mountain 5813′ 12 miles – April 30th, (Meet at Joshua Tree Visitor Center 0700, all day)
These hikes are all challenging and participants should be fit and in good health. Be sure and bring appropriate footwear for hiking as well as a hat, sunscreen, food and water. Please call 760 367-5502 to RSVP.
Joshua Tree Clean Team

Every 2nd, 4th, 5th Wednesday
7:00 A.M. – 8:00 A.M. June, July, August, September
8:00 A.M. – 9:00 A.M. All Other Months
There will be Trash Bags, Grabber Sticks and Gloves Available
For More Information Call – 760 366-8415
Coming up at the Desert Institute
The BLACK ROCK LECTURE series will return to it's original venue: the Black Rock Ranger Station on the third Friday of the month. Here is the current schedule of speakers and their topics:
FEBRUARY 19 – Jay Theuer, archaeologist of Joshua Tree National Park, will be discussing current issues of archaeology in the park.
MARCH 18 – Jamie Haney, Joshua Tree resident, will be talking about her solo hike of the Pacific Coast Trail.THESE LECTURES BEGIN AT 7PM AND ARE FREE. NOTE: the Copper Mountain College panel seminars will be moved to the FIRST FRIDAY OF THE MONTH and will get a new name, to avoid confusion with the Black Rock Lecture Series. Stand by for an announcement of the topics and speakers!Our Fall classes are now available for enrollment!

Click for a downloadable, interactive catalog,
or to enroll in any of our courses
call 760-367-5535 (Mon-Fri 8am – 5pm).
Old Schoolhouse Lecture Series
The Desert Institute is proud to present the Fall 2015-Spring 2016 Old Schoolhouse Lecture Series
February 12 – History of the 29 Palms Artists' Guild with Pat Rimmington
March 11 – Frank Critzer and the Legend of Giant Rock with Barbara Harris
April 8 – The Underhills of 29 Palms with Ann Congdon
May 13 – Joshua Trees: Mystery and Myths with Chris Clarke
June 10 – Cowboy Poetry and Humor with Richard Brewer
The lectures begin at 7 pm and admission is $5.00.  New:  You can purchase a subscription for the entire series for only $40. and, as a subscriber, you will have a reserved seat held until 10 minutes before the lecture begins.  
Click
here to purchase your series subscription.  As always, you can join the speaker for dinner at 5 pm at the 29 Palms Inn.  Please call 760-367-5535 for dinner reservations no later than the Wednesday prior to the dinner!
(now streaming worldwide)