Joshua Tree 2nd Saturday Downtown Nights
Annual Egg Hunt
23rd Annual Joshua Tree National Park Art Festival
The 23rd Annual Art Festival will feature art inspired by the Joshua Tree National Park.  This year it will be located at the 29 Palms Art Gallery, located next door to the park's Oasis of Mara Visitor Center.  The show is being held at the Gallery due to a seismic retrofit construction at the Oasis Visitor Center.  The show takes place Friday, Saturday and Sunday, April 3, 4, and 5th, from 9 a.m. to 5 p.m. daily.
Sixteen artists will be on-hand to exhibit and sell their work.  Meet local and regional artists and learn what it was in their desert view that so inspired their creativity.  Marley Wong's exquisite jewelry; Mark Heuston's metal sculpture; wildlife photos by David McChesney, sculpture by Darryl Elliott and paintings by Janis Commentz and Ellen Hill will be will be just a few of the artworks available for attendees view and purchase.   Award winning iconic photography will be offered by Ellie Tyler; Ralph Nordstrom, Rachel Rausch Johnson and Sam Roberts.  Jewelry will be offered by Jessie Whitefeather, Val Davis and Roberta Blomster.  Mazamar Art Pottery, Nancy Mc Henry and Margo Recker will show ceramics and clay sculptures.  Nearly every art form will be represented in the show: wood sculpture; photography; gourd art; pottery; paintings, glass and fine jewelry – all inspired by the desert.
The 29 Palms Art Gallery will be open during the festival and will feature an exhibition of 29 Palms Art Guild members' work.
The Festival is sponsored by the Joshua Tree National Park Association, a non-profit organization that provides support and assistance to the park's interpretive, educational and scientific programs.  A portion of sales benefit the Association.
Festival admission is free.
For information contact:
Meg Foley, 367-5530,  megfoley@joshuatree.org
East Joshua Tree Block Party

Mark your calendar with a big star on Saturday, April 4th, for several hours of music, games, food, art and LOVE at the first-ever East Joshua Tree Block Party. The fun starts at 11 a.m. with merchants  Gallery 62, Art Queen, JT Music, Tree Bird, Totally Blown, Moss and Ginger, Dave's Coin Shop, Bird on a Wire, Cactus Tree, Peace Love and Tiedyes and Massage Mom open for your browsing, buying, noshing and playtime fun. From 4 to 10 p.m. enjoy refreshments and non-stop music held on two stages where you can shake, shimmy or just plain groove to music by Spankshaft, Daytime Moon, Machin', Gene Jr. and the Family, Small Wonder Experience,  Spencer Keizer, Fueled By Failure, The Gentle Giant, Ideation, The Clouds and the original art queen herself – Shari Elf. There's no age limit, no cover charge and no excuse to miss this day-through-dark , very Joshua Tree experience.
On top of that – it's Gallery 62's 1st Anniversary so even more reason to celebrate!
When: Saturday, April 4th, 4-10pm.
Location: Gallery 62, Sun Alley Shops and the Art Queen Complex in East Joshua Tree.
Public is welcome – invite your friends and family.
Optional Potluck: If you can, bring an appetizer to share. Just drop off at the table in front of Gallery 62. Thank you.
Thomas Buckner at the Harrison House

Harrison House Music, Arts & Ecology Presents:
A weekend with Thomas Buckner, Baritone
PERFORMANCE:
Saturday, April 4, starting at 8:00 PMWORKSHOP:
Sunday, April 5, from 2:00PM – 5:00 PM
Call 760.366.4712 for reservations. Tickets also available at Joshua Tree Health Foods
29 Palms Hwy at Sunset Street, Joshua Tree, CA 92252.
Performance donation $15; workshop donation $10-$25 (sliding scale) – limited enrollment
Harrison House
6881 Mount Lassen Avenue, Joshua Tree, CA 92252
Information: 760.366.4712
Harrison House Music, Arts & Ecology is pleased to present Harrison House artist-in-residence baritone Thomas Buckner
for weekend events, which will feature a concert along with an Easter Sunday group improvisation workshop for singers and instrumentalists.
The concert begins at 8:00 PM on Saturday, April 4, with Thomas Buckner performing alongside Dan Joseph on hammered dulcimer and Big Black on percussion. The program will include works by Lou Harrison and Robert Ashley, along with musical improvisations. The workshop on Sunday, April 5 from 2:00-5:00 PM will focus on spontaneous music in a group setting, with Thomas Buckner applying principles derived from his 50-year history of collaboration with master improvisers including Cecil Taylor and members of the Art Ensemble of Chicago.
Thomas Buckner, baritone, possesses a distinguished background of partnership with composers of new music. He has made live appearances at such renowned venues as Carnegie Hall and the Lincoln Center, along with participation at high-visibility music festivals. He is featured on over 40 recordings, including six of his own solo music albums.
Harrison House Music, Arts & Ecology is a non-profit program based in the landmark straw bale retreat built by the late composer Lou Harrison in Joshua Tree, CA.  It brings cultural vibrancy and environmental awareness to a high desert community through a residency and performance program for international artists, ecologists and thinkers.
Sunday Night Slow Jams comes to Z107.7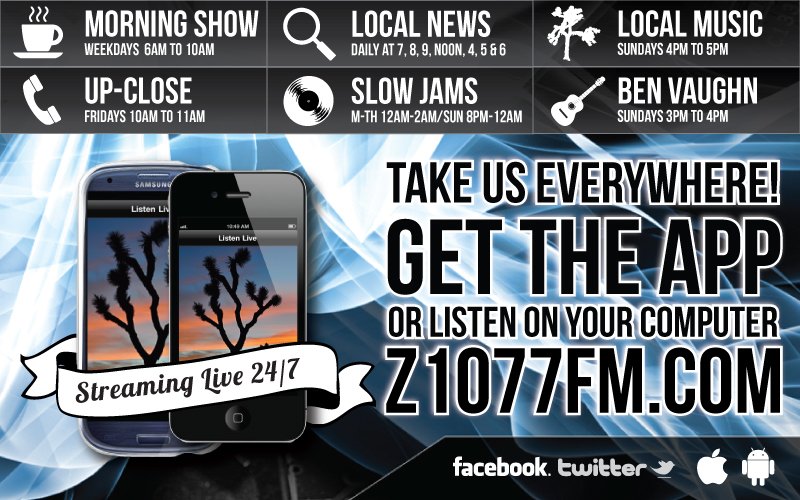 With the start of a new year, the start of exciting new programming for the Morongo Basin's #1 Radio Station!"Sunday Nite Slow Jams"now offers listeners from Morongo Valley to the west, Amboy to the East, and the Communities of Yucca Valley, Joshua Tree, Landers, Twentynine Palms, and Wonder Valley in between, a special blend of old and new R&B love songs and an outlet to express special feelings to loved ones Sunday nights from 8:00 pm. until midnight.
Sunday Nite Slow Jams specializes in playing special Slow Jams that you probably haven't heard in awhile, and definitely won't hear anywhere else! SWV, Keith Sweat, Jodeci, The Isley Brothers, Boyz II Men, Al B. Sure, Janet Jackson and more can all be heard on "Sunday NiteSlow Jams"-on Z107.7.
In addition to the Sunday night 8-midnight show, Z107.7 will also offer a late night treat of Slow Jams -Monday through Friday nights from midnight to 2:00 am.
"Sunday Nite Slow Jams" on Z107.7 is the results of numerous listener requests to bring the popular program to the Hi-Desert. Program DirectorGary Daigneault said, "After receiving inquiries about the program, we researched it, located the program distributors and made the arrangements to bring it up to the Morongo Basin. As the only family owned and operated Radio Station for the past 25 years, we felt it was important to give our listeners the variety of music and entertainment they were asking for."
Sunday Nite Slow Jams can be heard at 107.7 on the FM Radio dial in the Morongo Basin, streaming worldwide at www.z1077fm.com or through the free app available by searching "KCDZ" on the Google Play and Apple Markets.
Featuring a high quality mix of adult contemporary and local music, mixed with a local morning show and local news 7 days a week, Z107.7FM is broadcast from studios in Joshua Tree and recently celebrated their 25th anniversary.
They have been under the same local ownership, at the same location, and featured the same quality programming since they signed on in July of 1989. For more information about Z107.7, call the studios at 760-366-8471.
(now streaming worldwide)
Artist-in-Residence, Olivia Parkes Featured in Exhibit and Joshua Tree Visitor Center
Joshua Tree National Park announces the opening on Wednesday, April 1st, of an exhibit of new paintings by artist Olivia Parkes, at the Joshua Tree visitor center, 6554 Park Blvd., in Joshua Tree, California. Ms. Parkes was a 2014 participant in the park's Artist-in-Residence Program. The Joshua Tree National Park Artist-in-Residence program is operated in partnership with the Joshua Tree National Park Association. The program encourages artists to explore content related to Joshua Tree National Park and create a body of work that inspires interest in the park and builds better understanding and dialogue about our national parks, natural and cultural resources, the environment, and desert issues.
Desert Experience: Transforming Observation Through Writing
Spring Break is here at the park and all campsites have been filled.  If you are interested in camping  in the park next weekend, we have the class,
"Desert Experience: Transforming Observation Through Writing"
with Rebecca Lowry, on Saturday and Sunday, April 4-5.  This Camping Optional class will be held at the Lost Horse Campground, a reserved campground used by the Desert Institute (not found on the park map).  It is a beautiful location for a great class, and there are still a few spaces available.  Come camp with the instructor and other participants!  For more information, please call 760-367-5535.
Copper Mountain College Board Meeting

Board Closed Session
Date: April 6, 2015
Time: 1pm
Location: Copper Mountain College, Quad 3 – Library Meeting Room
6162 Rotary Way, Joshua Tree, CA 92252.
Persons with disabilities may request a disability related accommodation or modification in order to participate in a Copper Mountain Community College District Board of Trustees' public meeting. To request accommodation or modification, please contact the President's Office at (760) 366-3791 x-5441.
View agenda here: http://www.boarddocs.com/ca/cmccd/Board.nsf
Drylands Permaculture Talk

The Transition Joshua Tree Permaculture Team is sponsoring a talk by local permaculture consultants, Tim DeLorey and Jill Giegerich, owners of On Contour Regenerative Design. This event is FREE and will take place on Monday evening, April 6th, 7 to 9 PM at Furst World, 8528 Desert Shadow Road, Joshua Tree, CA.
Permaculture is an artful land use design method that regenerates ecosystems and creates sustainable human habitation. DeLorey and Giegerich, certified permaculture design consultants, have been teaching workshops and implementing permaculture systems locally for the last five years.
They will give an overview of this elegant design method and will show many examples of permaculture being currently practiced by local people in our arid environment.
Transition Joshua Tree is a local grassroots organization that works to actively face the future by becoming a resource for teaching and demonstrating strategies for community resilience. Please consider reducing your carbon footprint by carpooling to this event.
For more information go to transitionjoshuatree.org or call 310.795.6991.
Copper Mountain College  2015 Greenleaf Scholar
COPPER MOUNTAIN COLLEGE FOUNDATION ANNOUNCES THE 2015 GREENLEAF SCHOLAR.
Copper Mountain College Foundation is proud to announce Kamaljot Singh of Twentynine Palms as the 2015 Greenleaf Scholarship winner.
Kamaljot Singh is a senior at Twentynine Palms High School and is no stranger to Copper Mountain College because he has taken classes here since the beginning of his freshman year in high school. He says "I always believed the power of life and future is in my hands" and he certainly is on his way to proving that philosophy.
Kamaljot Singh was chosen out of a very competitive field of applicants to receive this year's Greenleaf Scholarship. The scholarship will pay his tuition, books and fees plus living expenses while he is a student at Copper Mountain College, in addition to paying those same expenses while he completes a baccalaureate degree at a four year institution.
The Foundation will host a Greenleaf Award Ceremony on April 9, 2105 at 5:30 pm in the Front Foyer of the Bell Center to honor Kamaljot Singh and recognize the four other finalists, Kylie Howell, Marie Linton, Elizabeth Schmelling and Vanessa Valle with a $500 scholarship.
Endowed by local banker F. Roy Greenleaf Jr., the scholarship is awarded each year to a promising student that is interested in learning, success oriented, has performed successfully in school and shows a desire to return to the Morongo Basin upon completion of his education. Kamaljot Singh plans on attaining a degree in Electrical Engineering and states, "having this career, I will be able to fulfill my life and the lives of others by creating electrical equipment that aids individuals medically and mentally."
The ceremony is open to the public. For more information on the Greenleaf Scholarship, visit www.cmccd.edu/Foundation
Operation Take Charge!
Are VA benefits and services confusing?  Are you interested in understanding the VA process and where to start?  The Student Veterans of Copper Mountain College invite you to attend "Operation Take Charge" a VA benefits workshop on April 10, 2015.  This Vet-2-Vet empowerment event is in Room 112 in the 100 Quad from 1:00-3:00 pm on the main campus.
All Veterans, active duty military, and dependents are encouraged to attend. Yesenia Covarrubias Thomas, Veterans Outreach Specialist, with the Department of Veterans Affairs will provide information regarding available services and benefits including, but not limited to, readjustment counseling, Vet centers, healthcare, education, and home loan assistance.
Light refreshments will be provided and children are welcome!  For additional information please contact Ms. Thomas at 909-801-5762 or call CMC's Veterans Services at 760-366-3791 x5813.
Take the next step for your education!
Mojave Desert Land Trust Debuts New Headquarters
Mojave Desert Land Trust (MDLT) invites the public to stop by our new headquarters to enjoy the view, see what's new, and share ideas about what's to come!
Come be a part of our HQ Debut & Idea-Gathering Event!
Open House * Saturday, April 11th * 11am-2pm
* Tour the building & grounds
* Share your eco-friendly improvement ideas
* Enjoy refreshments
* With live music by Mojave Rhythm
(Steve Lester & Bobby Furgo)
Our building and grounds are a work-in-progress and we're seeking input and suggestions for eco-friendly design, materials, implementation and support as we map out a vision for the future of our new space.
We hope you'll join us and we look forward to welcoming you to our new home…
60124 29 Palms Hwy (at Olympic Rd) * Joshua Tree, CA 92252
One Spirit Medicine: Ancient Ways to Ultimate Wellness
One Spirit Medicine: Ancient Ways to Ultimate Wellness by Dr. Alberto Villoldo, Ph.D.
I'm excited for the release next month of "One Spirit Medicine," by my friend and colleague Dr. Alberto Villoldo. In this ground-breaking new book, Dr. Villoldo bridges cutting edge neuroscience and the ancient wisdom of the indigenous traditions he has studied for more than three decades to push the reset button on ultimate health and wellness in the 21st century. Using the principles and practices that Dr. Villoldo shares in One Spirit Medicine, you can feel better, clear your mind and heal your brain, and effectively grow a new body – one that mends rapidly, ages gracefully, and keeps you connected to Spirit, to the earth, and to a renewed sense of purpose in your life.
You can order it now: http://goo.gl/S6syYA
Release Date May 5, 2015
National Park Week
"Find Your Park" is the theme for this year's National Park Week, April 18 – 26, 2015. Experience Joshua Tree National Park with our Find Your Wildflower campaign. Go to http://www.nps.gov/jotr/planyourvisit/blooms.htm
to compare notes and see what's blooming!
On April 26, 2015, Junior Rangers and all visitors are welcomed with many exciting activities including hikes and nature walks, story time for kids, art immersion, climbing demonstrations, maintenance truck and tools demonstrations and more. View a complete schedule at any park visitor center.
Commenting on National Park Week and the Find Your Park movement, Joshua Tree National Park Superintendent David Smith says, "This is a unique opportunity for us in the National Park Service, and at Joshua Tree National Park to not only share Joshua Tree stories, but to have a very real conversation with the people who visit our parks and public lands. Parks inspire and transform our lives, whether they are national parks, state parks, city parks, or a patch of land in your own backyard."
"Road Map Toward Success"
Good Afternoon Basin Wide,
The Basin Wide Foundation invites you to our 5th annual workshop "Road Map Toward Success", a one-day workshop on Friday, May 8, 2015, from 8am – 3pm, at the Bell Center on the Copper Mountain College Campus. This workshop is geared towards all Non-Profits, Board Members, Executive Directors, Staff and Volunteers. Please find attached information on signing up. Each attendee will receive a notebook, continental breakfast, lunch and great, useful information!!
Presenters are: Beth Bergman, Attorney, Bergman & Allerdice ~ Specializing in Non-Profit Law
Jan McAdams, Funding Consultant ~ Grants
Matt Harris, Alcohol Beverage Control ~ ABC Rules
And…planned giving, social media and Board fundamentals
BWF Reserves the right to change speakers if schedules require.
Cost:
$40 for Members
$45 for Non-Members
$50 at the door
You may rsvp by responding to this email, fax brochure back to 760-365-5770 or mail the brochure back at the below address.
If you should have any questions or need an invoice please feel free to call or email me.
Sincerely,
Kelly
3rd Annual Art Auction
Organizers of the 3rd Annual Art Auction benefit for Reach Out Morongo Basin are getting ready for this year's auction to be held on Saturday May 2, 2015 from 2 pm to 7 pm at ArtFx and Furnishings in Old Town Yucca Valley.
"This is our third year for this event and we are looking forward to it" said Reach Out director Robin Schlosseer. "In the past we held it in December and found that the weather hampered the event so we opted to move it to May. With Carlos Reyes of ArtFx and Furnishings graciously hosting the event and donations from local artists we have raised several thousands of dollars each year for our programs for senior and disabled neighbors here in the Morongo Basin."
Organizers are seeking donations of self-created or pre-owned artwork from the community for the auction. "It is with the support of our local artistic community that this event has been such a success in the past and we look forward to the support and generosity that the Morongo Basin community is known for", said Schlosser. "Past auctions have featured jewelry, photography, paintings, etchings, metalwork ceramics, textile art and even furnishings so all donations are welcome!"
Artwork and donations are being accepted at ArtFx and Furnishings – 55836 29 Palms Hwy in Old Town Yucca Valley or at Reach Out Morongo Basin 6539 Adobe Rd, 29 Palms from March 16, 2015 thru April 16, 2015.
In addition, organizers are seeking sponsors for this event at the following levels:Gold Sponsorship-$500 or more
Multiple sponsorships available at this level
Recognition at event with promotion of business (materials to be supplied by sponsor)
Listing in all radio and newspaper advertising.
Listing on flyers and posters.
Listing on Reach Out website (with link to your homepage or email)
Silver Sponsorship-$250 or more
Multiple sponsorships available at this level.
Listing in all newspaper and radio advertising.
Listing on all flyers and posters.
Listing on Reach Out website (with link to your homepage or email)
Bronze Sponsorship-$100 or more
Multiple sponsorships available at this level.
Listing on flyers and posters.
Listing on Reach Out website (with link to your homepage or email)
Copper Sponsorship – $50 or more
Multiple sponsorships available at this level
Listing on flyers and posters
The event will offer live music, food, refreshments and desserts with a way for the community to bid on items from multiple artists and support a good cause at the same time.
For more information contact Reach Out at 760-361-1410 or ArtFx & Furnishings at 619-990-5683.
JTAG Exhibit

The Beatnik Lounge!
NOW CALLING OUT ARTISTS to Participate in This April-May Show… Even For Pieces w/RECYCLED MATERIALS~!~
Please Join Us On the Onset of the Next Beatnik Lounge Art-Show; the "Earth to Mother Art Exhibit" That Spans the Six-Week Period that includes "Earth Day" (This April 22nd is the 45th Anniversary of the 1st Earth Day!) to Mother's Day in May! We Will Celebrate with an Evening of Creative Art/Music/Poetry in an "Open Mic" Format.
(Sign Up to Perform w/a Comment below or email Sunny: conchustimes@yahoo.com)
Raise Your Own Awareness and Raise Planetary Consciousness..!
Let's Create Our Way Out of Mother-Earth's Pollution-Dilemma..!
EARTH TO MOTHER ART SHOW PIECES: Exhibit Your "Earth &/Or Mother-Related" Art Piece for a $15- Fee to Be Sold (or Not!) At the Price You Desire! (Additional Pieces are $10- ea. & "Sold Pieces" require an additional 10% to the Beatnik).
LOVE YOUR GAIA-MOTHER POSTER CALL-OUT: A "Call-Out" to All Artists Who Would Like to Make a Poster Piece for the "Gaia-Mother Art Wall," (max. 16 in. x 20 in.) & You Are Welcome to Contribute as many Posters As You Wish, But We Are Asking for $5- Donation for Each Piece to Help Keep the Beatnik Lounge Thriving!
More Info: contact Deborah by email debtobin12@gmail.com or call 619-806-6202
MORE Mother Fun: A "Head's Up" to Bring Photos of your Mother to be developed into the "2nd Annual Beatnik MOM-Dala" in May (Which Can Be Dropped Off At THIS Event~!~)
The Beatnik Lounge is located at
61597 29 Palms Highway
Joshua Tree, CA 92252
(formerly the Beatnik Cafe/Red Arrow)
Please contact tedquinn11@gmail.com or via facebook.com/tedquinn for more details.
Please listen to the Sunday Evening Variety Show at 5pm (PST) RadioFreeJoshuaTree.org
Join Ted Quinn Monday nights at Pappy and Harriet's for Ted Quinn's Reality Show! 7:00 sign-up!
NEW SERVICE AT THE LISTENING LOUNGE
We will convert your vinyl LPs to digital. We can burn a CD, or put files on the drive of your choice. Only $5 per single album!
Radio Free Joshua Tree!
Streaming 24/7
Featuring local music, news, cultural reports
and much, much more!
Please listen to the Sunday Evening Variety Show
5 pm every Sunday – click the link above to listen!
Please send your music submissions, with permission to play your music, to submit@RadioFreeJT.com
Old Schoolhouse Lecture Series
Black Rock Lecture Series 2014-20
Coming up at the Desert Institute
APRIL CLASSES NOT TO BE MISSED!
DEAR JOSHUA TREE CHAMBER WILDFLOWERS ARE STARTING TO BLOOM IN THE PARK AND THE WEATHER IS SUPERB. YOU CAN SEE THE WEEKLY WILDFLOWER REPORTS on the park's website.
In April, we have an extensive schedule of educational programs covering everything from Natural Sciences to Survival Skills to Creative Arts Programs. Many of the April programs have a "camping option" for beginning or experienced campers at the reserved Lost Horse Campground (not on the park map) to have the ultimate Joshua Tree experience. Enrollment is limited, so plan ahead and book now to ensure your Spring gets off to a good start.
To enroll in any of our courses, VISIT OUR WEBSITE, OR CALL 760-367-5535 (MON-FRI 8AM – 5PM).
NATURAL SCIENCES
April 11-12 Ecology of Joshua Tree National Park* with Allan Schoenherr
April 11-12 Tracking in Joshua Tree National Park with Jim Lowery
April 17-19 Birds of Joshua Tree National Park* with Kurt Leuschner
April 18-19 Geology of the Mojave National Preserve with Ted Reeves
April 25 Ecology and Biology of Joshua Trees with Chris Clarke
*Offered for University Credit
CULTURAL HISTORY HIKE
APRIL 12 HIKE LOST HORSE LOOP WITH CHRIS METZGER
SURVIVAL SKILLS
APRIL 11-12 TRACKING IN JOSHUA TREE NATIONAL PARK WITH JIM LOWERY (CAMPING OPTION)
APRIL 18-19 GPS NAVIGATION TECHNIQUES WITH DAVID PYLMAN (CAMPING OPTION) WOMEN'S PROGRAMS
April 18-19 Rough n' Ready Girl's Desert Camping Workshop with Rebecca Lowry (camping option)
April 25-26 Women's Get-Away Weekend with Laurie Green and Caryn Davidson (camping option)
May 9 Journey to Artistry in Joshua Tree National Park with Valohna Wynn Creative Art Programs
April 4-5 Desert Experience: Transforming Observation Through Writing with Rebecca Lowry (camping option)
April 25-26 Night Sky Photography with Dennis Mammana
April 26 Watercolor Painting in Joshua Tree National Park with John Scahill May 2 Plein Air Poetry with Jim Natal and Jeanette Clough
May 2 Light and Color: Oil Painting in JTNP _(new format) _with Andrew Dickson On
April 3-5, the JOSHUA TREE NATIONAL PARK ASSOCIATION presents the 23rd annual ART IN THE PARK. This year we will hold the Festival at the 29 Palms Art Gallery, right next door to the Oasis of Mara Visitor Center. The Visitor Center is undergoing a seismic retrofit, so our "home" of 22 years was not available, although a temporary Visitor Center is serving visitors. A special thanks to our friends at 29 PALMS ART GALLERY for supporting the festival.
Over fifteen local and regional artists will on hand at the festival to show and sell their work, sharing their personal interpretation of Joshua Tree National Park and the desert southwest. Original works of painting, sculpture, photography, ceramics, art glass, jewelry and gourd art are featured each year. The Art Festival runs from 9:00 to 5:00 p.m. each day on the patio next to the 29 PALMS ART GALLERY on National Park Drive, Twentynine Palms. As a special bonus, the 29 Palms Art Gallery will be open. ADMISSION IS FREE – a portion of the proceeds benefit the Joshua Tree National Park Association.
On FRIDAY, APRIL 10, BIOLOGIST AND DESERT SUN COLUMNIST, JIM CORNETT, WILL SPEAK ON "LIVING ON THE DESERT'S EDGE: 12 YEARS OF MY WILDLIFE ENCOUNTERS IN AND AROUND MY HOME AT THE EDGE OF A DESERT WILDERNESS" at the Old Schoolhouse in 29 Palms. The lecture begins at 7 pm and admission is $5.00. A dinner with the presenter at the 29 Palms Inn is available at 5 pm. Please call Kellie Stokes at 760-367-5535 for dinner reservations. On FRIDAY, APRIL 17, THE BLACK ROCK SYMPOSIUM WILL FOCUS ON "CLIMATE CHANGE" with panelists Cameron Barrows, Research Biologist, UC Riverside, Ian James, Investigative Reporter for the Desert Sun and Michael Vamstad, NPS Wildlife Ecologist. This program is free and starts at 7pm at the Bell Center, Copper Mountain College.
The Art of War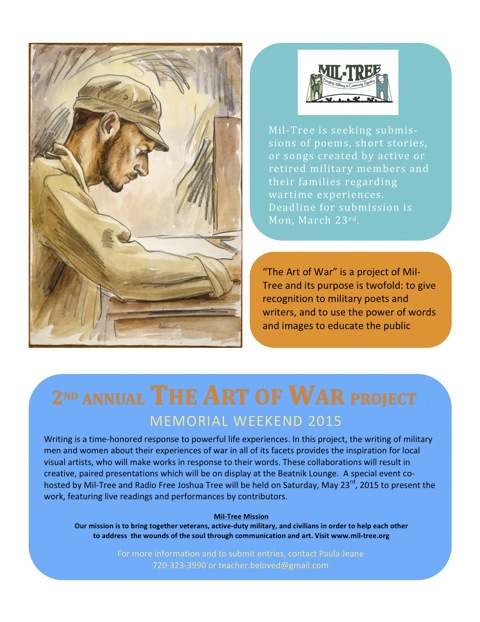 Desert Moods
Joshua Tree National Park Conservation Corps
Youth Conservation Corps Applications now available.
This summer, Joshua Tree National Park will sponsor an 8-week, Youth Conservation Corps program. Youths between the ages of 15 and 18 are encouraged to apply. To be eligible, applicants may not reach their 19th birthday during the program. Selected applicants will start work on June 15th, 2015 and continue in the program until August 6th, 2015. Corps members will earn the hourly California Minimum Wage. Work hours are Monday through Friday from 7:00 a.m. until 3:30 p.m., with every other Friday off.
The program provides young people of the community with excellent hands-on work experience. Work will be labor intensive and performed throughout the park. Proposed projects include trail construction and maintenance, resource habitat improvement, and resource restoration. Job development and youth training are truly and investment we can all make in the futures of our children.
Application forms are available from Joshua Tree National Park Headquarters in Twentynine Palms. The application form must be returned or postmarked, no later than April 11, 2015. Call Human Resources Assistant Samantha Coots at 760-367-5516 for additional information.
The Joshua Tree Chamber of Commerce supports the Morongo Basin Dark Sky Alliance in all their efforts.
more info >
Newsletter Submission Details
We love to promote our member businesses, their events and news. Newsletters go out on Fridays. Information Submission is due WEDNESDAY by 12 pm to be included. Please submit all written information in a word document and graphics in JPEG format no larger than 225KB and no wider than 800 pixels. Members are allowed to place 4 ads per year for offerings, sales or promotions. Event announcements are unlimited. Non-members may advertise at the rate of $25 per newsletter. Please send your information to newsletter@joshuatreechamber.org