Joshua Tree Chamber News & Member Events

Thank you to our new and renewing members!
Announcements
Claim your ticket now!
Save the Date
You Are Invited to an Open
House Reception
A Get together for New Members, Renewing Members & Community
Showcase your business  (space is limited, please reserve your space early. RSVP)
Friday evening, May 29th, 5pm to 8 pm
At the Joshua Tree Chamber of Commerce
Hallee Rd. and Hwy 62 Joshua Tree, Ca 92252
Email director@joshuatreechamber.org or call 760 366 3723
Music provided by Bonnie & Slyde with guest appearances by members of the JT Jazzband/Food/Beverages Good Company
Meeting Space Available

The Chamber is now offering meeting/event space for groups, private individuals and Organizations at our office.
We are open for daily/ weekend and evening meeting scheduling.
Our hourly rates are reasonable and Chamber Members receive an Additional Discount.
Please contact us at: 760-366-3723 or email director@joshuatreechamber.org
Member of the Month
Each month we will choose and feature a new Member of the Month in the newsletters for that month. To find out how to be included in the drawing, send an email to director@joshuatreechamber.org
Joshua Tree Downtown Map
We have printed our downtown map and business directory! It is available at the Chamber office, downtown locations and is being distributed to many outside locations. Download a copy here >
Advertise for the next edition of the map, spaces are filling up fast! more info >
Seeking Volunteers, Donations and Board Members
more info >
Chamber office hours: 10-12 Tuesday, Wednesday and Thursday.
6448 Hallee Road, Suite 10 (in Sam's Plaza) 760.366.3723
Member of the Month: Copper Mountain College Foundation
The Foundation is an auxiliary of Copper Mountain College and is a 501(c)3 non-profit organization. It is the fundraising arm of the college, managing over $7.5 million in assets.  During the 2013-2014 school year, the Foundation contributed over $1 million in scholarships and programs to CMC. The fundraising efforts and affairs of the Foundation are governed by the Board of Directors, managed by the Executive Director, operating under the purview of the District's Superintendent/President, and under the oversight of the District's Board of Trustees.
In 1981, the Friends of Copper Mountain College began to raise money to pay for construction of the first phase of the Copper Mountain Campus which was at that time part of the College of the Desert. It started with the sale of a quilt and before long, groups such as the local Rotary Clubs came to the rescue with large contributions. Then-President Ronald Reagan was so impressed by this self-help initiative that he awarded the Friends his Volunteer Action Award for 1984. The Friends continued to raise money from residents and in 1999, Copper Mountain Campus separated from College of the Desert, Palm Desert, and, through state legislation, formed the new Copper Mountain Community College District. Copper Mountain College obtained its own full accreditation from the Western Association of Schools and Colleges in June 2001, at which time the Friends changed their name to the Copper Mountain College Foundation.
The most recent significant achievement of the CMC Foundation is the raising of over $500,000 to build a student center and additional faculty offices. The student facility is named the Christine Proudfoot Student Activity Center, after Colonel Max Proudfoot (ret) made a generous donation in the memory of his deceased wife, Christine, a longtime supporter of public education and Copper Mountain College. For more information on the Copper Mountain College Foundation, please contact Sandy Smith, Executive Director, at ssmith@cmccd.edu.
Joshua Tree 2nd Saturdays Downtown Nights – May 9, 2015
BoxoPROJECTS Exhibit with Chris Peters

Saturday, May 9, 2015
2pm-5pm
Please join us for an open house for artist in residence Chris Peters and an exhibition of works and works in progress created during the residency.
The artist works with sculptural installation and video to examine the narratives we are compelled to project onto an objective natural world. The installation created during his two-week residency at BoxoPROJECTS depicts a philosophical struggle and a form of exile. Materials in the installation include video, banners and posters, a Toyota Prius, cast polyester resin sculptures, lithograph print, local wild flowers, a custom foam can-cooler, and custom stickers and a postcard series that will be given away at the event. During the residency Chris conducted research, photographed, edited video and sound for this as well as three forthcoming video and sculpture projects.
Chris Peters received dual MFA degrees in both Cinema and studio Art from California Institute of the Arts . He resides in Los Angeles and works in both the gallery and cinematic context. He is faculty in the School of Art at California Institute of the Arts. Film festivals and exhibits include Sundance Film Festival (2009 and 2012)LA Freewaves, Am Nuden Da (London), L.A.C.E, Torrance Art Museum, the Scott Donovan Gallery, CineVegas Film Festival, New Port Beach Film Festival, Madeira Film Festival, Cohen Leslie & Brown (NY) and Rosamund Felsen, Mario's Furniture Gallery, and Sundown Salon in Los Angeles.
Mirrors and Windows Exhibition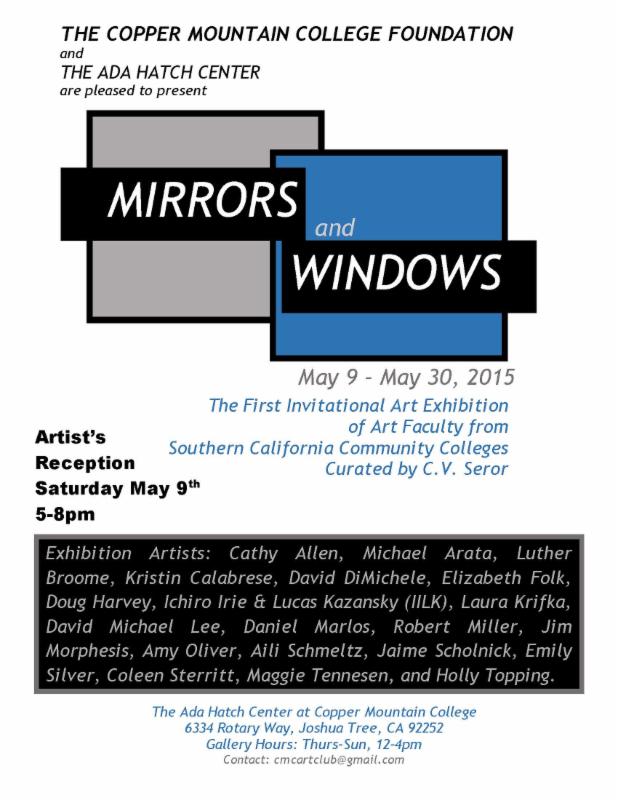 THE COPPER MOUNTAIN COLLEGE FOUNDATION and The Ada Hatch Center are pleased to present:
MIRRORS & WINDOWS  2015 – The First Invitational Exhibition of Art by Faculty from Southern California Community Colleges. Curated by C.V. Seror
Exhibition Dates: May 9-May 30, 2015
Artist Reception: Saturday, May 9th, 5:00-8:00 p.m.
The Ada Hatch Center at Copper Mountain College 6334 Rotary Way, Joshua Tree, CA 92252
Gallery Hours: Thursday-Sunday, 12:00-4:00 p.m.
Mirrors & Windows is an exhibition which reflects and repositions the idea of Teacher Identity and the Artist Curriculum. Education, like the practice of Visual Arts, can show us a window to the world or hold up a mirror to ourselves. The main purpose of education is to turn mirrors into windows, which parallels the question asked by visual artists; are we mirrors or windows to the world which we create? Copper Mountain College recognizes two basic tenets; The Artist Instructor as a Window (direct observation) or as a Mirror (introspective narrative) and celebrates the artist, as a practitioner, as well as educator.
The distinction proposed in the exhibition, is not intended as a method of dividing the person into two discrete bodies; the artist and the instructor. On the contrary, the model suggested for the exhibition, is that of a continuous axis, no artist's work could embody with perfect purity either of the two divergent motives. It is the nature of this issue to find a personally satisfactory resolution of the contesting claims of a History and Practice and to educate and share with the community, as well as, the will to make art.
Mirrors & Windows is an exhibition of work by eighteen (18) contemporary artists that are art instructors affiliated with thirteen (13) Southern California Community Colleges. These artists work and teach in distinctly different visual mediums. The exhibition is curated by C.V. Seror adjunct faculty member of Copper Mountain College; instructor of Art, Art History and Photography. The Copper Mountain College Student Art Club is assisting with the production of the exhibition.
Exhibition Artists: Cathy Allen, Michael Arata, Luther Broome, David DiMichel, Elizabeth Folk, Doug Harvey, Ichiro Irie & Lucas Kazansky (IILK), Laura Krifka, David Michael Lee, Daniel Marlos, Robert Miller, Jim Morphesis, Amy Oliver, Aili Schmeltz, Jaime Scholnick, Emily Silver, Coleen Sterritt, and Maggie Tennesen.
Representing Colleges: Coast Line College, College of the Desert, Copper Mountain College, Glendale Community College, Long Beach City College, Los Angeles City College, Los Angeles Valley College, Oxnard College, Pasadena City College, Rio Hondo College, Santa Barbara City College, Santa Monica College and West Los Angeles College.
For more information on this exhibition contact the Copper Mountain College Art Club at cmcartclub@gmail.com
Copper Mountain College will host a Community Resource Fair on May 12th from 11:30 a.m. to 2:30 p.m. in 300 Quad at the main campus. The Fair is free and open to the public.
There will be several local health and wellness services to help you learn strategies for everyday stress.  The resources include CMC's Veteran's Services, CMC's EOPS/CARE/CalWORKs, CMC's ACCESS Program, CMC's Student Success Center, Associated Students of CMC, Morongo Basin Sexual Assault Services, Pacific Clinics, Department of Rehabilitation, Family Service Association, Hi-Desert Behavioral Health, Hi-Desert Family Health Clinics, Yucca Valley Center for Change, Telecare-Morongo Basin Crisis Walk-in Center and San Bernardino County Department of Behavioral Health.
Stop by and take advantage of the "Dealing with Stress & Anxiety" workshops at 12:30 p.m. and 1:15p.m. Seating is limited, so sign-up in the 300 Quad when you arrive.
For more information about this event or Copper Mountain College call 760.366.3791.
On Wednesday, May 13 the Joshua Tree Clean Team will be meeting on
Highway 62 and Turtle Island where the Farmer's Market is held.
Starting time is 8 a.m. and the work will finish at 9 a.m. Coffee and
conversation will be at the Park Rock Café with Rosie hosting the
event.  There will be grabber sticks, gloves and bags available for the
volunteers.
The clean team is pleased to have many supporters they include, Park
Rock Café, Z107.7, Joshua Tree Outfitters, Joshua Tree Recreation &
Park, County of san Bernardino Waste Management, Cal Trans and Staff and
the Hi-Desert Star.  For more information call 760 366-8415.
Joshua Tree Music Festival
Together. 33 sets of Music from around the globe, 26 Music & Movement
playshops, 39 Yoga classes, an action packed Kidsville, Visual Artists
abound, and World Market. Tickets available online til MAY 10 (then get
them at the gate). Volunteer sign up via the website. See you on the
dance (desert) floor !
13TH ANNUAL SPRING JOSHUA TREE MUSIC FESTIVAL
* Yoga All Day Long * Continuous Live Music *
Action Packed Kidsville * Organic Foods *
* World Market * Magical Visual Arts * Music & Didjeridu Playshops *
For info, to volunteer, or to buy tickets:
WWW.JOSHUATREEMUSICFESTIVAL.COM
Permaculture Action Day at Joshua Tree Music Festival   
The Polish Ambassador's Permaculture Action Day in Joshua Tree, May 14, 2015
The Joshua Tree Music Festival weekend kicks off with a day of earth based projects and community service.
The Polish Ambassador, music producer extraordinaire, and headliner at the Joshua Tree Music Festival, will bring his Permaculture Action day to Joshua Tree. Local permaculture organization, Transition Joshua Tree, will lead a crew of festival volunteers in planting a water wise desert garden at the new Mojave Desert Land Trust headquarters. Other volunteer projects include a stewardship clean-up on a local wildlife linkage property.
The action day is an extension of the Polish Ambassador's Permaculture Action Tour that converges live music, local permaculture, food justice and community outreach organizations to bring the skills and principles of land based practices into the mainstream. Since last fall the Polish Ambassador and Permaculture Action have hosted over 40 "Permaculture Action Days" in cities across the nation and also in Costa Rica.
Transition Joshua Tree was begun by a handful of locals who could no longer ignore the issues brought forth by peak oil, climate change & economic instability.  It grew into a group of people who together are actively facing the future by becoming a resource for teaching & demonstrating strategies for community resilience.
The Mojave Desert Land Trust protects the Mojave Desert ecosystem and cultural resource values.  Their headquarters (two miles west of downtown Joshua Tree) is situated in a wildlife linkage with a view of their Gateway Parcel Section 33.  Their new conservation center further represents their deep commitment to the Mojave Desert ecosystem.
The Joshua Tree Music Festival is a family friendly global music experience happening May 1417.  Four days of music, yoga, arts & community in the magical Mojave. For full details, tickets and info, log on to: www.joshuatreemusicfestival.com
Permaculture Action Day Event Details:  When: Thursday, May 14, 2015, 9am – 1pm  Where: Mojave Desert Land Trust, 60124 29 Palms Highway (at Olympic Rd)  Projects: Building and planting water wise desert gardens  What to Bring:  Hat, gloves, sunscreen, water bottle, snacks & smiles  The Polish Ambassador's Permaculture Website: http://www.permacultureaction.org/  Music producer extraordinaire and Permaculture Action Day instigator. Contact: Jasmine Saavedra, jasmine@jumpsuitrecords.com
Transition Joshua Tree Permaculture Organization:  www.transitionjoshuatree.org Creating Resilient & Sustainable Mojave Desert Communities. Contact:  Louis Kannenberg, kannenberg44@gmail.com  Mojave Desert Land Trust:  www.mojavedesertlandtrust.org
Preserving Land to Enjoy Forever. Contact:  Shauna Tucker, shauna@mojavedesertlandtrust.org  Joshua Tree Music Festival, May 14-17: www.joshuatreemusicfestival.com  A Family Friendly Global Music Experience. Contact:  Barnett English, jtmusicfest@gmail.com
Joshua Tree Retreat Center Events
Contact in the Desert
The lineup of speakers is a who's who of star experts featured on the top-rated History Channel shows Ancient Aliens and Hangar 1, along with an array of respected scientists and researchers from around the world.
Happiness Academy
 The U.S. Raelian Movement invites you to experience its annual Happiness Academy – West…Like you have never experienced it before!
Come explore something most revealing about yourself – how to BE your extraordinary self.
How can you choose and enjoy your emotions, while not having them lead your life?
What is science discovering about happy people and human consciousness?
How can you cultivate your harmony and health through simple meditation techniques?
What do pleasure and sensuality do for your body and mind?
Best of all, how can you find your happiness and keep it forever?
The Nourishing Tree Events
Joshua Basin Water District
Hwy 62 Open Studio Art Tours Accepting Applications
The OSAT Committee has been working since January to plan and organize the 2015 Art Tours. The application for the 2015 Hwy 62 Open Studio Art Tours is now available on the MBCAC website at hwy62arttours.org! The applications are due by May 15, 2015, including your images for the catalog.
Before you start the application, please check the "Members' Directory" on the website to make sure your MBCAC membership is valid through October 31, 2015. If it is not, you must join or renew in order to access the application.
To make the process easier, we have included a link to the "2015 Art Tours Guidelines" which will help you through the process and give you important information about this year's Art Tours. Please read the Guidelines before you start filling in the application.
You will find that the prices to participate have been raised by about 10%. This increase was needed to increase the marketing budget. Marketing Director Paul Morehead and his committee did a fantastic job last year and plan to expand the reach of the advertising in 2015.
The Committee is excited about the Tours and anticipates another successful year for all!
If you have any questions about the application process, contact Kathi Klopfenstein at registrar@mbcac.org
Transition Joshua Tree to Host Death Cafe
BoxoProjects – The Joshua Treenial
50 artists, 15 countries, 5 venues, 1 weekend:
The Joshua Treenial
May 22 – May 25 2015
BoxoPROJECTS is very pleased to announce the inaugural Joshua Treenial. Established by international curator Dr. KJ Baysa and Bernard Leibov, founder of BoxoPROJECTS, The Joshua Treenial is a unique international art event whose focus and locus is Joshua Tree, California, and surrounding areas. Featuring site-responsive installation and performance works, the event includes artists and works from fifteen different countries. See www.joshuatreenial.com
With its headquarters at BoxoHOUSE, The Joshua Treenial works collaboratively with local institutions The Integraton in Landers, The Palms in Wonder Valley, the Joshua Tree Astronomy Arts Theater, The Art Queen in Joshua Tree, and Royale Projects in Palm Desert. The Joshua Treenial unfolds over Memorial Day weekend, May 22 – 25 2015, concurrent with events at area organizations: High Desert Test Sites, Outpost Projects, Harrison House Music, Arts & Ecology and Copper Mountain Community College.
We look forward to your participation!
For the full schedule and program, please refer to the website as well as to social media.
Harrison House
Harrison House Music, Arts & Ecology Presents:
A performance and workshop with Letter of Marque Theater Company
WORKSHOP:            SATURDAY, MAY 23, 2-4 PM
$10 – $20 sliding scale
PERFORMANCE: SUNDAY, MAY 24, 2-6 PM
2pm performance followed by a reception with the artists
Free of charge
Harrison House
6881 Mount Lassen Avenue
Joshua Tree, CA 92252
Information: 760.366.4712
Harrison House Music, Arts & Ecology is pleased to present Artists-In-Residence Letter of Marque Theater Company
for two weekend programs: An indoor workshop on collaborative art and an outdoor performance, free to the community, on the Harrison House back stage.
Ensemble-Minded: A Workshop in Collaborative Art will take place on Saturday, May 23, from 2PM-4PM. Designed to explore and create live art for visual artists, dancers, singers, musicians and actors, participants will engage with the Company and with each other using theater games, singing rounds and spontaneous art creation. In addition a crash course in a technique called Soundpainting, a method of live composing in any discipline, will be given. No previous experience is necessary.
On Sunday, May 24 starting at 2PM, Letter of Marque will perform "Whet Willy's Short Wave Radio Show", an irreverent and fast-paced hour of live performance incorporating music, comedy and theatricality with Letter of Marque's alter-ego band, The Whet Willies. The plot centers around the last ditch effort by front man Whet Willy to keep his ship from being repossessed by the Man. He is joined by his bum-clown-pirate siblings, Soggy Sally and Moist Mort. This performance will be the culmination of Letter of Marque's five-day rehearsal process as Artists-In-Residence at Harrison House. Audience members will be invited to a reception for the artists following the performance.
Letter of Marque (LoM) is an emerging Brooklyn-based Theater Company founded by long-time collaborators Welland H. Scripps, Scarlet Maressa Rivera, and Nolan Kennedy. This pan-disciplinary crew creates original and dynamic works that bring current or social issues to audiences from all walks of life. Undertaking the mission of making quality theater approachable and accessible to everyone, LoM performs at unconventional public places such as "outdoor festivals and pubs" at little or no cost to the audience.
Harrison House Music, Arts & Ecology is a non-profit program based in the landmark straw bale retreat built by the late composer Lou Harrison in Joshua Tree, CA.  It brings cultural vibrancy and environmental awareness to a high desert community through a residency and performance program for international artists, ecologists and thinkers.
The Beatnik Lounge!
The Art of War
Saturday, May 23, 2015, at the Beatnik Lounge 61597 Twenty-Nine Palms HWY, JT Door open at 5:30 p.m. & reading begins promptly at 6:30 p.m.
This event is not to be missed! Military Writers are matched with artists from the community. Each artists has picked from the pool of written work submitted to create a piece of art inspired by what they have chosen. The Art of War project is two fold: It gives creative voice to the military authors and at the same time educates the community about their military experience serving our country. This event is open to the public and we are suggesting a $10 donation, but everyone is welcome and no one will be turned away. Please Join us for this profound event.
The Beatnik Lounge is located at
61597 29 Palms Highway
Joshua Tree, CA 92252
(formerly the Beatnik Cafe/Red Arrow)
Please contact tedquinn11@gmail.com or via facebook.com/tedquinn for more details.
Please listen to the Sunday Evening Variety Show at 5pm (PST) RadioFreeJoshuaTree.org
Join Ted Quinn Monday nights at Pappy and Harriet's for Ted Quinn's Reality Show! 7:00 sign-up!
NEW SERVICE AT THE LISTENING LOUNGE
We will convert your vinyl LPs to digital. We can burn a CD, or put files on the drive of your choice. Only $5 per single album!
Radio Free Joshua Tree!
Streaming 24/7
Featuring local music, news, cultural reports
and much, much more!
Please listen to the Sunday Evening Variety Show
5 pm every Sunday – click the link above to listen!
Please send your music submissions, with permission to play your music, to submit@RadioFreeJT.com
Sunday Night Slow Jams comes to Z107.7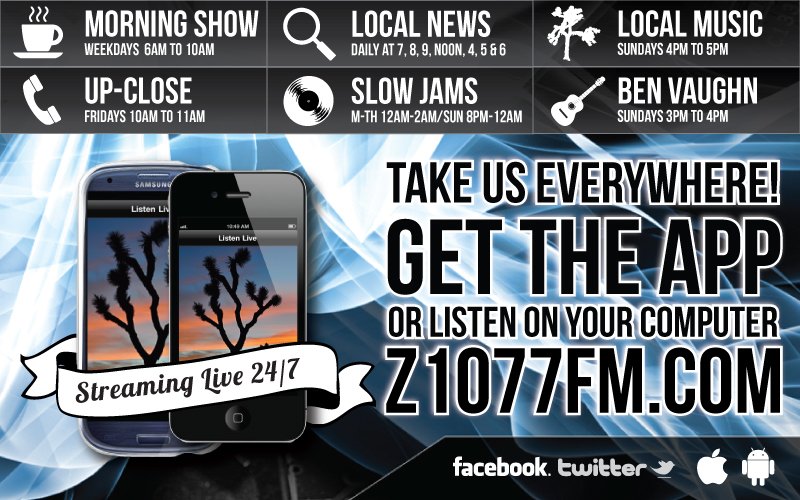 With the start of a new year, the start of exciting new programming for the Morongo Basin's #1 Radio Station!
"Sunday Nite Slow Jams"now offers listeners from Morongo Valley to the west, Amboy to the East, and the Communities of Yucca Valley, Joshua Tree, Landers, Twentynine Palms, and Wonder Valley in between, a special blend of old and new R&B love songs and an outlet to express special feelings to loved ones Sunday nights from 8:00 pm. until midnight.
Sunday Nite Slow Jams specializes in playing special Slow Jams that you probably haven't heard in awhile, and definitely won't hear anywhere else! SWV, Keith Sweat, Jodeci, The Isley Brothers, Boyz II Men, Al B. Sure, Janet Jackson and more can all be heard on "Sunday NiteSlow Jams"-on Z107.7.
In addition to the Sunday night 8-midnight show, Z107.7 will also offer a late night treat of Slow Jams -Monday through Friday nights from midnight to 2:00 am.
"Sunday Nite Slow Jams" on Z107.7 is the results of numerous listener requests to bring the popular program to the Hi-Desert. Program DirectorGary Daigneault said, "After receiving inquiries about the program, we researched it, located the program distributors and made the arrangements to bring it up to the Morongo Basin. As the only family owned and operated Radio Station for the past 25 years, we felt it was important to give our listeners the variety of music and entertainment they were asking for."
Sunday Nite Slow Jams can be heard at 107.7 on the FM Radio dial in the Morongo Basin, streaming worldwide at www.z1077fm.com or through the free app available by searching "KCDZ" on the Google Play and Apple Markets.
Featuring a high quality mix of adult contemporary and local music, mixed with a local morning show and local news 7 days a week, Z107.7FM is broadcast from studios in Joshua Tree and recently celebrated their 25th anniversary.
They have been under the same local ownership, at the same location, and featured the same quality programming since they signed on in July of 1989. For more information about Z107.7, call the studios at 760-366-8471.
(now streaming worldwide)
Old Schoolhouse Lecture Series

Black Rock Lecture Series 2014-2015  
Coming up at the Desert Institute
The course offerings at the Desert Institute at Joshua Tree National Park continue to grow. We have more classes and the Black Rock Symposium to offer in May. For a great educational experience, we keep our class sizes small, so enroll soon!
A new program will be conducted on Friday, July 17, "NIGHTSCAPE AND
LIGHT PAINTING PHOTOGRAPHY WORKSHOP" and there are just a few spaces
left.
To enroll in any of our courses, VISIT OUR WEBSITE, OR CALL
760-367-5535 (MON-FRI 8AM – 5PM).
MAY 2  PLEIN AIR POETRY WITH JIM NATAL AND JEANETTE CLOUGH  – ONE
OF OUR FAVORITE CLASSES, COMBINING NATURE EXPLORATION AND POETIC
EXPRESSION.
MAY 2  David Meunch Photography Workshop (FULL)
MAY 2-3  LIGHT AND COLOR: OIL PAINTING IN JTNP (NOW TWO DAYS!) WITH ANDREW DICKSON
MAY 3 DAVID MEUNCH PHOTOGRAPHY WORKSHOP (LIMITED SPACES LEFT!)
May 9 Journey to Artistry in Joshua Tree National Park with Valohna
Wynn – Ladies, don't miss out on this great women's class incorporating
nature, dance, art and tribal music!
May 15 Desert Night Skies: Planets to Galaxies with David Chappell – May evenings provide an opportunity to explore the skies of Joshua Tree National Park
May 16 Keys Ranch Night Sky Photography Workshop WITH DON CHAMBERS
(FULL)
We have had a very successful series of panel-led community discussions
on topics concerning the "STATE OF THE PARK", "RENEWABLE ENERGY
DEVELOPMENT", "WATER IN A DECADE OF DROUGHT", SAN BERNARDINO
COUNTY RENEWABLE ENERGY CODES", "ENGAGING A NEW GENERATION OF PARK STEWARDS", and, most recently, "CLIMATE CHANGE RESPONSE".
Now it is time for our final program, "PUTTING IT ALL TOGETHER:  ACHIEVABLE
ACTION ITEMS". The panel will consist of David Smith, Superintedent,
Joshua Tree National Park, April Sall, Conservationist, and Dr. Chris
McDonald, Desert Natural Resources Advisor, UC Riverside. The intent of
the May 15 program is to offer ideas and suggestions that will help the
audience to move forward to help land and water conservation, to help
the park's climate change response and, perhaps, the centennial
celebration, to help build a new generation of conservationists and to
take ownership in the future of the Mojave Desert and the Morongo Basin.
This program is free and starts at 7 pm at the Bell Center, Copper
Mountain College. Pre-registration is requested by registering here.