Joshua Tree Chamber News & Member Events
Joshua Tree Chamber Open House
You are Invited!!
Open House Reception/Mixer
WHO: New Members, Renewing Members & Community
WHEN:   Friday, May 29th, 5pm to 8 pm
WHERE:
Joshua Tree Chamber of Commerce
6448 Hallee Rd., Ste. 9 & 10
Joshua Tree, Ca 92252
Fun, Networking, Door Prizes/Raffle, Food & Beverages
Music provided by Bonnie & Slyde with guest appearances by members of the
JT Jazzband
Meeting Space Available for Rent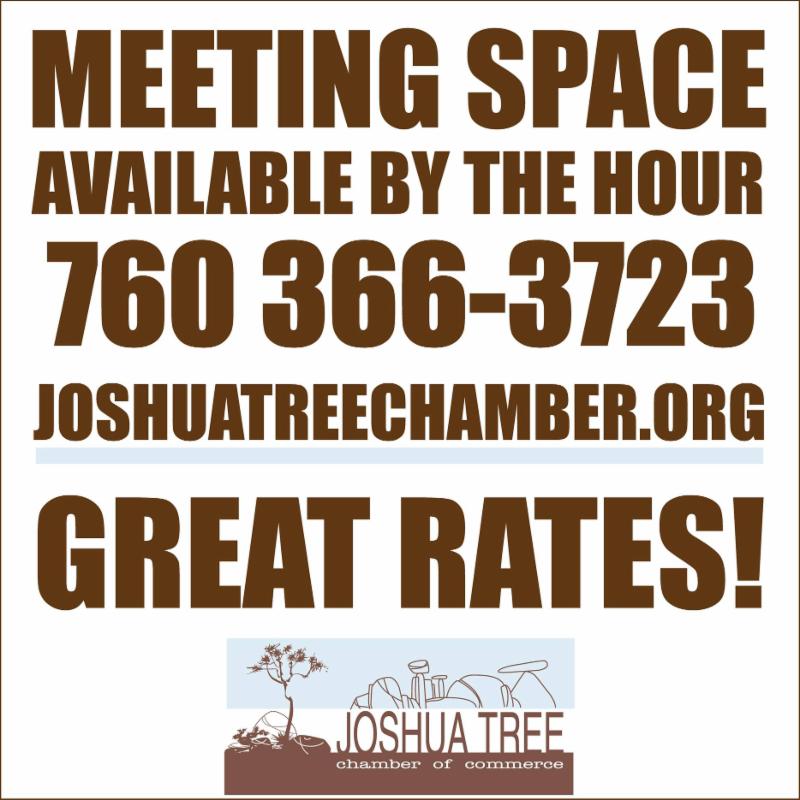 The Chamber is now offering meeting/event space for groups, private individuals and organizations at our office. We are open for daily/ weekend and evening meeting scheduling. Our hourly rates are reasonable and Chamber members receive an additional discount. To book, call 760-366-3723 or email director@joshuatreechamber.org
Member of the Month
Each month we will choose and feature a new Member of the Month in the newsletter. To be included, send an email to director@joshuatreechamber.org
Joshua Tree Downtown Map
We have printed our downtown map and business directory! It is available at the Chamber office, downtown locations and is being distributed to many outside locations. Download a copy here >
Advertise for the next edition of the map, spaces are filling up fast! more info >
Seeking Volunteers, Donations and Board Members
more info >
Chamber office hours: 10-12 Tuesday, Wednesday and Thursday.
6448 Hallee Road, Suite 10 (in Sam's Plaza) 760.366.3723
The Desert – Art, Music, Presentation


Happy springtime!.. This Saturday, May 30, I will be doing a desert event with music, visual presentation and a Scratch-n-Dent sale at Bobby Furst's FURSTWURLD in Joshua Tree. At the event, we will generating some "paragraph-length" letters in support of the California Desert Conservation and Recreation Act of 2015. We will provide pointers for those who need information or assistance. The event will begin at 2 p.m with a special sale of lots of my images at extremely low rates. These are photographs that may have smudges, small blems, tiny scratches or something that prohibits me from selling the piece in stores or at my regular shows. There will be a few special offers on newly printed pieces as well. The deals are super and last time I did this 60 prints were sold in 4 hours (including a print to Bev Doolittle)!
The music will begin around 4 p.m. with entertainers John Yonushonis and Chris Unck, Sequoia Smith, David Jessup, Joe Zarki and friends. I will play a few songs and also sit in with Jessup and Zarki. Seth Shteir of the National Parks Conservation Association will follow with a short informational presentation on the legislation and my preview of "The Desert: Its Grace, Its Gravity and its Grandeur" will show at 8 p.m. on the huge 12′ x 16′ screen! This visual will be shown at the San Bernardino County Museum on June 2. I hope you can stop by, support the cause, enjoy some music and check out the deals on my images. FURSTWURLD is always a fun place to have events like this and there is plenty of art to look at and keep you fully entertained.
-David
JTAG

BoxoPROJECTS

SCALES OF EXPOSURE
The Anatomy of an American Place
Natasha Peterson and Michael Vine
June 7 – June 14, 2015
Opening Reception: Sunday June 7, 2-5pm, Artist Talk: 4pm
@ BoxoHOUSE 62732 Sullivan Road (off White Feather), Joshua Tree, CA 92252
A black hole of American desire, the Salton Sea is animated by an ongoing sedimentation of dreams and their disrepair: an often-violent collision of geology, hydrology, and human fantasy.
Whether reinvented as a heaven, haven, playground, speculative site of economic salvation, or toxic space of disease and death, the Salton Sea is never still. It flickers between paradise and purgatory, always receding from efforts to contain it.
As both an experiment in photographic perspective and attempt to capture the complexity of this American place, Scales of Exposure proudly presents a radical cartography of the Salton Sea, the human and more-than-human desires that collect there, and the decay that litters its social and ecological life.
Natasha Peterson is an Australian photographer currently residing in the Hi Desert and examining it's many facets.
Michael Vine is a cultural anthropologist from the UK researching the desert.
BoxoHOUSE is located at 62732 Sullivan Rd, Joshua Tree, CA 92252. Route 62 to White Feather, south on White Feather to Sullivan, west on Sullivan)
Thank You from Joshua Tree Music Festival!
To everyone who attended the festival this past weekend; THANKS for being a part of the magic !
Warm fuzzies, goose bumps and belly aching laughter were abundant, and they live on in the knowing smiles and soul-stirred hearts. Let's do it again in October
(thank you art by Ryan Kerrigan)
Early Bird tickets are on sale NOW for the October (8-11) festival, featuring: Xavier Rudd & the United Nations, The Funk Hunters & Chali 2na (J5), Moon Hooch, Turkuaz, Ben Miller Band, Marques Wyatt, Lee Gallagher & the Hallelujah, Calliope Musicals, Son of the Velvet Rat and more tba.
GET YOUR TICKETS
10TH ANNUAL FALL JOSHUA TREE MUSIC FESTIVAL
* Yoga All Day Long
* Continuous Live Music
* Action Packed Kidsville
* Organic Foods
* World Market
* Magical Visual Arts
* Music & Didjeridu Playshops
For info, to volunteer, or to buy tickets: WWW.JOSHUATREEMUSICFESTIVAL.COM

The Hi-Desert Arts Academy program, which is a part of the Hope Academy Charter curriculum but is open to all school-aged children, is proud to announce that its SUMMER YOUTH THEATER program will feature Disney's THE LION KING JR.
Howard Shangraw, who was the Chair of Theater and the Head of Acting Studios at the Idyllwild Arts Academy for over 10 years, leads this tremendous theater program.
For more about the Hi-Desert Arts Academy program, click here.
Send an email to artsacademy@hidesertculturalcenter.org or call 760.366.3777 ext.3 for more information.
Joshua Tree Philharmonic
Tickets selling fast!  The acclaimed Joshua Tree Philharmonic (JPHIL) presents, "Made In America: A Celebration of American Composers" in its concert performances that run Friday, May 29 through Sunday May 31, 2015.  Famous and most-loved music from a wide variety of American composers makes these concerts a highlight not to be missed as it takes audience members through America's rich musical history including jazz, blues, pop, rock, cinema, classical, big band, & Broadway.  Music from cinematic legends John Williams and Danny Elfman, Broadway sensations Leonard Bernstein & George Gershwin, "King of Pop" Michael Jackson, "King of Swing" Benny Goodman, classical American music icon Aaron Copland, rock chart-topper Kansas, & many more!
Under the direction of Maestro, Jarrod Radnich, the JPHIL is a multi-session, year-round, inter-generational community orchestra comprised of musicians from the Morongo Basin, Coachella Valley, Inland Empire, High-Desert/Apple Valley regions – and beyond.
Performances of the Joshua Tree Philharmonic always sell out, and these tickets are selling fast.
Evening performances are Friday May 29th and Saturday May 30th at 7:00 pm. Matinee performances are Saturday May 30th and Sunday May 31st at 2:00 pm.  Doors open one-half hour before the concert begins. Light refreshments are available at all performances. A full cash bar is available during the evening performances. There is an intermission during all performances. Children must be at least 5 years of age to attend.
Tickets are available online at www.hidesertculturalcenter.org or by calling the box office at 760.366.3777.  Reserved Elite Seating is $20 and General Seating is $15.
Joshua Tree Retreat Center Events
  Happiness Academy
 The U.S. Raelian Movement invites you to experience its annual Happiness Academy – West…Like you have never experienced it before!
Come explore something most revealing about yourself – how to BE your extraordinary self.
How can you choose and enjoy your emotions, while not having them lead your life?
What is science discovering about happy people and human consciousness?
How can you cultivate your harmony and health through simple meditation techniques?
What do pleasure and sensuality do for your body and mind?
Best of all, how can you find your happiness and keep it forever?
Mojave Desert Land Trust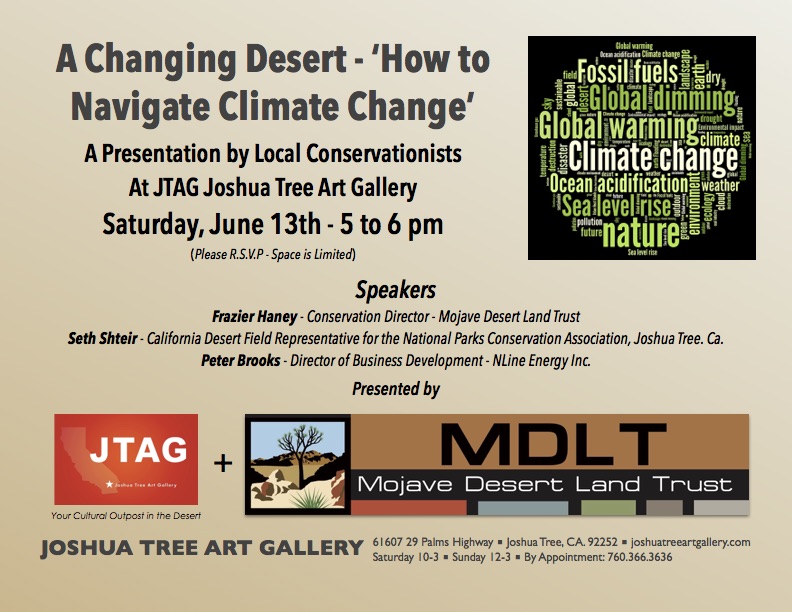 Sunday Night Slow Jams comes to Z107.7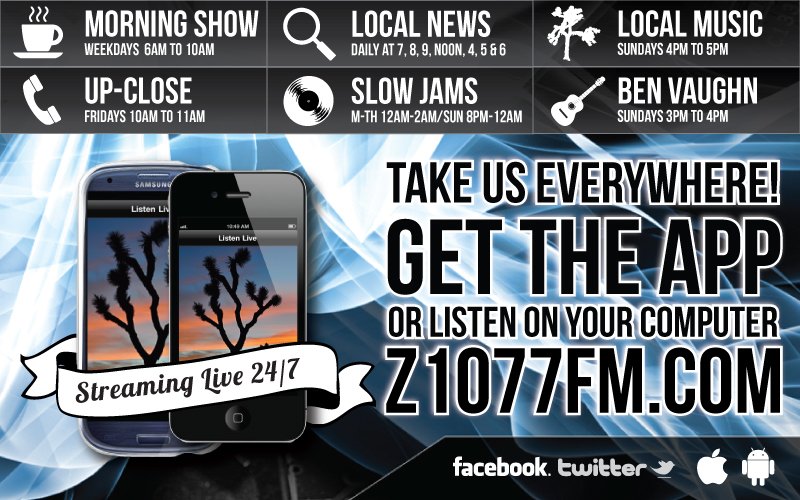 With the start of a new year, the start of exciting new programming for the Morongo Basin's #1 Radio Station!
"Sunday Nite Slow Jams"now offers listeners from Morongo Valley to the west, Amboy to the East, and the Communities of Yucca Valley, Joshua Tree, Landers, Twentynine Palms, and Wonder Valley in between, a special blend of old and new R&B love songs and an outlet to express special feelings to loved ones Sunday nights from 8:00 pm. until midnight.
Sunday Nite Slow Jams specializes in playing special Slow Jams that you probably haven't heard in awhile, and definitely won't hear anywhere else! SWV, Keith Sweat, Jodeci, The Isley Brothers, Boyz II Men, Al B. Sure, Janet Jackson and more can all be heard on "Sunday NiteSlow Jams"-on Z107.7.
In addition to the Sunday night 8-midnight show, Z107.7 will also offer a late night treat of Slow Jams -Monday through Friday nights from midnight to 2:00 am.
"Sunday Nite Slow Jams" on Z107.7 is the results of numerous listener requests to bring the popular program to the Hi-Desert. Program DirectorGary Daigneault said, "After receiving inquiries about the program, we researched it, located the program distributors and made the arrangements to bring it up to the Morongo Basin. As the only family owned and operated Radio Station for the past 25 years, we felt it was important to give our listeners the variety of music and entertainment they were asking for."
Sunday Nite Slow Jams can be heard at 107.7 on the FM Radio dial in the Morongo Basin, streaming worldwide at www.z1077fm.com or through the free app available by searching "KCDZ" on the Google Play and Apple Markets.
Featuring a high quality mix of adult contemporary and local music, mixed with a local morning show and local news 7 days a week, Z107.7FM is broadcast from studios in Joshua Tree and recently celebrated their 25th anniversary.
They have been under the same local ownership, at the same location, and featured the same quality programming since they signed on in July of 1989. For more information about Z107.7, call the studios at 760-366-8471.
(now streaming worldwide)
Old Schoolhouse Lecture Series

The Twentynine Palms Historical Society announces the summer hours for the Old Schoolhouse Museum will begin June 1st and continue until September 1st. During the summer, the Old Schoolhouse Museum will be open on Fridays through Sundays from 1:00 until 4:00 p.m.
The museum's library and archives are open for those wishing to do research on Wednesday mornings between 9:00 and 11:30 a.m.
For more information, call the museum at 760-367-2366, email 29palmshistorical@gmail.com, visit the society's website at www.29palmshistorical.com or visit with the accessions committee on Wednesday mornings at the museum.
The Old Schoolhouse Museum is located at 6760 National Park Drive, directly across from the Twentynine Palms Inn.

Coming up at the Desert Institute
The course offerings at the Desert Institute at Joshua Tree National Park continue to grow. For a great educational experience, we keep our class sizes small, so enroll soon!
A new program will be conducted on Friday, July 17, "NIGHTSCAPE AND
LIGHT PAINTING PHOTOGRAPHY WORKSHOP" and there are just a few spaces
left.
To enroll in any of our courses, VISIT OUR WEBSITE, OR CALL
760-367-5535 (MON-FRI 8AM – 5PM).
We have had a very successful series of panel-led community discussions
on topics concerning the "STATE OF THE PARK", "RENEWABLE ENERGY
DEVELOPMENT", "WATER IN A DECADE OF DROUGHT", SAN BERNARDINO
COUNTY RENEWABLE ENERGY CODES", "ENGAGING A NEW GENERATION OF PARK STEWARDS", and, most recently, "CLIMATE CHANGE RESPONSE".
Now it is time for our final program, "PUTTING IT ALL TOGETHER:  ACHIEVABLE
ACTION ITEMS". The panel will consist of David Smith, Superintedent,
Joshua Tree National Park, April Sall, Conservationist, and Dr. Chris
McDonald, Desert Natural Resources Advisor, UC Riverside. The intent of
the May 15 program is to offer ideas and suggestions that will help the
audience to move forward to help land and water conservation, to help
the park's climate change response and, perhaps, the centennial
celebration, to help build a new generation of conservationists and to
take ownership in the future of the Mojave Desert and the Morongo Basin.
This program is free and starts at 7 pm at the Bell Center, Copper
Mountain College. Pre-registration is requested by registering here.