Joshua Tree Chamber News & Member Events
Thank you to our new and renewing members!

Ribbon Cutting


Zannedelions
Saturday, March 21
12pm
4035 Dewey Avenue
Joshua Tree, CA 92252
http://zannedelions.com/
Holiday Market

Do you still have your Joshua Tree Star? The Stars Come Out in Joshua Tree was originated by the Joshua Tree Chamber in 2008 along with the help of Z1077FM. It's time to put them up and light them up!  The Joshua Tree Chamber will be holding it's annual Holiday Market beginning 10 a.m. Friday, Nov. 27 through 2 p.m. Sunday, Nov. 29 at Coyote Corner.  Plan on lighting your star at 5 p.m. Wednesday, Nov. 25, kick off the holiday shopping season. If you know anyone who might be able to help BUILD new stars, contact the Chamber of Commerce at (760)366-3723.
Rental Ordinance 
Short Term Rental  Code DRAFT  Ordinance Unincorporated Areas San Bernardino County
SHORT-TERM RESIDENTIAL RENTAL CODE
§ 84.28.010 Purpose.
The purpose of this Chapter is to establish permit procedures, maintenance and operational standards, and enforcement and administrative processes for the regulation of single family residential structures used for transient occupancies in the unincorporated portions of San Bernardino County.
For more information click here.

Annual Market Sponsorship

We are pleased to announce our third annual Holiday Market, to be held from Friday November 27 – Sunday November 29!
Event Times:
Friday November 27 – 10am to Sundown
Saturday November 28 – 10am to Sundown
Sunday November 29 – 10am – 2pm
Saturday Music Bar – 6-9pm
Location:
Coyote Corners at 29 Palms Highway and Park Boulevard in Joshua Tree
Here's how you can get involved.
We have booth rentals and sponsorships available today…openings are limited and there has been a lot of interest from last year's participants, so do not delay.  If you would like to simply volunteer your time in helping to coordinate the event, please send your available times to
director@joshuatreechamber.org
. You can also call us at 760-366-3723.
View booth rental and sponsorship information here.
Print sponsorship application directly here.
NEWSLETTER CHANGE – EFFECTIVE IMMEDIATELY


News items will be limited to the following: A flyer + 100 word accompanying information.

We are making this change, after a survey of users, that finds a large number read our newsletter in smaller formats on iphones or tablets. 
Meeting Space Available for Rent
Click here for more information.
Each month we will choose and feature a new Member of the Month in the newsletter. To be included, send an email to director@joshuatreechamber.org
Joshua Tree Downtown Map
The Downtown Map and Business Directory is now available at the Chamber office, downtown locations and is being distributed to many outside locations. Download a copy here > Advertise for the next edition of the map, spaces are filling up fast! more info >
Seeking Volunteers, Donations and Board Members
more info >
Chamber office hours: 10-12 Tuesday, Wednesday and Thursday.
6448 Hallee Road, Suite 10 (in Sam's Plaza) 760.366.3723
Joshua Tree 2nd Saturdays Downtown Nights
Saturday, November 14
Morongo Basin Humane Society 
MBHS 2016 wall calendars are available for $10 each at the Shelter. We have a limited number, so please don't hesitate if you are interested in one. The calendars are 11×17 when open on the wall and feature some of our wonderful alumni from the Joshua Tree No-Kill Shelter
Joshua Tree Tortoise Telegraph Member Discount 
Joshua Tree's new independent newspaper, published by The Sun Runner (sunrunnersw.com), is giving a discount to Joshua Tree Chamber of Commerce members for the month of November.  Publish any size color ad for the same price as black and white!  Call 760-820-1222 or write
publisher@sunrunnersw.com
for more details.
"Desert Bighorn Sheep Wilderness Icon"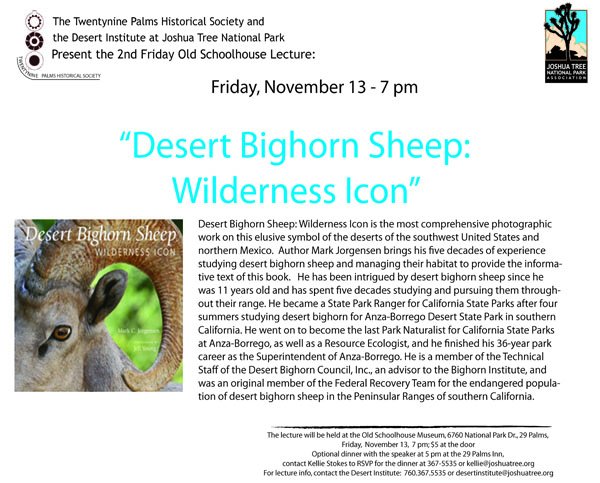 Joshua Tree National Park Art Exhibition  
11/6-29 Expo
11/13 Reception and Awards at 29 Palms Art Gallery 5-8
11/14-15  Art Exhibilition, Market, Classes, Food, Interpretive Walks at 29 Palms Inn and 29 Palms Art Gallery – Sat 11/14 10-4, Sun 11/15 10-3
Gallery 62 November Exhibition    
On Saturday, November 14th, from 6-8 pm, Gallery 62, located at 61871 Hwy 62 in Joshua Tree will hold an opening reception during Joshua Tree's 2nd Saturday Artcrawl. Gallery 62 is the permanent base and home gallery of the Morongo Basic Cultural Arts Council, host of the annual Hwy 62 Open Studio Art Tours. Featured during November is the show, "Shades of the Earth" with artworks by local artists Janis Commentz, Bill Dahl, Ed Keesling, Jeff McClellan, and Esther Shaw.
More information can be found at http://www.hwy62arttours.org/gallery62.php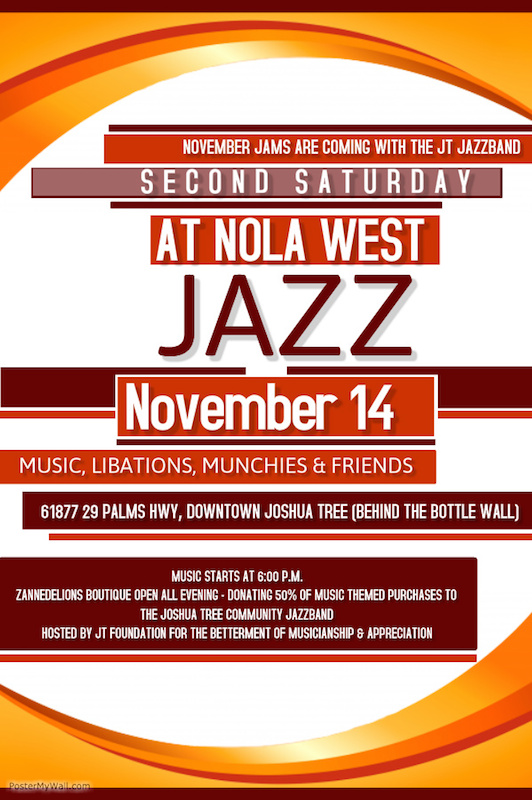 Morongo Basin Humane Society 
Every donation made to the Morongo Basin Humane Society on December 1 could bring us closer to winning a $500 Golden Ticket prize. Every hour one donation will be chosen at random, and the charity that is the recipient of that donation will win a $500 Golden Ticket. The donation can be any amount from $10 and up. The more donations we get, the better our chances of winning a Golden Ticket. There are two $5,000 and one $10,000 "in-kind" prizes as well, so please help us out by making a donation December 1.
Make a donation at givebigsbcounty.razoo.com/story/Morongo-Basin-Humane-Society-Incorporated. Please call Mimi Mitz at 760-366-9306 for more information.
Mojave Desert Land Trust Fall Gratitude Gathering  
Mojave Desert Land Trust invites the public to an open house celebration on Saturday, November 14, 2015. The MDLT Fall Gratitude Gathering: A Celebration of Community and Conservation will be held from 9am to 2pm at the MDLT headquarters (60124 29 Palms Hwy) in Joshua Tree.
View full event detail here. 
Divine Femininity @ Beatnik Lounge  
Divine Femininity @ Beatnik Lounge – All Female Art Show
Saturday November 14, 7pm
Artist submissions requested!!

The Beatnik Lounge proudly presents "Divine Femininity" !

This event highlights a radical rage of art strictly made by the hands and minds of female artists. Join us for a evening of music, dance, friends and art.

Come early at 6pm for Scorpio birthday party!

FREE event!

For more information on this event or to submit artwork, fashion, poetry, or spoken word please email Allegedly Alexandria.

Click here for more information. 
Fall "Truly Native" Plant Sale 
Desert residents looking to landscape with plants that save you time, effort and water need to look no further than the first fall native plant sale on November 14th, at  Mojave Desert Land Trust located on the highway in Joshua Tree.

The Saturday event will be open from 9AM-12 Noon, and serves as an expansion of the spring Minerva Hoyt Native Plant sale held annually at the Joshua Basin Water District.  Volunteers from the Land Trust and the Water District have hand collected native plant seeds and presented them to the Joshua Tree National Park Nursery for propagation and cultivation.

Read further detail here. 
Sustainable Energy Talk

Learn about Sustainable Energy from Buck Buckley from 2MinutesOfSunshine.com!  Sunday 11/15 from 5-6:30 pm.
You are invited to this free Buck Talk at the JT Trading Post!  This free presentation will answer some of your questions about solar energy, and other forms of sustainable energy as well.  There will be a PowerPoint presentation, along with a question and answer period.  We'll have refreshments from our guests!
Sunday 11/15 from 5-6:30 pm.
61716 29 Palms Highway    Joshua Tree, CA  92252
Copper Mountain College


Scholarship Applications for STEM majors



Southern California Edison has once again committed $25,000 to our students and to incoming freshman for STEM majors.
Job Workshops
Alpha Beta Gamma – Alpha Sigma chapter presents job workshops emphasizing resume, job search and interview.
Dates:
November 17, 2015
November 19, 2015
Contact Jeffrey Haig for information:            
Email Jeffrey Haig at jhaig@cmccd.edu
More information here. 
6th Annual Festival of Wreaths

Hi-Desert Arts Academy

 
Emmy, Tony Award-winning star Hal Linden and veteran film and TV actor Barry Cutler set to appear in World Premiere of Charles Evered's An Actor's Carol at Hi-Desert Cultural Center
Tony Award and three-time Emmy Award-winning actor Hal Linden, (Barney Miller, Gilmore Girls) and well-loved veteran film and TV actor Barry Cutler, (Scrubs, Deuce Bigalow) will split the bill for performances of the world premiere of Charles Evered's An Actor's Carol, produced by the Hi-Desert Cultural Center's prestigious Hi-Desert Playhouse theater division and directed by Evered. Linden will launch the premiere's opening weekend of three performances December 4th and 5th, with Cutler closing the premiere's finale weekend of three performances December 11th and 12th.
Holiday Fine Art and Craft Faire

Morongo Basin Humane Society 
Joshua Tree Clean Team

Every 2nd, 4th, 5th Wednesday
7:00 A.M. – 8:00 A.M. June, July, August, September
8:00 A.M. – 9:00 A.M. All Other Months
There will be Trash Bags, Grabber Sticks and Gloves Available
For More Information Call – 760 366-8415
Joshua Tree Retreat Center

Coming up at the Desert Institute
The BLACK ROCK LECTURE series will return to it's original venue: the Black Rock Ranger Station on the third Friday of the month. Here is the current schedule of speakers and their topics:
NOVEMBER 20 – Betty Melzer, historian and author, will be discussing her book "Losing Ground", the displacement of San Gorgonio Pass Cahuilla people in the 19th century.
JANUARY 15 – Joe Zarki, retired Chief of Interpretation, will be discussing his new book on the history of Joshua Tree National Park
FEBRUARY 19 – Jay Theuer, archaeologist of Joshua Tree National Park, will be discussing current issues of archaeology in the park.
MARCH 18 – Jamie Haney, Joshua Tree resident, will be talking about her solo hike of the Pacific Coast Trail.
THESE LECTURES BEGIN AT 7PM AND ARE FREE. NOTE: the Copper Mountain College panel seminars will be moved to the FIRST FRIDAY OF THE MONTH and will get a new name, to avoid confusion with the Black Rock Lecture Series. Stand by for an announcement of the topics and speakers!
Our Fall classes are now available for enrollment!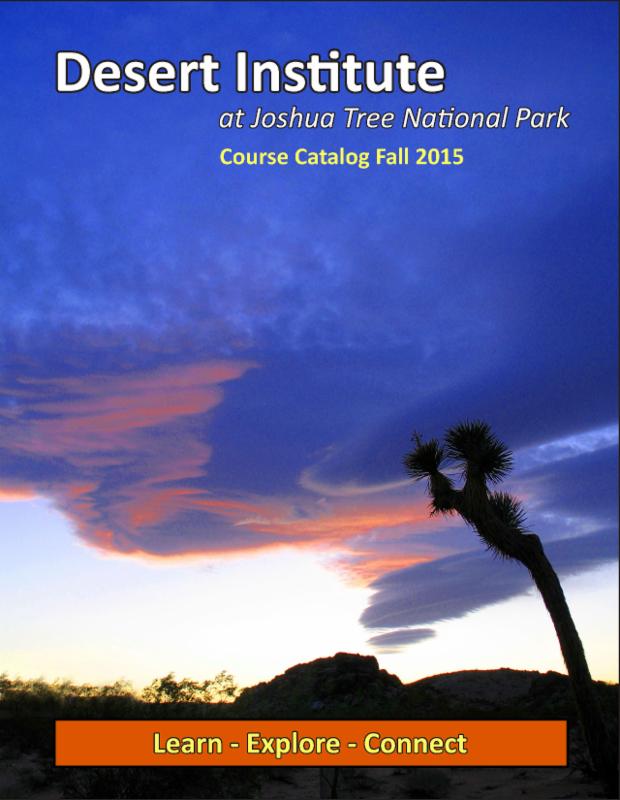 Click for a downloadable, interactive catalog,
or to enroll in any of our courses
call 760-367-5535 (Mon-Fri 8am – 5pm).
Old Schoolhouse Lecture Series
The Desert Institute is proud to present the Fall 2015-Spring 2016 Old Schoolhouse Lecture Series
December 11 – Homesteading: The Free Land Idea with Lorna Shuman
January 8 – The Forgotten Gold Rush with Paul Smith
February 12 – History of the 29 Palms Artists' Guild with Pat Rimmington
March 11 – Frank Critzer and the Legend of Giant Rock with Barbara Harris
April 8 – The Underhills of 29 Palms with Ann Congdon
May 13 – Joshua Trees: Mystery and Myths with Chris Clarke
June 10 – Cowboy Poetry and Humor with Richard Brewer
The lectures begin at 7 pm and admission is $5.00.  New:  You can purchase a subscription for the entire series for only $40. and, as a subscriber, you will have a reserved seat held until 10 minutes before the lecture begins.  
Click
here to purchase your series subscription.  As always, you can join the speaker for dinner at 5 pm at the 29 Palms Inn.  Please call 760-367-5535 for dinner reservations no later than the Wednesday prior to the dinner!