Joshua Tree Chamber News & Member Events
Seeking Data Entry Assistance
The Chamber is soliciting extra help for with a data entry project, especially if you have WordPress experience. Contact Jet Tucker, director@joshuatreechamber.org

Mojave Sands Mixer
The Second Annual Mojave Sands mixer on Sunday evening, Aug. 30, was one of the chamber's most popular events this year. Guests mingled over barbecue and Margaritas to the sweet sounds of mellow duo Lucky Bones in the courtyard of the magical Mojave Sands Motel on the highway at Sunburst Road. Door prizes included a night at the Mojave Sands.
Meeting Space Available for Rent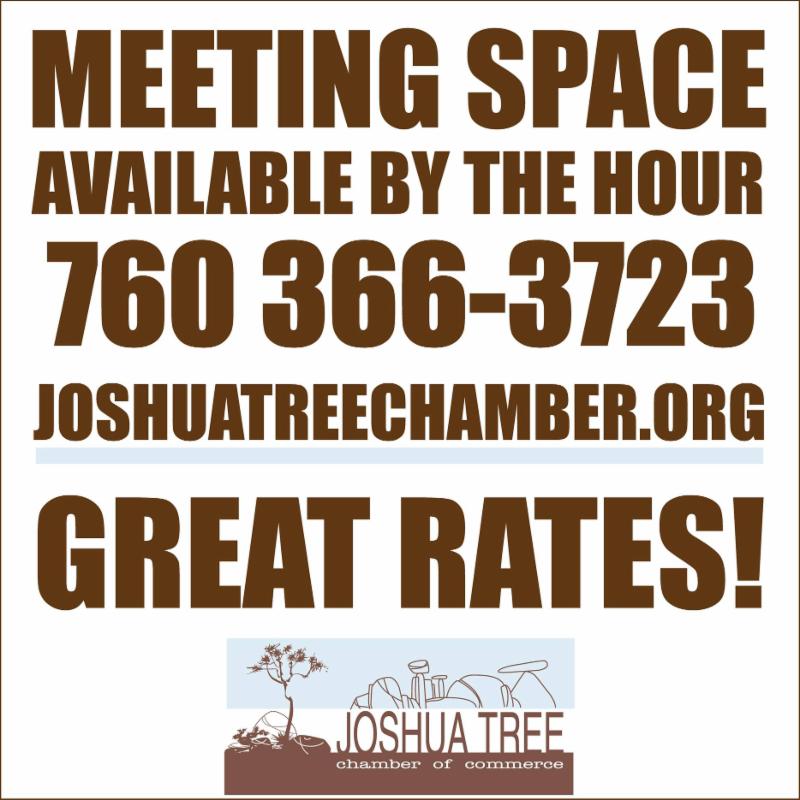 The Chamber is now offering meeting/event space for groups, private individuals and organizations at our office. We are open for daily/ weekend and evening meeting scheduling. Our hourly rates are reasonable and Chamber members receive an additional discount. To book, call 760-366-3723 or email director@joshuatreechamber.org
Member of the Month
Each month we will choose and feature a new Member of the Month in the newsletter. To be included, send an email to director@joshuatreechamber.org
Joshua Tree Downtown Map
The Downtown Map and Business Directory is now available at the Chamber office, downtown locations and is being distributed to many outside locations. Download a copy here > Advertise for the next edition of the map, spaces are filling up fast! more info >
Seeking Volunteers, Donations and Board Members
more info >
Chamber office hours: 10-12 Tuesday, Wednesday and Thursday.
6448 Hallee Road, Suite 10 (in Sam's Plaza) 760.366.3723
Joshua Tree 2nd Saturdays Downtown Nights

Joshua Tree Art Gallery

Joshua Tree International Film Festival

Dear Fellow JT Chamber Member,
It is an honor to join fellow business leaders, as we invest our time, passion and talents into making our community all that it can be. By now, you may have heard that Joshua Tree will host our region's first film festival, the Joshua Tree International Film Festival, September 18-20. I am writing to garner your support for this historic event.
The JTIFF presents a unique opportunity to put your business in front of festival attendees and VIP guests. Taking place at 7 venues in Downtown JT, JTIFF will include: screening over 60 feature and short films, hosting industry seminars, networking parties and live music. One of the many highlights of the weekend includes the JTIFF Awards Ceremony, when we will recognize Outstanding Achievements in Film; award winners include: Jason Mamoa, Outstanding Feature Director; Bruce Greenwood, Best Actor and the film Tangerine, Outstanding Short. Depending on your level of support, you may have your business logo:
· Projected before screenings
· Included on Official Step-N-Repeat
· Featured and linked via multiple social media sites
Sincerely,
Eric Quander
JTIFF Festival Director
Harrison House

Harrison House Music, Arts & Ecology Presents:  SANGAM Paul Livingstone, Sitar and Peter Jacobson, Cello

SUNDAY, SEPTEMBER 20, 7:00 PM

Suggested Donation:  $15
Harrison House
6881 Mount Lassen Avenue
Joshua Tree, CA 92252

Information: 760.366.4712

Harrison House Music, Arts & Ecology is pleased to announce a concert on Sunday, September 20 at 7:00 pm by SANGAM, an East/West chamber music performance with sitarist Paul Livingstone and cellist Peter Jacobson.

The duo will perform original compositions weaving raga meditations and poly-rhythmic counterpoint with both structured and free improvisation.  Paul and Pete have been recording and touring together for over 10 years performing contemporary world music with Arohi Ensemble, and have been featured on three Grammy Award-winning records with Ozomatli, Quetzal, and Rickey Kej.

Sangam is a Hindi word meaning "a confluence of rivers"; it is a meeting place of disparate streams flowing into one.  From Bach cello suites to sublime Indian ragas and Latin grooves, Paul and Pete will present an eclectic mix of musical meditations, counterpoint, and dynamic improvisations.

Tickets to this event are available for a requested donation of $15 at Joshua Tree Health Foods, 29 Palms Highway at Sunset Street, in Joshua Tree.

Harrison House Music, Arts & Ecology is a non-profit program based in the landmark straw bale retreat built by the late composer Lou Harrison in Joshua Tree, CA.  It brings cultural vibrancy and environmental awareness to a high desert community through a residency and performance program for international artists, ecologists and thinkers.  
Joshua Tree Jazz Band

Hi-Desert Arts Academy

Registration is now open for the Hi-Desert Arts Academy (HDAA) program's 2015-2016 after-school classes that begin the week of September 13th.  In response to overwhelming demand for the exceptional-quality, affordable, and focused arts classes the program offers, this school year's class offerings have over tripled in number and have increased in scope and magnitude. With nearly 200 student enrollments already received, classes are filling fast.
In addition to continued high quality education in theater, voice, and all band and orchestra instruments including trumpet, saxophone, flute, violin, and many more, new HDAA courses include beginner and intermediate piano, separate intermediate level classes for all instrument groups, intermediate theater classes, musical theater training, special music and theater classes for younger children (grades 1-3), and visual arts.  Also, the Academy Players troupe has been formed.  This audition-based, performance-driven, advanced theater "class" will be comprised of select theater students who will focus their time on a full-scale stage production under the leadership of Howard Shangraw, who also directed the smash summer youth theater production of Disney's The Lion King Jr. and will also direct the 2016 summer youth theater production.
Featuring a faculty of graduates and educators from the University of Southern California, Manhattan School of Music, Idyllwild Arts Academy, the American Academy of Dramatic Arts, and other prestigious institutions, the HDAA is a program created in partnership between HI-DESERT CULTURAL CENTER and HOPE ACADEMY CHARTER SCHOOL.  Classes are free for Hope Academy Charter School students and highly affordable for all other school students.  HDAA classes are open to all students grades 1-12.  Generous financial aid is available.  Class fees range from $10-$35 per month depending on the student's financial aid package.
All classes take place at the Hi-Desert Cultural Center in Joshua Tree, California.  All instructors are live-scanned and the facilities are monitored by security cameras at all times.  Parents may observe classes on the theater foyer's LED displays without disturbing the students.
Mil-Tree
Mil-Tree is proud to co-sponsor two films about Military Veterans being shown as part of the Joshua Tree International Film Festival, September 19, 2015 at 3 pm, held at the Joshua Tree Chamber of Commerce Offices (address below): Award winning documentary and from Academy Awards Nominee Debra Granik, Stray Dog, proceeded by the short film, Spirit Warrior: Legacy of The Navajo Veteran
---
SPECIAL OFFER GOOD BEFORE SEPTEMBER 14, 2015: Buy one ticket for $20 and get the second one FREE. Click Here to purchase tickets
Want to see the entire festival?
Click Here
For Locals Discount
Use the code "Mil-Tree" when checking out
Click here to purchase tickets or to find out more information regarding the Joshua Tree International Film Festival
Morongo Basin Republicans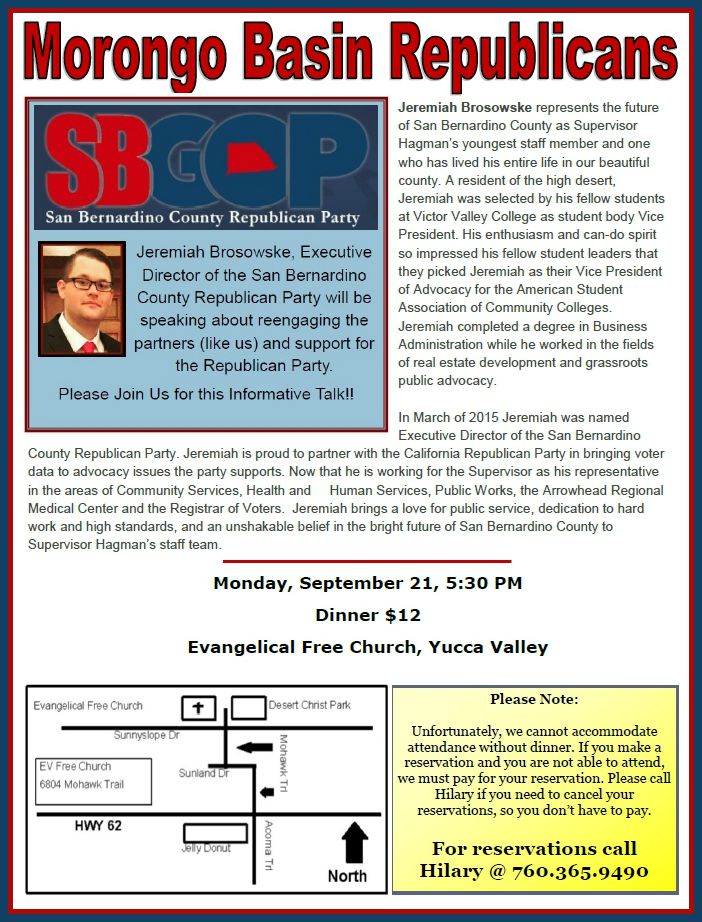 Copper Mountain College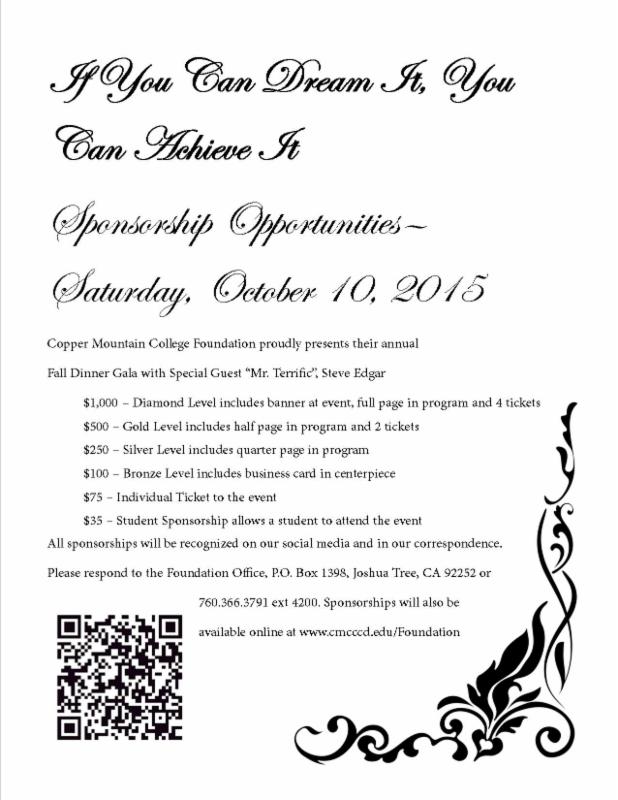 Copper Mountain College Foundation is planning its Annual Fall Gala for the evening of Saturday, October 10th at 6 pm in the Bell Center at Copper Mountain College. This year's major fundraising dinner is dedicated to providing ongoing support for CMC students including scholarships, bus transportation, cultural and leadership opportunities.
Copper Mountain College Foundation is currently seeking sponsors for the event.  Sponsorship opportunities range from $1,000, $500, $250, and $100 levels to $35 for a student sponsorship and can be tailored to meet your unique business needs. More details can be found on the Foundation's website at cmccd.edu/Foundation.
Renee Anderson, Gala chair, says that this year's theme, "If You Can Dream It, You Can Achieve It" will be an elegant black and white evening featuring special guest speaker Steve Edgar also known as Mr. Terrific. He is a nationally renowned motivational speaker who encourages you to take full advantage of every opportunity life has to offer including the educational opportunities present in the Morongo Basin.  Mr. Terrific accentuates the positive and recognizes the can-do spirit that has made Copper Mountain College what it is today.
The evening includes a performance by classically trained vocalist and CMC student Randy Smith plus a silent and live auction with a handcrafted replica of the first quilt auctioned off by the Friends of Copper Mountain College; an Elsie Grace framed print, Old House on Bunker Hill and much more.
Tickets go on sale for $75 per person starting September 8, 2015 through the Foundation at 760-366-3791 ext. 4200.
Reach Out Morongo Basin
During the last weeks of August,Naval Chiefs and two new Chief Selects from the Robert E. Bush Naval Hospital aboard the Marine Corps Air Ground Combat Center were out in force in the community assisting senior and disabled homeowners with yard work in coordination with Reach Out Morongo Basin.
"Chief Danillo Buenaflore contacted Reach Out Morongo Basin in June this year and wanted to do three weekend projects during the month of August with Naval Chiefs to give back to the Morongo Basin community" stated Robin Schlosser executive director for Reach Out.
"In his words, Chief Buenaflore said they wanted to do projects where they would connect with residents and get to see the real impact of their good deeds."
And make an impact they did! Working in different areas each weekend the crew of volunteer chiefs served seniors in Landers and Johnson Valley, Twentynine Palms and Yucca Valley.
Yucca Valley homeowners George and Judith Wheeler had a large crew raking and clearing leaves in the front and back yard of their home. "Thanks to the team work between Reach Out Morongo Basin and the Naval Chiefs from the base our retirement has been made a lot easier. We so greatly appreciate the hard work they did in cleaning our yard and painting the eaves on the house for us".
With work ranging from stacking firewood and digging drainage trenches to pruning trees and raking up tons of leaves these men and women did it all. Over 4500 lbs of yard debris was hauled to the dump cleaning up the properties of nine senior and disabled homeowners. Schlosser continued,  "With the help of the Naval Chiefs who performed all the hard work and a generous grant from the Officers Spouses Club aboard the Marine Corps Air Ground Combat Center that helps cover the costs of the dump fees and other needs these homeowners are living in safety and comfort now."
In Twentynine Palms, homeowner Anna Carabella summed up the spirit of the project when she said " I truly appreciated all the hard work of the Naval Chiefs in cleaning up my yard. Even more though, I appreciated the kindness they showed me and that they took the time to talk with me too. They made me feel special."
With upcoming projects scheduled for the month of September and October seniors are urged to call Reach Out Morongo Basin at 760-361-1410 for more information.**
Joshua Tree to Receive Grant Funds
 The Board of Supervisors today formally accepted California State Parks grant funding for local projects through the Habitat Conservation Fund and the Land and Water Conservation Fund, including $400,000 for County Service Area 20 (CSA 20) Joshua Tree for the implementation of 3.3 miles of recreational trails and interpretive improvements in the Desert View Conservation Area (DVCA).
Read more here.
Joshua Tree National Park Art Exposition
The third annual Joshua Tree National Park Art Exposition will be held in November 2015 at the Oasis of Mara in Twentynine Palms, California. The Juried Art Exhibition, a highlight of the annual exposition, will hang at the historic 29 Palms Art Gallery, Nov. 6 to 29, with a gala opening reception and awards ceremony on Friday, Nov. 13, followed by weekend exposition events Saturday and Sunday, Nov. 14 & 15.

The Juried Art Exhibition is presented by Joshua Tree National Park Council for the Arts in partnership with 29 Palms Art Gallery, both 501(c)(3) non-profit organizations. For questions or more information about submitting entries, visit the website www.JTNPArts.org, or email artists@jtnparts.org. 
Hwy 62 Open Studio Art Tours

October 17 & 18, 2015 (west end)
October 24 & 25, 2015 (east end)

We are excited to be in our 14th year offering the Hwy 62 Open Studio Art Tours.  With over 140 local artists participating, the talent on display is endless. You will be able to visit with artists who work in two- and three-dimensional media exploring everything from traditional and representational techniques to contemporary and abstract styles. You'll enjoy a wide range of artwork on your self-guided tour. There's serious art, humorous art, whimsical art, large art and small art — all presented on-site by the artists who make it.

Visitors find themselves fascinated not only by the quality and diversity of art they see, but also by the unique experiences they have as they travel along both highway and dusty dirt roads while visiting the studios. For many visitors, this is a chance to experience firsthand the behind-the-scenes creativity of this thriving art community, inspired by its incredible wide-open sky, amazing rock formations and unique wildlife reminiscent of the Wild West.
2015 Tours Catalogs are due out by mid September and will be available throughout the Hi-Desert and Coachella Valley.

For more information and to see a list of catalog distribution locations visit our website at http://hwy62arttours.org/hwy62arttours.php. Distribution locations will be posted as soon as the catalogs become available.
29 Palms Art Gallery
New works by 29 Palms Artists' Guild members will be on display in the Pickering Room. The show runs Sept. 2 to Sept. 27, open Wednesday through Sunday, 12 to 3 p.m.
A recent transplant to the desert and Yucca Valley, Japanese-born Hiroko Momii expresses her inner experiences and visions through large and colorful abstract paintings in oil and acrylic. Her show, Flowering Heart – Perception, is a series of recent paintings about perception, exploring and provoking old memories and feelings in the unconscious, and shifting perspective to "heart centered" through the process. Momii's paintings convey a meditative and spiritual energy, and her works in this show are intended to evoke a personal experience and create a dialogue with each viewer. Momii received her MFA in painting and drawing from California State University at Long Beach in 1998, and has exhibited her artwork in solo and group exhibitions at galleries in Santa Fe, Los Angeles, and Japan.
A resident of Yucca Valley since 2004, Esther Shaw has been painting desert landscapes, flora and fauna for more than decade. Her paintings range from small (10-inch) works to large 60-inch paintings. Her work captures the visual transformations during the seasons and light changes during the day. "Spring blossoms seem to scream at me to paint their vivid colors against the sandy floor, and winter's occasional snows touch me with a poetic quiet," Shaw says. "My paintings are about a presence or a sense of place and our tie with the life forces of the universe." Originally from Boston, Shaw received her BFA at Massachusetts College of Art and completed graduate classes at University of Arizona, Tucson, and UC Irvine. She has taught art and exhibited throughout Southern California, and is former owner/curator of The Spezzano Gallery in Long Beach.
Artist Mark Spangenberg was born and raised in Twentynine Palms, and recently returned to his desert hometown, bringing a long and varied art career with him. Known as a contemporary realist, he studied fresco painting in 1980 in Salzburg, Austria, with master Italian fresco painter Robert Scherer; received his BA in Illustration from Art Center College of Design in 1985; and painted billboards from Palms Springs, CA, to Greensboro, North Carolina until 1992 when computers took over the work. Returning to traditional arts, Spangenberg has painted frescos, portraits, murals, historical and landscape commissions; and has taught art at Sawtooth School of Visual Art in Winston-Salem, The Wesleyan Academy, the Art Alliance in Greensboro, and privately. His recent work is in homemade ink and conte, as well as oil painting.
The 29 Palms Art Gallery is an all-volunteer, 501(c)(3) non-profit gallery, located at 74055 Cottonwood Drive at National Park Drive in Twentynine Palms. For more information, contact the gallery at (760) 367-7819, or visit the website at:
www.29palmsartgallery.com
.
'Beat Scene' Art Show – Second Saturday Opening
September 12, 6pm
Pioneer Days Kick Off
TWENTYNINE PALMS, CA, -The Twentynine Palms Chamber of Commerce and Reach Out Morongo Basin will be hosting three contests at the Pioneer Days Kick Off on Saturday September 19, 2015 at Luckie Park in Twentynine Palms, California. The hat contest will occur at approximately 12:00PM and winners will be selected from Best Men's Hat, Best Women's Hat, and Best Children's Hat categories. The pie baking contest will occur at approximately 1:00PM and winners will be selected from Most Visually Appealing, Just Like Mama Used To Make and Up And Coming Pie Maker (for entrants below 12 years old) categories. Pies for this contest must arrive no later than 12:30PM to be entered. The tattoo contest will occur at approximately 2:00PM and winners will be selected from Best Men's Tattoo, Best Women's Tattoo, and Most Patriotic Tattoo. Tattoos must be of appropriate content and in a suitable area for family attendance. All contest winners will receive a ribbon as well as most deserved bragging rights. If you are interested in entering any of the contests, please arrive at the Pioneer Days Kick Off to sign up in person. The event will start at 10:00AM until 4:00PM. If you have any questions, please contact the Twentynine Palms Chamber of Commerce at 760-367-3445 or
29Chamber@29Chamber.org
Outreach to Hundreds of Homeless to be Held at The Sportsman's Club in Joshua Tree

WHO: Individuals and families and those in need are invited to attend on October 22, 2015 for the MB Haven Project Connect outreach event.
WHAT: The Morongo Basin Haven will host a Project Connect in October. The purpose of a Project  Connect is to provide a centralized location where nonprofit medical and social service providers collaborate to provide services to low-income families and the homeless.
The collaborative partners hosting the event will provide individuals in attendance with free dental care, family support, housing support services, hygiene products, medical care, mental health services, substance abuse treatment, SSI benefits, legal advice, employment services and more.  Additional resource and educational information  regarding other available county services will also be provided.
WHEN: Thursday, October 22, 2015
10:00 AM – 3:00 PM
WHERE: The Sportsman's Club
6225 Sunburst Avenue
Joshua Tree, CA 92252
WHY: These types of events are intended to be a Basin Wide network of service delivery to the homeless and low-income families and individuals in need residing throughout the Morongo Basin.
CONTACT: For additional information on this or subsequent Project Connect outreach events please contact Elizabeth Kirkland at (760) 820-4714 or Wayne Hamilton at (760) 401-0375.
Morongo Basin Humane Society

Coming up at the Desert Institute
Summer rains have provided us with a recent, beautiful display of flowers for those who explored the park early in the morning to avoid the summer heat. But, September is just around the corner with cooler temperatures, and we will be offering exciting classes that will inspire you to create, learn and challenge you to explore this vast park.
SEPTEMBER 18 – 20 Insects and Arthropods of the Morongo Basin with Kurt Leuschner. Did you know that insects can survive in temperatures over 110 degrees Fahrenheit in the shade with little or no water? Kurt Leuschner will explore the lives of the largest group of animals in the world through a study of insect anatomy, survival traits, habitats, and behaviors. Participants will learn to identify and distinguish insects from other arthropods and then practice their skills in the field. Field observations will include Joshua tree forest, palm oasis, desert, dune, and riparian habitats as well as a special night session with blacklights at the Big Morongo Canyon Preserve. Register here.
SEPTEMBER 19 Desert Queen Ranch and the Keys Family Join John Hale for an exploration of the history of the Desert Queen Ranch. In the high desert country that was to become Joshua Tree National Park, rugged individuals tried their luck at cattle ranching, mining, and homesteading. William F. Keys and his family are particularly representative of the hard work and ingenuity it took to settle and prosper in the Mojave Desert. This class will explore the colorful story of the 60 years Bill and Frances spent working together to make a life and raise their five children in this remote location. John will also address the preservation and restoration programs within the Joshua Tree National Park. Register here.
SEPTEMBER 26-27 "TENT-TALK" – WOMEN'S CAMPING WEEKEND Join us for "Tent Talk" and learn how to thrive in the outdoors with camping basics and best practices, improve your knowledge of natural science and have fun with a bunch of other intrepid women. On this weekend camping workshop you'll learn about the desert while hiking through it, share stories around a crackling campfire, and acquire useful skills that will transform the great outdoors into your own spectacular backyard. No prior camping experience is necessary and rental camping equipment is available through local outfitters. More experienced campers who'd like to brush up on their skills or just come to have a good time are also welcome. This weekend of classes will be held at the Lost Horse Campground, a beautiful location that is perfect for this program! Register here.
SEPTEMBER 18 – 20 FINE ART PHOTOGRAPHY IN JOSHUA TREE NATIONAL PARK with Ralph Nordstrom. Immerse yourself in the wonders of Joshua Tree National Park and connect with the enchantment to be found there. The content of this workshop will focus, not only on the mechanics of photography, but, also on personal interpretation and expression which is the heart of the art. Our experience of this marvelous land will be enhanced by camping (optional) in the Lost Horse Campground, from Friday through Sunday. This is an "action packed" workshop, so, bring your camera equipment, camping equipment and enthusiasm and watch your creativity soar! Register here.
SEPTEMBER 20 DESERT SNAKES: MYSTERY AND INTRIQUE with William Hayes. Feared and respected by many for their potential to inflict harm, snakes have long captured the fascination of humanity. William Hayes will introduce participants to a remarkable variety of venomous and non-venomous snakes that inhabit Southern California's deserts in this all-day field class. Starting in the classroom, Dr. Hayes will discuss the many adaptations that are essential for snakes to survive in the desert ecosystem including unique morphological, physiological, behavioral, and ecological traits. The class will explore the surrounding desert to identify reptile habitat and hopefully see some snakes! Register here.
Cameron Barrows was intervieded in the June 16, LA Times article "Drought Hastens the Decline of the Joshua Trees – California's Desert Symbol". "For Joshua trees, hotter, drier conditions are a problem – but a bigger problem is that what little rainfall occurs evaporates faster", Barrows said. "So, seedlings shrivel up and die before they can put down strong roots". Cameron will be co-instructing the Desert Institute class CITIZEN SCIENCE: TRACKING THE EFFECTS OF CLIMATE CHANGE on December 5-6.
The BLACK ROCK LECTURE series will return to it's original venue: the Black Rock Ranger Station on the third Friday of the month. Here is the current schedule of speakers and their topics:
OCTOBER 16 – SUSAN LANG, novelist, will be giving a preview of her upcoming novel on the Sawtooth Complex fire of the summer of 2006.
NOVEMBER 20 – Betty Melzer, historian and author, will be discussing her book "Losing Ground", the displacement of San Gorgonio Pass Cahuilla people in the 19th century.
JANUARY 15 – Joe Zarki, retired Chief of Interpretation, will be discussing his new book on the history of Joshua Tree National Park
FEBRUARY 19 – Jay Theuer, archaeologist of Joshua Tree National Park, will be discussing current issues of archaeology in the park.
MARCH 18 – Jamie Haney, Joshua Tree resident, will be talking about her solo hike of the Pacific Coast Trail.
THESE LECTURES BEGIN AT 7PM AND ARE FREE. NOTE: the Copper Mountain College panel seminars will be moved to the FIRST FRIDAY OF THE MONTH and will get a new name, to avoid confusion with the Black Rock Lecture Series. Stand by for an announcement of the topics and speakers!
Our Fall classes are now available for enrollment!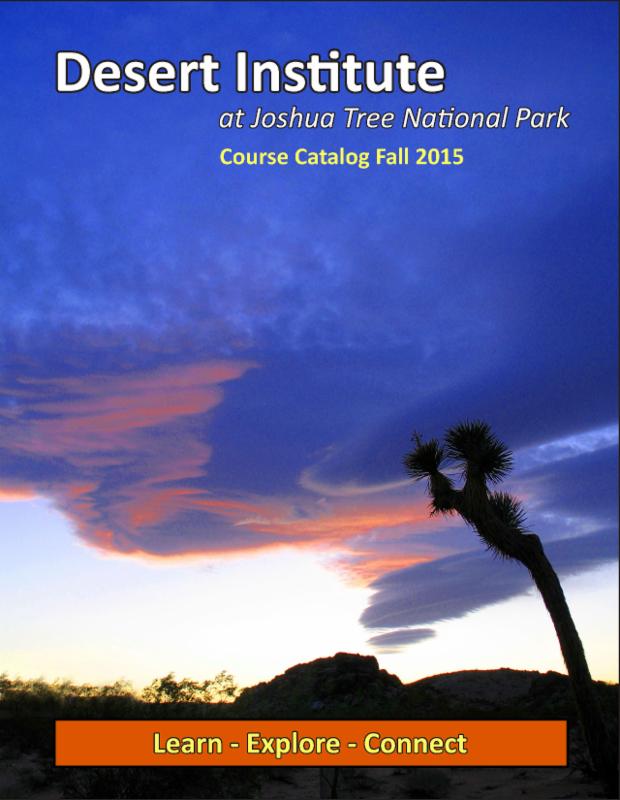 Click for a downloadable, interactive catalog,
or to enroll in any of our courses
call 760-367-5535 (Mon-Fri 8am – 5pm).
The Desert Institute's CREATIVE WRITING PROGRAMS fosters participation in the arts in Joshua Tree National Park, and shares the beauty of the park with the broader arts community. Staffed by notable writers and volunteers, we offer literary readings, workshops, and forums for all ages, set among the iconic rocks, Joshua trees and the peace of the desert, inspiring creativity and inspiration and the time to tell our stories and experience nature that will have a lasting impact on our lives.
New classes:
October 3  Reading the Desert: Stories and Literature of Joshua Tree with Ruth Nolan, M.F.A., Author, Professor of English, College of the Desert
Joshua Tree National Park is rich in flora, fauna and beauty, but it's also wealthy in desert literary lore. The Park and its surrounding region has drawn storytellers, poets and writers into its creative fold with its magnetic lure, helping to generate a vast body of writing matched by none other. A broad overview of the astonishing range of the stories and literature of the park and surrounding deserts, through the centuries, will be showcased in this workshop, which will emphasize lecture, reading, and discussion of Joshua Tree-centric literature, including the creation story of the Chemehuevi Indians and stories from the Park's other indigenous people, along with works by desert writers John Steinbeck, Mary Austin, John C. Van Dyke, J. Smeaton Chase, Susan Lang, Elizabeth Crozer Campbell, William Stafford, Hannah Nyala West, Edmund Jaeger, and many others. We'll also read materials related to some of the historical figures who've lived memorable lives in and around the park through the decades, including the controversial story of Willie Boy, and understand how the literature of Joshua Tree National Park has helped shape the legacy of this internationally-cherished, fabled desert region forever. This workshop will also include easy walking/hiking that will help participants make their own connections with the places in the park that we'll read about, and participants will be encouraged to do some of their own journaling/writing during the day to convey their own experiences.
November 6 – 8  Creative Issues and Practices in Nature Writing with Elizabeth Wyatt, M.F.A., Professor of English, Copper Mountain College
This course explores nature writing as an artistic, social, ecological, and personal act, and is appropriate for anyone interested in exploring this topic from diverse theoretical and practical angles. We will begin by examining the definition and role of nature writing in the American West, and move toward consideration of and creative experimentation with our own "desert writing". We will ask what it means to represent aspects of this "natural" environment from a human perspective, and how we should (or shouldn't) go about this process. Along the way, we will enjoy some hiking, discussion and debate, creative and analytical scribbling (outdoors!), and a group workshop. Previous training in writing is not required, although this course will probably appeal most to those with a strong interest in literary matters. A course reader will be provided, and will include short essays and excerpts from works by Henry David Thoreau, John Ruskin, Gary Snyder, Timothy Clark, Lawrence Buell, William Cronon, and Kate Rigby.
To enroll in any of our courses, VISIT OUR WEBSITE, OR CALL
760-367-5535 (MON-FRI 8AM – 5PM).
Old Schoolhouse Lecture Series
The Desert Institute is proud to present the Fall 2015-Spring 2016 Old Schoolhouse Lecture Series
September 11 – The Mojave Project with Kim Stringfellow
October 9 – Old Magic: Lives of the Desert Shamans with Nick Clapp
November 13 – Desert Bighorn Sheep:  Wilderness Icon with Mark Jorgensen
December 11 – Homesteading: The Free Land Idea with Lorna Shuman
January 8 – The Forgotten Gold Rush with Paul Smith
February 12 – History of the 29 Palms Artists' Guild with Pat Rimmington
March 11 – Frank Critzer and the Legend of Giant Rock with Barbara Harris
April 8 – The Underhills of 29 Palms with Ann Congdon
May 13 – Joshua Trees: Mystery and Myths with Chris Clarke
June 10 – Cowboy Poetry and Humor with Richard Brewer
The lectures begin at 7 pm and admission is $5.00.  New:  You can purchase a subscription for the entire series for only $40. and, as a subscriber, you will have a reserved seat held until 10 minutes before the lecture begins.  
Click
here to purchase your series subscription.  As always, you can join the speaker for dinner at 5 pm at the 29 Palms Inn.  Please call 760-367-5535 for dinner reservations no later than the Wednesday prior to the dinner!
Joshua Tree Clean Team

Every 2nd, 4th, 5th Wednesday
7:00 A.M. – 8:00 A.M. June, July, August, September
8:00 A.M. – 9:00 A.M. All Other Months
There will be Trash Bags, Grabber Sticks and Gloves Available
For More Information Call – 760 366-8415
"In the Wilderness: Celebrating the California Desert" Art Exhibit

"In the Wilderness: Celebrating the California Desert" is the theme for the next Art in Public Places exhibition at the Twentynine Palms Visitor Center & Art Gallery and Chamber of Commerce in downtown Twentynine Palms. The show will be on display from Oct. 1, 2015 to Jan. 8, 2016.
Desert artists are invited to submit an original piece of art for the group exhibition and can deliver their art to the visitor center on Friday, Sept. 25, between the hours of 11 a.m. and 1 p.m. Artists unable to make this time can make other delivery arrangements by calling the visitor center at (760) 367-3445 any weekday prior to Sept. 25.
The Public Arts Advisory Committee of the City of Twentynine Palms mounts quarterly exhibitions around a theme intended to illuminate the desert experience and showcase the rich artistic resources of the Joshua Tree Gateway Communities. The theme for the fall/winter show celebrates the California desert wilderness. Artwork must reflect this theme and can be watercolor, oil or acrylic painting, mixed media, photography, or three-dimensional work such as assemblage, ceramics, sculpture, and fabric art. All work must be ready to mount or hang with professional wire, must be offered for sale, and must be suitable for viewing by the general public.
An opening art reception is planned for Friday, Oct. 2, from 5:30 to 7:00 p.m., with music and refreshments.
The art gallery at the Twentynine Palms Visitor Center and Chamber of Commerce is open daily at 73484 29 Palms Hwy. at the corner of Desert Queen Avenue, next to Bucklin Park, downtown Twentynine Palms. For questions or more information, contact PAAC liaison Jon Beard at (760) 367-7562 or email: jbeard@29palms.org.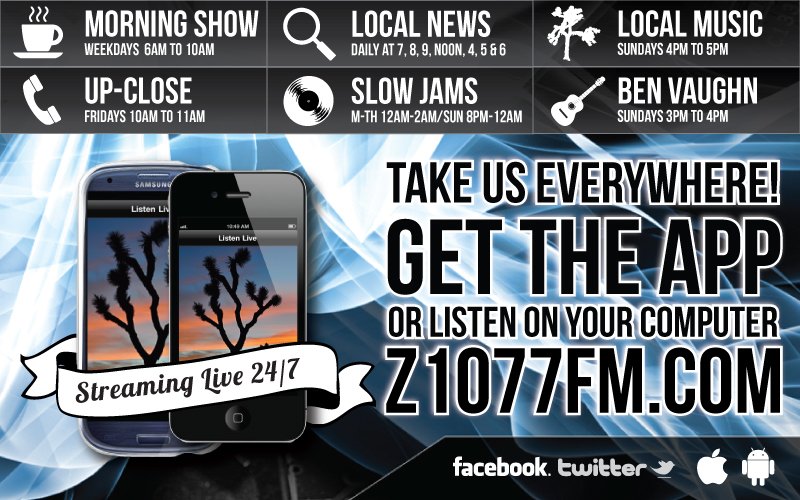 WEEKENDS ARE ECLECTIC ON Z107.7!
The Morongo Basin's favorite radio Station, Z107.7, is a lot different than most radio stations in the country! The hometown station for the 100,000 residents of the Hi-Desert is the only 100% locally owned and operated radio station in the area.
Having the owners actually program and operate the station themselves is an anomaly in the entire broadcasting industry. Z107.7 has been broadcasting from their Joshua Tree studios for over 25 years with the same ownership, programming, and local loyalty. In the radio business they are referred to as a "Heritage" station, something that is a source of pride for the communities they serve so exclusively and well.
Z107.7 is the ONLY station they operate, no "clusters", no "sister" stations in another markets, no corporate conglomerate with hundreds of stations all churning out the same homogenized, pasteurized pap. Z107.7 has real original programming done for the residents of this area exclusively. Not Cookie Cutter, and certainly not always Mainstream.
An original live, local Morning Show that is not streamed from some big city. Local birthdays, anniversaries, school and Senior lunch menus, even lost pets! Z107.7 is truly the exact definition of a "Local Radio Station".
The programming on weekends is especially eclectic on Z107.7. Saturday Morning at 8:30 is the "Unique Gardening Show" a live, call-in program with host Mike Branning sharing his knowledge on how to grow and maintain landscaping and food garden plants in the extremes of the desert.
Saturday nights from 8:00 p.m. until Midnight, it's a Dance Party with Hot-Mix, top dance hits mixed back to back and beat to beat!
Sundays are really eclectic on Z107.7!, starting at 3:00 p.m. is the "Many Moods of Ben Vaughn" Host Vaughn digs into the archives of yesterday's music with some very unique and classic music that is very entertaining.
At 4:00 p.m. Sundays' Host Pat Michaels brings out the "Z107.7 Local Music Showcase" feel the J.T. Beat with a weekly sample of the unique sounds of musicians who live and perform right here in the Morongo Basin.
Then ride Sunday night out with "Slow Jamz" hosted by R. Dub from 8:00 p.m. until midnight. Make this weekend eclectic with the unique sound of Z107.7.
Z107.7 can be heard over the air at 107.7 on the FM dial, www.z1077fm.com online download the free App at "Z1077fm", or get the podcasts of their special original programming on iTunes.
(now streaming worldwide)