Joshua Tree Chamber News & Member Events

Thank you to our new and renewing members!
Announcements
The Chamber is now offering meeting/event space for groups, private individuals and Organizations at our office.
We are open for daily/ weekend and evening meeting scheduling.
Our hourly rates are reasonable and Chamber Members receive an Additional Discount.
Please contact us at: 760-366-3723 or email director@joshuatreechamber.org
Member of the Month
Each month we will choose and feature a new Member of the Month in the newsletters for that month. To find out how to be included in the drawing, send an email to director@joshuatreechamber.org
Joshua Tree Downtown Map
We have printed our downtown map and business directory! It is available at the Chamber office, downtown locations and is being distributed to many outside locations. Download a copy here >
Advertise for the next edition of the map, spaces are filling up fast! more info >
Seeking Volunteers, Donations and Board Members
more info >
Chamber office hours: 10-12 Tuesday, Wednesday and Thursday.
6448 Hallee Road, Suite 10 (in Sam's Plaza) 760.366.3723
Tourism Marketing Opportunity
McCue Marketing Communications is working with Route 66 & Beyond, the international tourism brand for San Bernardino County, to generate tourism for the many attractions and properties in the region.
If you would like to be included in any tourism opportunities, please click here to complete a form with details about your property/attraction. Please complete this form by Thursday, April 30. We also invite you to email us logos or high resolution photos of your property/resort. All image files should be emailed to rachel@mccuecommunications.com.
Please feel free to reach out to Monique Carter at monique.carter@eda.sbcounty.gov or Rachel Kamada at rachel@mccuecommunications.com with questions. You can also reach Marcella by phone at 213-985-1011.
Joshua Tree Library Art Show
"Art Above the Books" is sponsored by the Morongo Basin Cultural Arts
Council and the Joshua Tree Friends of the Library. The artwork of
Susan Abbott is currently on view through June, and she will present
an Artist Talk, Saturday, April 25th, at 12:30 – reception with light treats.
National Park Week
Join Joshua Tree National Park in celebrating National Park Week, this April 18th-26th. with special celebrations for kids on National Junior Ranger day, April 25th . Help kids "Find Your Cool in the Desert: Explore, Learn, Protect," by visiting Joshua Tree National Park for lots of fun and adventure with a host of ranger programs for the entire family. Be sure to pick up your "Find Your Cool in the Desert" Card at any of the visitor centers to help plan for the day.
9:00am – "I Speak for the Trees" at Echo T Parking lot
9:00am The Sound of the Desert with Arizona State University Listening Project at Barker Dam
10:00am Patio Talks Cottonwood Visitor Center, Joshua Tree Visitor Center, Oasis Visitor Center
10:00am Cholla Cactus Garden
10:00am Barker Dam Hike
10:00am-12:00pm Meet the Rangers
Law enforcement rangers at Cap Rock
Maintenance Rangers at Oasis Visitor Center
Fire Fighter Rangers at Black Rock
Park Nursery Rangers at Park Nursery at Oasis Visitor Center
1:00pm Oasis Walk
1:00pm – 3:00 pm Meet the Rangers
Law enforcement rangers at Cap Rock
Maintenance Rangers at Oasis Visitor Center
Fire Fighter Rangers at Black Rock
Park Nursery Rangers at Park Nursery at Oasis Visitor Center
1:00pm-4:00pm Wilderness Jr. Ranger Program – Oasis Visitor Center
1:00pm-4:00pm Paleontology Jr. Ranger Program at Joshua Tree Visitor Center
2:00pm Story Time with a Ranger at Joshua Tree Visitor Center
2:00pm "In the Shadow of the Mountain" Hike at Turkey Flats Backcountry Board
8:00pm evening programs at Cottonwood, Indian Cove, Jumbo Rocks, and Black Rock Campgrounds
Stories in the Stars – Cottonwood Campground Amphitheater
Room to Roam: Exploring the Value of Wilderness in Joshua Tree National Park -Jumbo Rocks Campground
Discover the Ancient Giants of Joshua Tree National Park at Indian Cove Campground Amphitheater
The Listen Project: Encouraging Environmental Stewardship through Acoustic Ecology and Sonic Awareness in American Southwest Deserts at Black Rock Nature Center
Be sure you get the ranger's signature at each event you attend on your Jr Ranger Day; you can pick up "Find Your Cool in the Desert" Card at any of the visitor centers or activity spots. Come out Find your Park and find your cool in the desert at Joshua Tree National Park.
Earth Day Joshua Tree

Join us to support Earth Day and the JT Local Food Program
Saturday, April 25th from 5 to 8 PM
at 6213 E. Parkway, JT, CA.
Coming from Joshua Tree's JT Local Food Program..
Transition Joshua Tree's JT Local Food Program will be co-sponsoring an
free Earth Day event with the Peace with Justice Committee of the JT Community United Methodist Church on Saturday, April 25th from 5 to 8 PM at 6213 East Parkway in Joshua Tree. Activities include: vegetarian cuisine and movie documentary provided by Food Not Bombs. Tours of the demonstration garden and a workshop on Companion Planting will be featured along with booths and displays of local arts, crafts and community groups.
To join, display, volunteer or to reserve a booth space contact Joseph
at 760.490.6287. To donate to our local food program use PayPal at
communityumcjt@gmail.com.
Open Enrollment at Copper Mountain College
Open registration for Summer 2105 beings on April 27th and Fall 2015 May 5th. For more information contact Admissions and Records at 760.366.3791 or apply online at www.cmccd.edu.
Resume and Job Search Workshop
Joshua Tree Clean Team
The next 4th and 5th Wednesday clean-ups will be on April 22 at Alta
Loma & Olympic and April 29 at Highway 62 and Yucca Mesa Rd. (north
side).  The scheduled time is from 8 a.m. to 9 a.m.  There will be
grabber sticks, trash bags and gloves available to all volunteers.
The Joshua Tree Clean Team meets at various sites in Joshua Tree to
clean-up unsightly trash every 2nd, 4th and 5th Wednesday.  Their
co-sponsors are Park Rock Café, Z107.7, Joshua Tree Outfitters, Joshua
Tree Recreation and Park, County of San Bernardino Waste Management, Cal
Trans and Staff and the Hi-Desert Star.  For more information call (760)
366-8415.
The Nourishing Tree Events
3rd Annual Art Auction
The date is getting closer for the 3rd Annual Art Auction Benefit for Reach Out Morongo Basin and organizers are still seeking donations of artwork for this fundraising event to be held on May 2, 2015 from 2 – 7 pm at ArtFx and Furnishings in Old Town Yucca Valley.
With live music, food and beer and wine this promises to be an extraordinary event! With an awesome musical line up auction goers will be sure to be entertained! One duo of local musicians are The Luminators comprised of Mark Ross and Paul Gerkin. With almost 70 years of combined musical experience they provide a classic duet sound with a mastery of their instruments and vocal artistry. Performing various musical styles from Gospel, Blues, R & B, Country, Rock and their own original songs they always try to get across a positive spiritual message-spreading joy through music ! Energetic and entertaining they are not to be missed!!!
Another local and hometown favorite is Kristina Quigley with her amazing country sound. As a lifetime musical performer, Kristina grew up in Pioneertown singing at Pappy and Harriet's Pioneertown Palace owned by her grandmother Harriet Allen. She began performing around the United States as a teen at rodeos, county fairs and other events as well as entering and winning an International Singing contest in Branson, MO at the age of 18. Having toured and shared the stage with country greats like Merle Haggard, Glen Campbell, The Lennon Sisters, Hwy 101 and many others her powerful voice and dynamic stage presence will be a real treat for all to see!
Proud Spirit – No Borders Cooking of Moreno Valley will be vending their fry bread & street tacos while locally owned Rose and Busters Wine Tasting will be vending beer and wine with a portion of their proceeds being donated to Reach Out Morongo Basin's programs for senior and disabled neighbors.
Organizers are seeking donations of self-created or pre-owned artwork from the community for the auction. "It is with the support of our local artistic community that this event has been such a success in the past and we look forward to the support and generosity that the Morongo Basin community is known for", said Robin Schlosser. , Reach Out executive director. "Past auctions have featured jewelry, photography, paintings, etchings, metalwork ceramics, textile art and even furnishings so all donations are welcome!"
Organizers would like to also thank sponsors Morongo Basin Broadcasting Z107.7, Hi-Desert Publishing, The Sun Runner Magazine and Desert Moon Pictorial Real Estate Magazine for their media support.
Rattlesnake Aversion Training
Pre-registration required
Opening for up to 36 dogs for training
Cost: $75.00 per dog
Contact person:
Mimi Mitz
(760) 366-9306
ammitz2@verizon.net
Copper Mountain College Alumni BBQ
Joshua Tree Retreat Center Events
IgNight Conference
May 7-10, 2015 –
IgNight Conference
IgNight begins at noon on Friday, May 8th, 2015 and ends at 5pm on Sunday, May 10th, 2015. Classes will run during the day on Friday, Saturday and Sunday. You're invited to practice all those fancy new moves at the main spin jam area. There will be an amazing selection of flow music from sunset until 2am. After 2am we will have acoustic music playing, so bring your instruments!
Joshua Tree desert will be an amazing place to be at this time of the year. The Black Rock Observatory will be showing beautiful views of Saturn and other amazing deep sky objects at night. It will be a waning moon that weekend, so please make sure to bring a flashlight to navigate the terrain.
Contact in the Desert
The lineup of speakers is a who's who of star experts featured on the top-rated History Channel shows Ancient Aliens and Hangar 1, along with an array of respected scientists and researchers from around the world.
"Road Map Toward Success"
Good Afternoon Basin Wide,
The Basin Wide Foundation invites you to our 5th annual workshop "Road Map Toward Success", a one-day workshop on Friday, May 8, 2015, from 8am – 3pm, at the Bell Center on the Copper Mountain College Campus. This workshop is geared towards all Non-Profits, Board Members, Executive Directors, Staff and Volunteers. Please find attached information on signing up. Each attendee will receive a notebook, continental breakfast, lunch and great, useful information!!
Presenters are: Beth Bergman, Attorney, Bergman & Allerdice ~ Specializing in Non-Profit Law
Jan McAdams, Funding Consultant ~ Grants
Matt Harris, Alcohol Beverage Control ~ ABC Rules
And…planned giving, social media and Board fundamentals
BWF Reserves the right to change speakers if schedules require.
Cost:
$40 for Members
$45 for Non-Members
$50 at the door
You may rsvp by responding to this email, fax brochure back to 760-365-5770 or mail the brochure back at the below address.
If you should have any questions or need an invoice please feel free to call or email me.
Sincerely,
Kelly
Joshua Basin Water District
Finance Committee
Citizen Advisory Meeting
Hwy 62 Open Studio Art Tours Accepting Applications
The OSAT Committee has been working since January to plan and organize the 2015 Art Tours. The application for the 2015 Hwy 62 Open Studio Art Tours is now available on the MBCAC website at hwy62arttours.org! The applications are due by May 15, 2015, including your images for the catalog.
Before you start the application, please check the "Members' Directory" on the website to make sure your MBCAC membership is valid through October 31, 2015. If it is not, you must join or renew in order to access the application.
To make the process easier, we have included a link to the "2015 Art Tours Guidelines" which will help you through the process and give you important information about this year's Art Tours. Please read the Guidelines before you start filling in the application.
You will find that the prices to participate have been raised by about 10%. This increase was needed to increase the marketing budget. Marketing Director Paul Morehead and his committee did a fantastic job last year and plan to expand the reach of the advertising in 2015.
The Committee is excited about the Tours and anticipates another successful year for all!
If you have any questions about the application process, contact Kathi Klopfenstein at registrar@mbcac.org
The Beatnik Lounge!
The Beatnik Lounge is located at
61597 29 Palms Highway
Joshua Tree, CA 92252
(formerly the Beatnik Cafe/Red Arrow)
Please contact tedquinn11@gmail.com or via facebook.com/tedquinn for more details.
Please listen to the Sunday Evening Variety Show at 5pm (PST) RadioFreeJoshuaTree.org
Join Ted Quinn Monday nights at Pappy and Harriet's for Ted Quinn's Reality Show! 7:00 sign-up!
NEW SERVICE AT THE LISTENING LOUNGE
We will convert your vinyl LPs to digital. We can burn a CD, or put files on the drive of your choice. Only $5 per single album!
Radio Free Joshua Tree!
Streaming 24/7
Featuring local music, news, cultural reports
and much, much more!
Please listen to the Sunday Evening Variety Show
5 pm every Sunday – click the link above to listen!
Please send your music submissions, with permission to play your music, to submit@RadioFreeJT.com
Sunday Night Slow Jams comes to Z107.7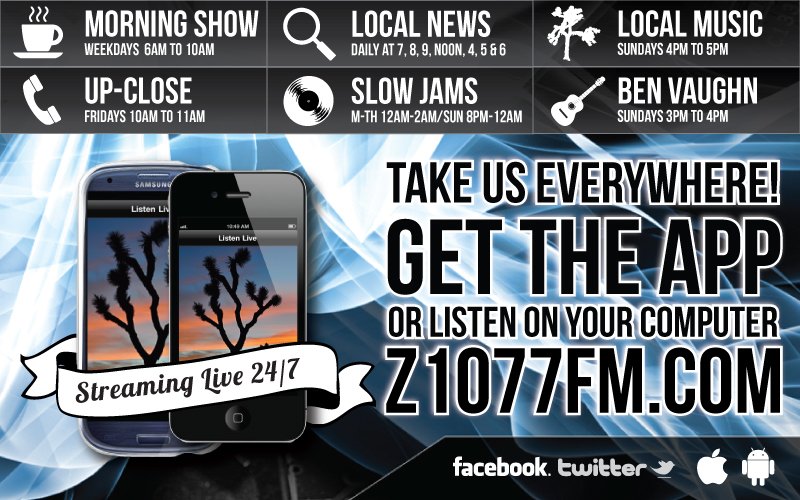 With the start of a new year, the start of exciting new programming for the Morongo Basin's #1 Radio Station!
"Sunday Nite Slow Jams"now offers listeners from Morongo Valley to the west, Amboy to the East, and the Communities of Yucca Valley, Joshua Tree, Landers, Twentynine Palms, and Wonder Valley in between, a special blend of old and new R&B love songs and an outlet to express special feelings to loved ones Sunday nights from 8:00 pm. until midnight.
Sunday Nite Slow Jams specializes in playing special Slow Jams that you probably haven't heard in awhile, and definitely won't hear anywhere else! SWV, Keith Sweat, Jodeci, The Isley Brothers, Boyz II Men, Al B. Sure, Janet Jackson and more can all be heard on "Sunday NiteSlow Jams"-on Z107.7.
In addition to the Sunday night 8-midnight show, Z107.7 will also offer a late night treat of Slow Jams -Monday through Friday nights from midnight to 2:00 am.
"Sunday Nite Slow Jams" on Z107.7 is the results of numerous listener requests to bring the popular program to the Hi-Desert. Program DirectorGary Daigneault said, "After receiving inquiries about the program, we researched it, located the program distributors and made the arrangements to bring it up to the Morongo Basin. As the only family owned and operated Radio Station for the past 25 years, we felt it was important to give our listeners the variety of music and entertainment they were asking for."
Sunday Nite Slow Jams can be heard at 107.7 on the FM Radio dial in the Morongo Basin, streaming worldwide at www.z1077fm.com or through the free app available by searching "KCDZ" on the Google Play and Apple Markets.
Featuring a high quality mix of adult contemporary and local music, mixed with a local morning show and local news 7 days a week, Z107.7FM is broadcast from studios in Joshua Tree and recently celebrated their 25th anniversary.
They have been under the same local ownership, at the same location, and featured the same quality programming since they signed on in July of 1989. For more information about Z107.7, call the studios at 760-366-8471.
(now streaming worldwide)
Old Schoolhouse Lecture Series

Black Rock Lecture Series 2014-2015  
Coming up at the Desert Institute
The course offerings at the Desert Institute at Joshua Tree National Park continue to grow. We have more classes and the Black Rock Symposium to offer in May. For a great educational experience, we keep our class sizes small, so enroll soon!
A new program will be conducted on Friday, July 17, "NIGHTSCAPE AND
LIGHT PAINTING PHOTOGRAPHY WORKSHOP" and there are just a few spaces
left.
To enroll in any of our courses, VISIT OUR WEBSITE, OR CALL
760-367-5535 (MON-FRI 8AM – 5PM).
MAY 2  PLEIN AIR POETRY WITH JIM NATAL AND JEANETTE CLOUGH  – ONE
OF OUR FAVORITE CLASSES, COMBINING NATURE EXPLORATION AND POETIC
EXPRESSION.
MAY 2  David Meunch Photography Workshop (FULL)
MAY 2-3  LIGHT AND COLOR: OIL PAINTING IN JTNP (NOW TWO DAYS!) WITH ANDREW DICKSON
MAY 3 DAVID MEUNCH PHOTOGRAPHY WORKSHOP (LIMITED SPACES LEFT!)
May 9 Journey to Artistry in Joshua Tree National Park with Valohna
Wynn – Ladies, don't miss out on this great women's class incorporating
nature, dance, art and tribal music!
May 15 Desert Night Skies: Planets to Galaxies with David Chappell – May evenings provide an opportunity to explore the skies of Joshua Tree National Park
May 16 Keys Ranch Night Sky Photography Workshop WITH DON CHAMBERS
(FULL)
We have had a very successful series of panel-led community discussions
on topics concerning the "STATE OF THE PARK", "RENEWABLE ENERGY
DEVELOPMENT", "WATER IN A DECADE OF DROUGHT", SAN BERNARDINO
COUNTY RENEWABLE ENERGY CODES", "ENGAGING A NEW GENERATION OF PARK STEWARDS", and, most recently, "CLIMATE CHANGE RESPONSE".
Now it is time for our final program, "PUTTING IT ALL TOGETHER:  ACHIEVABLE
ACTION ITEMS". The panel will consist of David Smith, Superintedent,
Joshua Tree National Park, April Sall, Conservationist, and Dr. Chris
McDonald, Desert Natural Resources Advisor, UC Riverside. The intent of
the May 15 program is to offer ideas and suggestions that will help the
audience to move forward to help land and water conservation, to help
the park's climate change response and, perhaps, the centennial
celebration, to help build a new generation of conservationists and to
take ownership in the future of the Mojave Desert and the Morongo Basin.
This program is free and starts at 7 pm at the Bell Center, Copper
Mountain College. Pre-registration is requested by registering here.
The Art of War